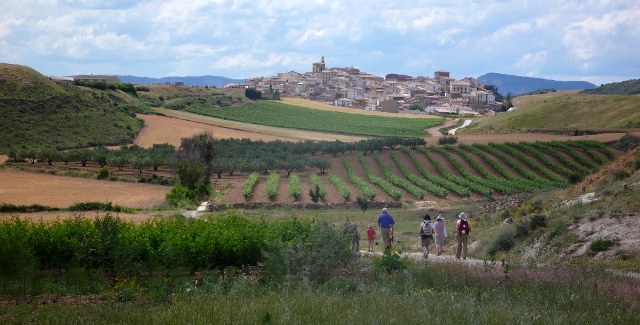 Medieval pilgrimage route, artistic treasures, northern Spain's grand tour!
Following scenic country roads, agricultural fields and forest tracks as well as crossing villages and cities born of the Camino de Santiago, it is difficult to imagine a better way to enjoy Spanish (and European) art, history, culture, and geography than to embark on this magnificent way. According to legend, around the year 812, a religious hermit discovered the long forgotten tomb of the apostle James by following a falling star. His chance finding gave birth to what would become Santiago de Compostela as millions of devout men and women came to venerate the saint's bones throughout the Middle Ages. In the last twenty years the monumental route has struck a chord not only with pilgrims but also walkers from over sixty countries with diverse backgrounds and motivations. In 1987 the Council of Europe proclaimed the Camino as Europe's First Cultural Itinerary.

On our 11-day tour we've selected the most beautiful and representative sections of the Camino. Starting in Roncesvalles (on the France-Spain border), we will cover the Camino Frances thoroughly as the route passes from the wooded Pyrenees of Navarra to the fertile wine territory of La Rioja, the rolling wheat fields and high tablelands (meseta) of Castilla and León and then to verdant rolling Galicia.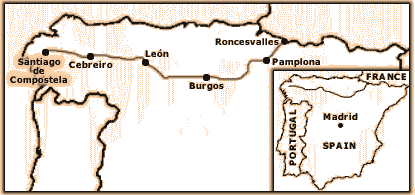 Each region also offers its own gastronomic highlights which we'll take great pleasure in introducing you to. Expect to enjoy a magnificent array of wildflowers in the spring and early summer. On our last night we stay in the spectacular, world-famous 5-star Hotel Reyes Católicos located at the foot of the cathedral in Santiago de Compostela.

CAMINO FRANCÉS: FROM RONCESVALLES (NAVARRA)

11 days & 11 nights

Level: Easy-Medium

Walking Days: 11

Total Distance: 77.7 miles / 125.4 km With optionals 99.5 miles / 161.4 km
(In the itinerary everything is optional. If you don't feel like walking any section, of course, that is up to you. If you did all of the walking - scheduled sections plus sections marked optional - then your total distance would be the 'With Optionals' figure).
Departure Dates 2018
2-12 May 2018
6-16 June 2018
Price: €3475 *(Click here for Discount Information)*
BOOK NOW FOR 2018
Departure Dates 2019:
8-18 May 2019
5-15 June 2019
25 Sept-5 Oct 2019
Price: €3475 *(Click here for Discount Information)*
BOOK NOW FOR 2019
Groups: If you have a group of six (6) or more and the dates are not available when you would like to travel, contact us and we can try and schedule a tour adapted to your dates.

Custom Camino Tours: We also organize youth, church, school or private tours of the Camino. Contact us for more information. We´re happy to work with your budget.

Weather: In April and early May expect some showers, temperatures from 10-20ºC / 50-70ºF and varying conditions. In June expect sunny skies and temperatures from 15-30ºC / 60-80ºF. Early September is normally warm and clear though a rain shower is possible.

Note about the Compostela Certificate: Some tours guarantee that you can acquire the Compostela Certificate without offering you the possibility of correctly doing so. The Compostela is a document given by the Pilgrim's Office in Santiago de Compostela to pilgrims who state a religious/spiritual motivation and who have walked the last 100km (62mi) continuously on foot (200km on bicycle). It is not sufficient to do the distance piecemeal from Roncesvalles to Santiago. If you have any questions in this regard, please write to us or the Pilgrim`s Office directly at This email address is being protected from spambots. You need JavaScript enabled to view it.

On the On Glory Roads: Camino de Santiago tour you will not be eligible to receive the Compostela Certificate. We walk more than 100km but not the LAST 100km which is the key. As an alternative, we can arrange for you to walk with us through Day 10 of the tour and then you can walk the last 100km independently to earn the Compostela. Please contact us if you would like more information on how this would work. On our 7-day Compostela Tour from León to Santiago, you will be eligible to earn the Compostela Certificate.

What is & isn't included:
Trip price includes accommodations (double occupancy), all meals (breakfast, lunch and dinner) each day, except 3 dinners (Burgos, Logroño and Molinaseca), all entry fees, pre-departure information, experienced guides, support vehicle, all transportation during the trip.
Airfare to Spain is not included nor is insurance or transportation to and from the starting (Pamplona) and ending (Santiago de Compostela) points, or personal amenities.
The single supplement fee is €320 for this tour. On Day 3 in Logroño we offer an optional visit to a Rioja winery with a commented tasting - price per person 20€, minimum four participants for the optional to run.

Daily Itinerary
Day 1 - Pamplona
Walking Distance: 5.1 miles / 8.3 km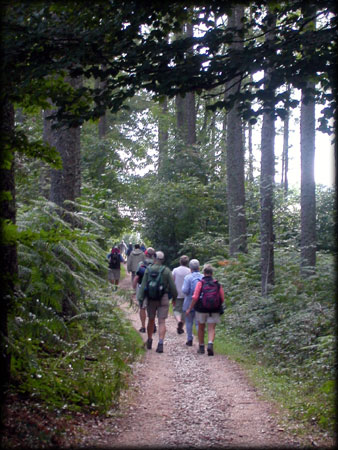 After meeting at our hotel in the heart of Pamplona's historical district, we'll head up to the Pyrenees and the French border. From there we'll descend on foot to Roncesvalles, the tiny hamlet where the medieval epic Song of Roland places the defeat of Charlemagne's army and the death of Roland. The 12th Century Pilgrim's Blessing from Roncesvalles is found in the Stories & Legends page. Our walk will continue through the forest to Burguete, a typical Navarran mountain village and Hemingway's preferred stop over for trout fishing (see The Sun Also Rises). Upon return to Pamplona, we'll dine in one of the city's award-winning restaurants specializing in elaborately prepared pinchos or finger foods. Walking Distance: 5.1 miles / 8.2 km

Day 2 - Estella
The day starts with a walking tour of Pamplona paying special attention to the famous streets associated with the annual 'Running of the Bulls'. We'll pass the town's 14th C Gothic cathedral. Afterwards the walk quickly leaves behind the city and enters tranquil rolling prairie as we ascend to the Sierra del Perdón. We'll picnic on local specialties and then briefly visit the enigmatic, 8-sided Romanesque church of Eunate. We continue to Puente la Reina, famous for its perfectly balanced 11th century stone bridge. You'll enjoy an afternoon walk to Cirauqui where the Camino unites with a section of 1900-year-old Roman road and then off to the hotel set on the outskirts of Estella. Walking Distance : 6.1 miles / 10 km With optionals 8.3 miles / 13.5 km

Day 3 - Logroño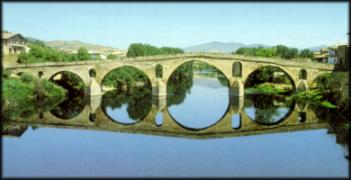 The day starts in Estella, a lovely small town split in two by the Ega River and surrounded by conic, wooded hills topped with castles (or their ruins) and churches attesting to its long history as a crucial center of commerce. After visiting Estella's most important monuments, our walk enters a dense forest of evergreen oaks, passes through fields of red poppies, wheat, grapes and white asparagus; the latter a local specialty grown underground.
After lunch we'll walk through Torres del Río and past another architectural wonder of the Camino : the 12th century, 8-sided Holy Sepulchral Church. We'll continue on to Logroño, capital of the La Rioja region - home of some of Spain's most celebrated red wines. Enjoy dinner on your own tonight. Walking Distance : 5.7 miles/ 9.3 km With optionals 8.8 miles / 14.3 km
Day 4 - Santo Domingo de la Calzada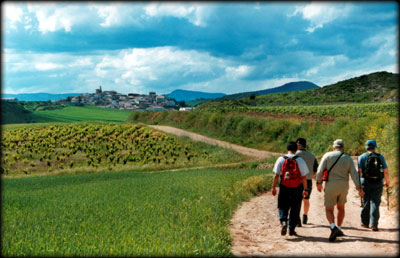 From Logroño we shuttle to Nájera born out of red earthen cliffs and where a 11thC apparition of the Virgin Mary in a cave led to the construction of a spectacular monastery. From here we'll walk among cultivated fields of wheat and wine, past villages and perhaps encounter a flock of sheep before reaching Santo Domingo de la Calzada. We'll stay in the town's luxurious parador, a stone's throw from the Cathedral which we'll visit after some relaxing free time in this small town. 5.9 miles / 9.6 km with optional 9.6 miles / 15.6 km

Day 5 - Burgos
Today's walk ascends and traverses the Montes de Oca, densely populated by oaks, pines, birds and small mammals. This section was dreaded in the Middle Ages as a particularly dangerous hang-out for bandits and wolves and many pilgrims lost their way in the forest. A 12th century monk, San Juan de Ortega, constructed a monastery (by the same name) in the heart of the lonesome area in order to assist pilgrims.
After reaching the monastery on foot w'`ll visit the saint's tomb and point out a mysterious Romanesque capital which depicts the Nativity and draws hundreds of people each Spring and Fall. Shuttle to stately Burgos, built along the Arlanzón River. Guided walking tour of the magnificent Gothic Cathedral. Dinner will be on your own tonight in this enchanting Castilian city and final resting place of Spain's great epic hero, El Cid. Walking Distance : 9 miles / 14.6 km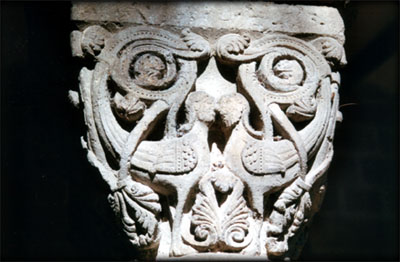 Day 6 - Carrión de los Condes
The meseta (high tablelands) walk is a true highlight. Surrounded by interminable fields of cereal grains and with no signs or sounds of civilization to distract you, we'll walk to our picnic spot, a small outpost in the middle of nowhere. We'll shuttle to Frómista and visit one of Spain's most pristine example of Romanesque architecture. You'll have the option of reaching Frómista on foot along a 17th century canal. Shuttle to Carrión de los Condes where we sleep and dine in style at the exclusive San Zoilo monastery. Walking Distance: 8.9 miles / 14.4 km With optionals 12.3 miles / 19.9 km

Day 7 - León
The sun will rise upon our backs as we wend our way through cultivated wheat fields and pass from village to village in the gently rolling Leonese countryside. We'll visit a well preserved 3rd century AD Hispanic Roman villa whose mosaics and architectural floor plan are quite remarkable.
Once in León city, founded as a Roman outpost, we'll have a guided walking tour of the old quarter housing two jewels of Romanesque and Gothic architecture (San Isidoro and the Cathedral). The latter is particularly famous for its luminescent 13th to 17th century stained glass windows. Walking Distance: 6.5 miles / 10.6 km

Day 8 - Molinaseca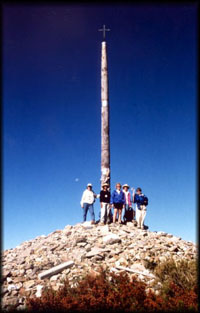 Beginning in Puente Orbigo, we'll cross its long, stone bridge witness to various bizarre encounters including a 15th century knight, Suero de Quiñones, who in a demonstration of his unrequited love challenged all the knights who passed the bridge to a joust during a 30-day period.
From the bridge we'll walk to the Cruz de Santo Toribio overlooking Astorga, a strategic Roman crossroads (classified as an urbs magnifica by Pliny).
After the picnic we'll stop for coffee in Astorga before heading up into the desolate Leonese foothills in an area called the Maragatería, a rural area dotted with small villages.
From the semi-abandoned village Foncebadón, the walk ascends to the Cruz de Ferro (Iron Cross), one of the Camino's most emblematic points.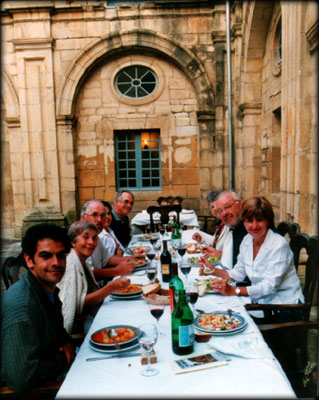 Day 9 - Samos
Drive through Ponferrada past the Templar castle and then on to our trailhead at the hamlet of Herrerías to walk one of the Camino's most challenging and celebrated sections. We ascend along a corredoira, a stone pathway, among chestnuts and then open countryside, through two villages finally reaching Galicia and the pass of
Cebreiro.
Here, we'll visit a pre-Roman style dwelling, a palloza, and have our delicious picnic including hearty Galician bread and outstanding Cebreiro cheese. We'll continue to Samos, famed for its Benedictine monastery founded in the 6th century. Today, it's a mix of Renaissance, Baroque and and Neo-Classic styles.
Enjoy a quiet afternoon in the village of Samos at our riverside hotel with an optional visit to the monastery. Walking Distance: 5 miles / 8.2 km With optionals 10.3 miles / 16.7 km.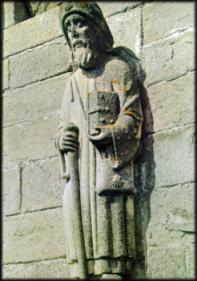 Day 10 - Arzúa
Galician landscapes are rolling, green, forested and largely rural. On today's walk we'll pass through various rustic hamlets on ancient pathways.
Stone dominates in architecture and village life is largely agricultural. We'll pass Portomarín a town flooded in the 1950s to make way for a damn further downstream. Our gentle afternoon walk takes us through fragrant eucalypt forests before we continue on to Arzúa. Tonight's quarters are in a lovely country mansion, a fine example of Galician noble's homes of the 18th century. Enjoy a cooking class with the owners tonight! Walking Distance: 11.9 miles / 19.3 km

Day 11 - Santiago de Compostela
Today the journey comes to an end in Santiago. We'll walk through woodlands and farms before shuttling to the city gates to reach the main plaza on foot in time to attend the 12 Noon Pilgrim's Mass (if you choose to). If in luck, the Cathedral's special incense burner, the Botafumeiro, will swing at the end of the Pilgrim's Mass. In the afternoon we'll have a walking tour of the town and explain the pilgrims' most important rituals.
We'll say farewell to one another in the exquisite Reyes Católicos Parador over dinner and then enjoy a well-earned slumber within its luxurious walls. Walking distance : 4 miles / 6.5 km With Optionals 4.9 miles / 8km