Compostela Tour: From León to Santiago de Compostela
Meet in the monumental city of León and trek through verdant, hilly Galicia to the Cathedral in Santiago de Compostela!
In 2004 Nancy and Jose designed the Compostela tour for walkers who would like to obtain the Compostela Certificate while walking the Camino de Santiago pilgrimage. This Certificate is given by the Cathedral's Pilgrim's Office in Santiago de Compostela for pilgrims who meet several requirements: walking a minimum of 100km along one of the established pilgrim routes to Santiago and to walk with a religious, spiritual motive or at least, "an attitude of search". We have found over the years that this particular tour often becomes a powerful personal challenge and exploration as well as an unexpected group bonding experience that is remembered fondly by our walkers for many years to come. If you care to read testimonials, please refer to our Feedback page.
We start in León to give you a sense of the grandeur of the pilgrimage by visiting the Romanesque San Isidoro Royal Pantheon and the masterful Gothic Cathedral with its remarkable stained glass windows. Leon is set in the middle of a vast, rolling to flat, arid plain called the meseta (tableland). On Day 2 we walk a section of the Camino through the rural farmland of the Leonese meseta and encounter unexpected monuments as well as lovely wildflowers and beautiful rolling landscapes. Here the scant villages are adobe and red earth dominates. As we continue toward Galicia you will observe the abrupt change in the landscape, cuisine, villages. We will end the day in Cebreiro, a unique hamlet located on a mountain pass and linked to the pilgrimage since the 10th century.
From Days 3 through 7 we will be walking approximately the last 115 km of the pilgrimage route, a beautiful, hilly section through rural, bucolic Galicia. Each day (Days 3 to 7) we'll give you a map and description of the easy-to-follow trail and you can walk on your own to meet the group for one of Jose's delicious picnic lunches. After lunch you will continue to walk on your own directly to our accommodation. The shuttle will be available at lunch time and in case of need if someone is unable to walk.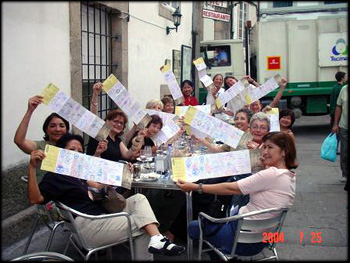 To enhance the overall experience the itinerary also includes other cultural visits including the city of Lugo's remarkable 1800-yr-old, intact Roman wall, as well as an 10th century Cisterician (Trappist) monastery and a guided visit of the Cathedral in Santiago de Compostela.

In Galicia we will pass through countless hamlets connected to one another by ancient dry-stone walls separating the trail from an endless patchwork quilt of worked fields and cow pastures. We`ll enjoy the hearty Galician fare - including leafy green soup, called caldo gallego, creamy cows' milk cheeses, thick, round loaves of wheat, rye and corn meal bread, outstanding Galician veal and pork, seafood and greens – cabbage, broad beans, swiss chard and leeks. We`ll stay in small, simple hotels and lodgings located on the pilgrim`s trail so that you can have the comfort of walking directly to your accommodation at the end of the day and starting out on foot in the morning.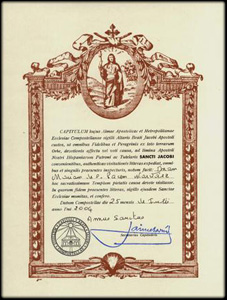 A little bit more about the Compostela:
To receive the Compostela Certificate pilgrims must complete the last 100km (62mi) of the pilgrimage, carry with them a Pilgrim's Passport which you will get stamped on a daily basis, and then, once you reach Santiago, you'll go to the Pilgrims' Office to register yourself, fill out information regarding your journey and motivation. After this process the Pilgrims' Office staff will give you the Compostela if you've met all of their requirements. To find out more information about the Compostela, the Pilgrims' Office, the Cathederal, services for pilgrims, etc, please go to their website: http://peregrinossantiago.es/eng/pilgrims-office/welcome/
Tour Information
7 days & 7 nights

Level: Medium (Due to the length of the walks and the hilly countryside. In general the trails are groomed but some sections will be uneven earth and stone).

Walking Days: 7 Total

Distance: 78.3 miles / 126.9 km With optionals 83.2 miles / 135.1 km
Departure Dates 2020:
8-14 June 2020
Price: €1875 *(Click here for Discount Information)*
BOOK NOW FOR 2020
Reyes Católicos Parador Supplement: The last night of the tour we will be staying in a simple monastery- hotel in the historical quarter with a great location and easy access on foot to all monuments and points of interest. If you would like to stay instead in the 5-star Parador Reyes Católicos hotel, we can try to arrange lodging there. The supplement to stay at the Parador can vary between 150-200 Euros/double room or 130 -150 Euros/single room depending on the season and availability. Please contact us early if you are interested.

Custom Camino Tours: Please contact us if you have a group of six or more to discuss options to run a custom trip for your friends and/or family.

Weather: In April and October expect temperatures in the 40-60F/ 5-15C with high chance of rain showers though it could also be simply partly cloudy and more temperate. Temperatures in May and September tend to be about 10F/5C warmer than April and October. Expect a combination of sun, showers and clouds. July is typically sunny and warm (60-80F/15-25C).