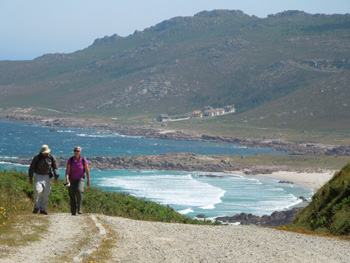 It's been another great year thanks to all of you who make On Foot in Spain possible! Putting together our own 2013 On Foot "Year in Review" has brought back wonderful memories of amazing luck with rain seeming to be all around us except on top of us in both April and October, unbelievable wildflowers in June along the Camino, the richness of harvest time in Portugal and the stunning views in the Basque Country and Galicia that fill the heart and soul. One of the things I love about leading On Foot in Spain tours is that I am constantly taken back and reminded of what is most important in life: friendship and caring about one another, beauty found in nature, the thrill of knowing and challenging one's body, the appreciation of the simple pleasures in life.
Memories flood into my mind of these simple pleasures from this last season – swimming in the cold, refreshing mountain waters of the Lor River in Galicia; eating one of Jose's picnics after a long walk; leading people over a hill where I know a glorious view awaits them; getting to take my shoes off to walk down pristine Traba beach and watching the others ahead of me doing the same; foraging on blue berries, blackberries, grapes, apples and all the other gifts of the Camino; sharing some of these moments with Sam and watching him absorb it all like a sponge; hearing the storks from their weighty nests high upon the church towers; gorging on cherries in June in the Bierzo valley; milking sheep and tasting the fresh milk; listening to people's stories and sharing my own…
They say that a picture is worth a thousand words so here is a collection of images from 2013 that we hope you will enjoy.
Nancy & Jose