Jose and I have long wanted to share the wealth and quality of Galicia's prime resources with our clients. Galicia is well-known within Spain for its food culture (see Nancy's article about Galicia for Roads & Kingdoms) as well as its rich cultural heritage and inspiring interior and stunning coastal landscapes.. We have designed a tour to bring you into close contact with the production and enjoyment of its foods and wines focusing on what they do the best: take fresh local products and transform them into straightforward and simple delicacies. Each day we will take walks in the countryside to enhance the food experience and allow you to enjoy Galicia's breathtaking scenery. This unique tour brings you into close contact with Galician food culture, especially along part of its rich 1200km coastline famed for its stunningly beautiful tidal estuaries known locally as rías.
The tour starts in Santiago de Compostela, Galicia's political and spiritual capital, where we will explore the famed public market and have a cooking class with a local chef and ends in Galicia's vibrant port city of Vigo about and 1hr and 15 min south of Santiago.
From Santiago we head west to the coast to spend two nights in the small rural yet maritime Sierra de Barbanza area. We will visit a cannery to hear about one of Galicia's main seafood industries: the production of first-class canned seafood including mussels, clams, cockles, octopus, tuna, mackerel, squid, hake roe and scallops. We will also take a small boat out into the fertile estuary to visit the aquaculture platforms that produce Galicia's famed mussels.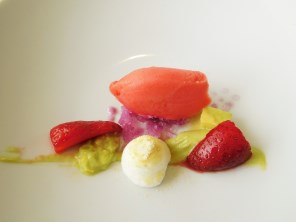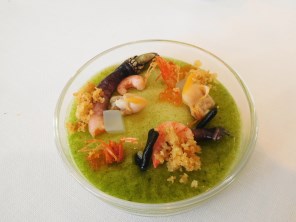 We then move south along the coast to spend three nights in the small town of Cambados which hosts the annual Albariño Wine Festival in August. Our accommodation is a restored manor house that also produces its own albariño wine. Over those three days we will dine in two of Galicia's 13 Michelin-starred restaurants – Yayo DaPorta and Culler de Pau. In Cambados we will join the local mariscadoras (shellfisherwomen) to learn about their trade of clamming firsthand as well as have a cooking class for one of our evening meals. We will also have a wine tasting at a local winery to learn about albariño production.
Our last day, we visit an apiary to learn about Galicia's bees and honey production. We then head to Vigo, (pop. 280,000) and say farewell as we enjoy a show-cooking experience in another Michelin-starred restaurant Maruja Limón.
Tour Information
Tour duration: 7 days & 7 nights

Walking Level: Easy. We will be walking between 1.8 and 5.5 miles / 3km and 9km on a daily basis on well-marked trails. Walking surfaces vary considerably from asphalt to sandy beach, to forest track and stone and dirt country lanes to pebbled tractor track. Some of the trails have loose cobblestones on the tracks that can be difficult to navigate and require concentration while walking. The countryside is mostly rural, coastal and forested. Expect rolling hills with some brief ascents/descents of five to ten minutes in length. Walking poles are recommended for the uneven sections.
Walking Days: 7 total
Distance: 37km/23mi
Group Size: The tour will be limited to a total of 10 people to ensure a very personal, hands-on experience.
Dietary Restrictions/Limitations/Allergies: The Galician diet places a heavy emphasis on meat and fish. While vegetables are, of course, incorporated into the menus, all of the Michelin meals and cooking classes utilize both fish and meat into the dishes we will be preparing. Please let us know of any food intolerances/limitations/allergies when booking and we will advise you accordingly.