This 11-day active walking itinerary will be a remarkably rich experience culturally as we spend the night in or visit five UNESCO recognized World Heritage sites as well as many less well-known treasures of western Spain in this epic, 1000KM south-north journey from the Andalusian city of Sevilla to the verdant, hilly Galician city of stone, Santiago de Compostela, the tomb of the Apostle St James the Greater and endpoint of the set of great medieval pilgrimage routes called the Caminos de Santiago. We will walk sections of an ancient pathway, the Via de la Plata, whose name comes from the Arabic "balat" meaning paved road but came into Spanish and then English as the Silver (Plata) Way.
Since pre-Roman times, this pathway has witnessed the passage of Roman engineers, workers and legionnaires, humble shepherds and their flocks, weary pilgrims on their way to Santiago, Muslim and Christian soldiers vying for control of territory, powerful knights of the Order of Santiago on horseback controlling their lands, skilled merchants and artisans plying their wares and crafts, kings and queens in battle, seeking peace or attending their kingdoms, and all the other people simply trying to make or keep their place in the world.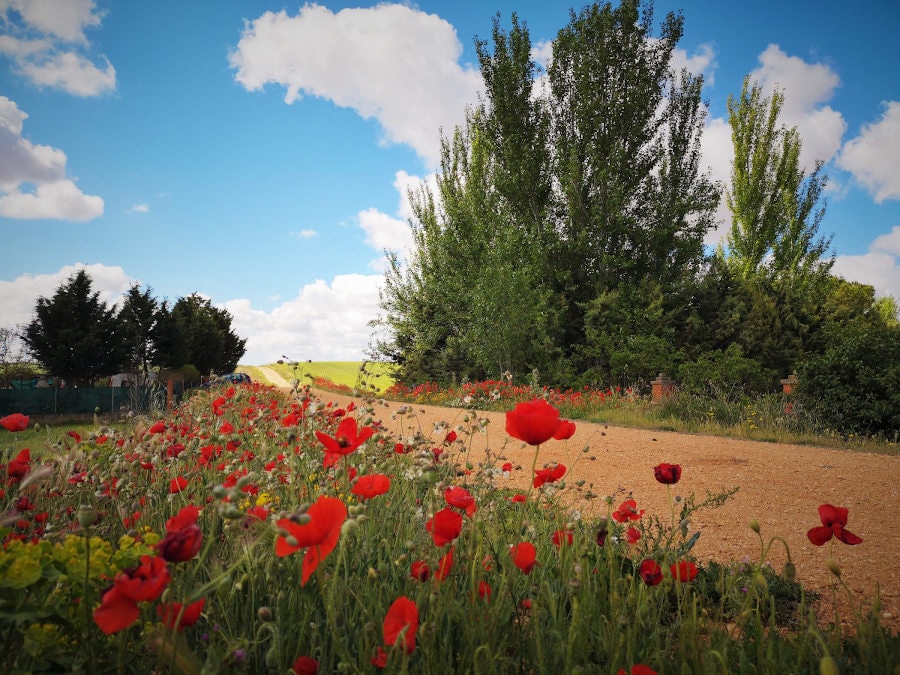 Over the course of these 11-days we will get a glimpse into the complexity of the Iberian Peninsula's history as we move through these beautiful spaces by the rhythm of our feet stimulating our senses on all levels. As on all of our tours, we pay special attention to introducing you to the culinary highlights and wines of each region, so distinct as we move from south to north in this enigmatic and ever-changing set of landscapes from rolling prairies, to mountain passes, open cereal plains to dense forests.
We begin in ebullient Sevilla enjoying Muslim and Christian monuments to a rich, complex past and continue northward through Merida, one of Spain's most-well preserved Roman cities. We move northward through less well-known jewels in Extremadura such as Caceres, Plasencia and Zamora. The trail continues through Castilla y Leon in Salamanca, Spain's oldest university town and famed for the grandeur of its architecture and Zamora another well-situated, monumental town along the great Duero river known for its high-quality red wines. Another transition occurs as we move into verdant Galicia, once hard to access via mountain passes and endless rolling green hills, but valued always for its delicious, yet simple cuisine highlighting the health and quality of the land.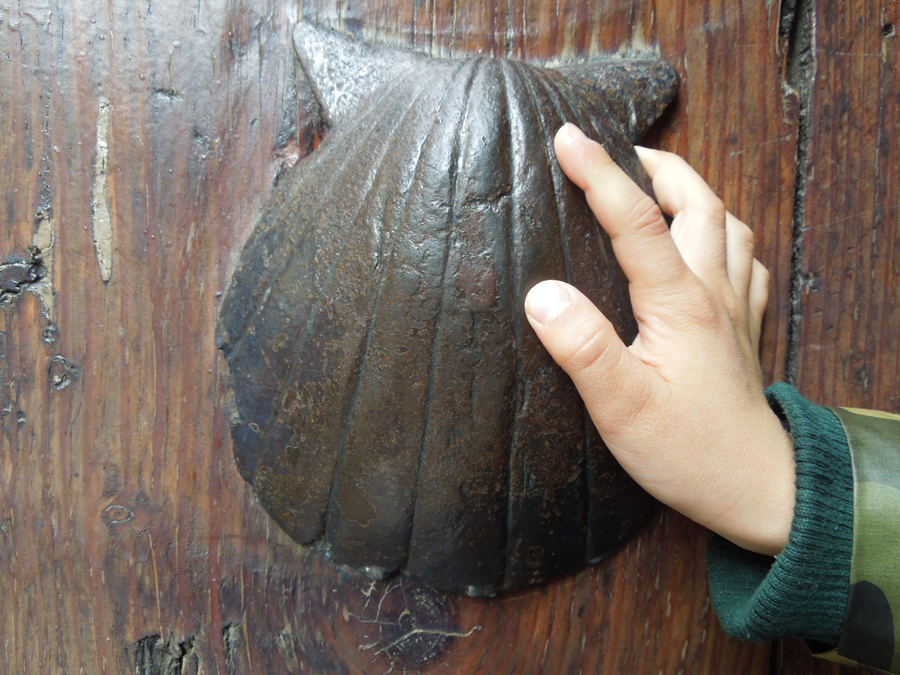 Sam's hand on a scallop shell on a doorway of the Casa de las Conchas in Salamanca
As always we will enjoy lovely walks in the peaceful countryside to allow you to enjoy the special rhythm that walking provides and enables you to take in these experiences so fully. We hope that you will join us for this special itinerary that Jose and I have prepared with the passion and love for Spain and the Camino that characterizes all of our walks.
Tour Information
VIA DE LA PLATA: FROM SEVILLA TO SANTIAGO DE COMPOSTELA
Tour Duration: 11 days & 11 nights
Walking Level: Easy-Medium. This is an active, walking-focused cultural tour exploring a varied set of terrain along a nearly 1000km section of the Via de la Plata. We have chosen highlight and representative sections. Walks range from 6.5mi/10.5km to 9.6mi/15.5km on a daily basis. Some days include optional walks that have a total maximum distance of 13mi/21km. The daily total distance is usually done in sections and when possible we offer alternatives to shorten the walks or you can elect to ride in the support vehicle if you do not want to complete the scheduled walk. Terrain varies from hilly, mountainous track, sections of uneven, rocky pathway, easy country lanes, forest paths, rolling hills, cobbled city streets, and a few asphalt, secondary roads. Walking poles and sturdy walking shoes are recommended for this tour. Remember, the more you train, the more you will enjoy the tour! The Via de la Plata is not flat and you will appreciate training that you do on hilly terrain and walking long-distances.
Walking Days: 11
Total Distance: 81.3mi/131km With Optionals: 96mi/154.5km
(If you did all of the walking - scheduled sections plus sections marked optional - then your total distance would be the 'With Optionals' figure).
Tour Start/End Point: The tour will start in Sevilla at 2pm and end in Santiago de Compostela, Spain. The airport codes are – Sevilla (SVQ) and Santiago de Compostela (SCQ). Both airports are located conveniently to the city center. Daily direct flights are available from Madrid (MAD) and many European hubs to these cities.
Group size: The tour is limited to a maximum of 15 participants.
Tour Price: 3250E per person in double accommodation in 2020 (special inaugural price). In 2021 – 3575E/person in double occupancy
Single Supplement: The single supplement fee is €320 for this tour.
Weather: In May expect sunny warm weather in the south and the possibility of rain showers as we move northward. Temperatures can range from 5-28ºC / 40-82ºF. In April or October expect warm to cool temperatures in southern Spain and cooling conditions as we move northwards as well as the possibility of rain showers. Temperatures will range from 4-20ºC / 39-70ºF
Departure Dates 2020:
6-16 October 2020
Price: €3250 *(Click here for Discount Information)*
BOOK NOW FOR 2020
Departure Dates 2021:
7-17 April 2021
5-15 May 2021
Price: €3575 *(Click here for Discount Information)*
BOOK NOW FOR 2021