BLOOMING IN LOCKDOWN: BOOK ORDER FORM
Remembering our lost and found Spring 2020 during the Covid-19 Pandemic
By Nancy Louise Frey, 25 May 2020
Book Specs: 24pp, 7"x7" or 18 x 18cm, softcover, Price: 20E includes the book and shipping
Publication Date: The book will be sent once received from the printer in late June 2020. Thank you for your patience.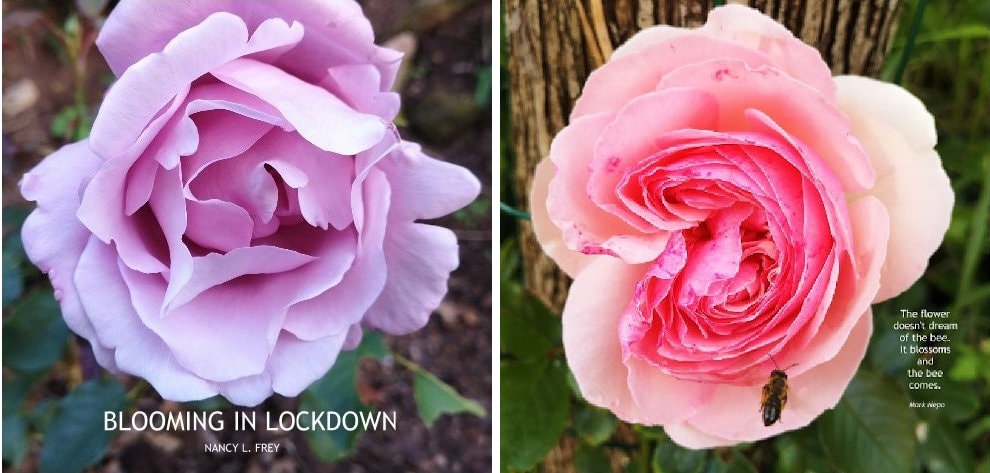 Book Description:
Mother's Day is at the root and heart of this little book I've created. Instead of sending my mom flowers this year, I decided to send her a photo book of blooms from around my house taken during lockdown here in Spain. My mom and I share a love of flowers and I often think of her as I tend my plants or observe beautiful blooms in nature. She is also a very giving person and I decided to turn this personal gift for her into a larger project of giving to hope raise money for families in need as a result of the hardships and havoc that this unexpected pandemic has wrought upon the world.
On the bright side, the slowdown has also offered opportunities for personal blooming - creativity, resolution, introspection, connecting in new ways, artistic creations, a seeking out of new solutions and positive humanitarian acts. Other people have reconnected with nature or value certain activities, people and things they take for granted in their normal hectic routines. Despite the human slowdown, nature has thankfully unfolded into spring over the last months offering gifts of beauty, reflection and lessons for the soul. This book of flowers, dedicated to my mom, reminds us of the beauty that surrounds us and the possibility of taking that beauty inward and then sending it outward again. Hopefully, by looking at these images and reading the accompanying quotes, your spirit will also be uplifted.
All proceeds from the book will be donated in my mother's name to the Red Cross for coronavirus relief. Thank you for participating in this project.