On Foot in Spain Family Part III
On Foot in Spain Family Part III
-
5.0

out of

5

based on

2

votes
On Foot in Spain Family (1999-2018), Part III
By: Nancy L. Frey
Part I of our story covers the early years of On Foot in Spain's family story.
Part II gets into the logistics of how we made it happen and what the kids do on trips.
Part III explores some of the special experiences, stories and even Camino miracles we've had over the years.
Camino Miracles
We like to think that some of the good vibe of the Camino and the joy of having family aboard have inspired at least two and maybe three Camino miracles over the years. When Marina went on her first trip as a dear 5mth old baby, we were joined by a lovely, young couple who shared with me that they wanted to have children but had given up hope after trying for years. Imagine our surprise when they wrote to us several months later to say that they were expecting a baby and they thought the Camino had worked some magic and cute Marina had been an inspiration. Three years later when Sam was 6mths old, he joined us on one of his first trips. In attendance was a couple from Singapore on their honeymoon. Sure enough 9mths later, we received an announcement in the mail that they had had a baby boy and put Samuel as his middle name!
In the photo on the left, Marina, Jose and Nancy take a break at the bar in Gonzar along the Camino in July 2012 during the Compostela tour. On the right, Nancy picks up Sam to give him a big kiss after finishing the stage with the group and arriving for the picnic that Sam and Jose have prepared. For those of you who remember that picnic, Jose is taking out of the bag the octopus (Pulpo a la Féria) that I have just bought in Melide for us all to enjoy warm and savory.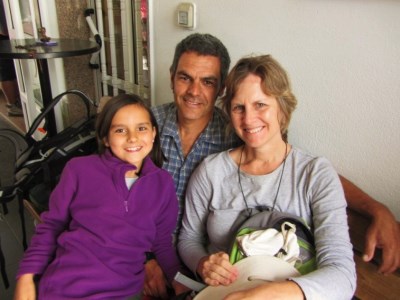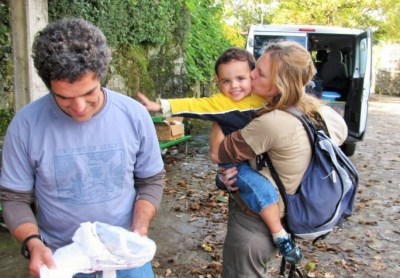 Your relationship with each other and your love for Marina were important parts of the whole experience for me. Your individual personalities and the quality of your interactions added a dimension to the tour. I cannot explain it very well, but in a sense you, and how you interacted, reinforced the spiritual part of the Camino for me. –Bill
Entertaining themselves Can Lead to Entertaining Others
Inevitably on tours, our kids spend a lot of time entertaining themselves. In the bus, we would have a box that contained our child's collection of books, pens and crayons, sketch pads, dolls, cars and whatever else suited their fancy. As word spread that one of our children would be on tour, the kids would occasionally receive a little gift from a client including a number of books over the years that have become family favorites including the delightful Where is the Green Sheep?, the very inspiring family travel story Are We There Yet? or, specifically for Sam (I am) the funny Seuss story Green Eggs and Ham. Our kids became experts in Australian animals with wonderful books about all those curious marsupials and birds with funny names. A couple of Canadian beavers made an appearance to Marina's delight and she proceeded to incorporate them into her imaginative play. Here she shows the beavers (left) to a woman (who had me in stitches much of the trip) and Sam with his drawing book on the bus (right).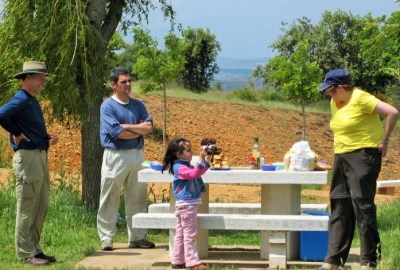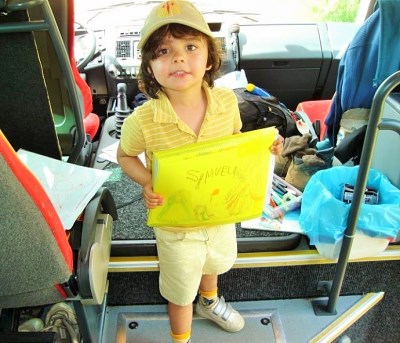 On some occasions people can't walk or don't want to walk for one reason or another and then end up spending time in the bus. If one of our children is on the trip, sometimes they do a bit of bonding and this can become an unanticipated dimension to the trip. Sam loves to sketch. He would often sit in his chair and sketch dinosaurs, mermaids, people – whatever he was thinking about. Sometimes a sketch would make its way up the bus from a passenger in the back and then a story or further drawings evolve from there. In these two photos below, Sam is leaving his mark at the powerful Cruz de Ferro/Iron Cross, the Camino's literal highpoint (1504m) in June 2013. People often bring stones or other mementos from home to deposit at the foot of the cross.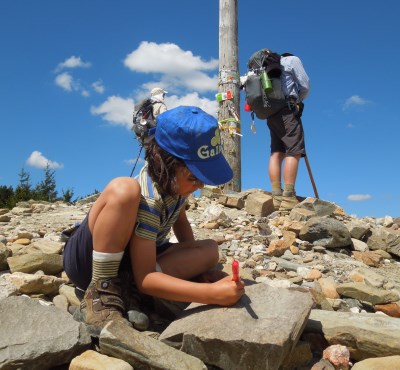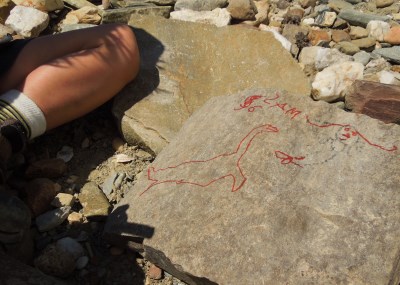 On the final dinner in Santiago, we invite the child who has been with us to attend with the group. Typically, Sam would draw a mermaid or portrait of each person to give them as a going away gift. I've had repeat clients tell me they still have their drawing in a book or marking a page. Here we are at the final dinner at the Parador in Santiago de Compostela in May 2011 (my how time flies!).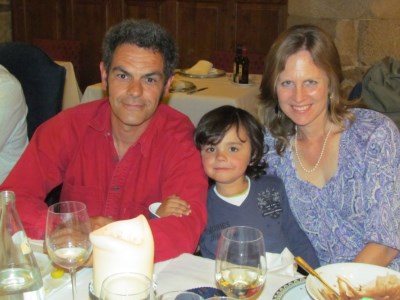 Not all a bed of roses!
There have been challenges on the road with the kids. It would be a lie if I said it wasn't at times exhausting managing all the roles and trying not to let it show. On occasion a lost dummy/pacifier would signify a minor crisis or a sick little one who would have a restless night meaning we might not get all the sleep we might have wanted. One funny moment was when Marina sent her shoe out the window, to her great delight, of a hotel into a stream and she watched it float away never to be seen again. What are the odds of that?
One event I still cringe about came at the end of the walk down a long lovely mountain into Molinaseca. The group was sitting down in a circle having drinks in an idyllic spot next to a cool river. Marina was about two years old and just walking. She climbed up into an empty chair and was smiling and looking at the clients who thought she was pretty cute. I was standing behind her making sure the chair wouldn't tip over and then something happened and she was falling through the air and fell flat on her face. I was devastated (and the clients horrified). Everything has a silver lining though and it turned out that were three pediatricians on the tour and they leapt to their feet take a look at her. She couldn't have been in better hands and fortunately was soon better.
n the photo on the left, I get a hand from a young man traveling with his family along the Camino. They were a wonderful group of three siblings who made an effort to get all of the cousins together and take a family adventure. We were very fortunate to share the Camino with them. On the right, Sam and Jose look down the drain hoping to find some lost object. I hope it wasn't too important (I don't remember so it must not have been too traumatic)!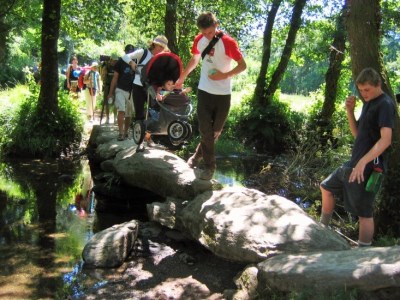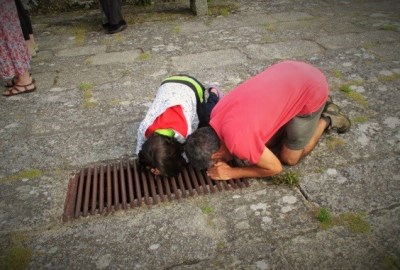 On occasion rainy weather provided challenges for keeping little ones dry and entertaining beyond the bus or the van. The bus is equipped with a video player and sometimes when the clients are walking, Jose might slip in a favorite movie on a rainy day. Some of the favorites included Mamma Mia, Nemo, Duma and Kung Fu Panda. One rainy afternoon Sam was watching Kung Fu Panda and the walkers arrived. It was nearing the end and I went to turn it off. Some of the people in the group spoke up and said – "No, keep it running." It turns out the Disney's Kung Fu Panda has a lot of Buddhist philosophy woven in and encourages focusing on the here and the now, a message that people often find resonates with how they feel on the Camino. At one point the character Master Oogway says,
There is a saying: yesterday is history, tomorrow is a mystery, but today is a gift. That is why it is called the "present."
In the end Sam's movie ended up reinforcing what some people were already experiencing, the gift of the Road, the laughter, the spontaneity, the joy of the group, the time away, the power of the present. We all laughed about it and how this silly Disney movie could somehow have enhanced and reinforced the Camino experience.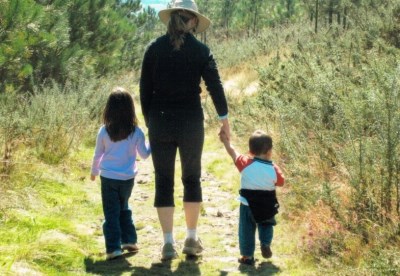 "We loved seeing your beautiful family interact and think you are so fortunate to have and enjoy each other. And we are fortunate to have met you!" Margarita and Diego
In this photo, I have just been reunited with Sam or Marina at the final picnic on Monte Pedroso outside of Santiago de Compostela on our 11-day Camino de Santiago tour. Often on the last day, at the last picnic, we would get a surprise visit of one of the other children. Despite the challenges involved with bringing the children, it has always been worth it. We have been able to have special one-on-one time with each child and, despite being away and working, we were able to share very meaningful time with each one while on tour. Jose also knows every single outdoor play park in northern Spain!
Making Connections and Corrupting influences!
We have enjoyed the client interactions with our kids immensely. It's something we try not to push onto our clients (as again, we don't want our kids to be the center of attention) but sometimes our children and clients simply connect. We love how relationships can develop that cross age, nationality or sex which is also what happens on the Camino when people can meet one another wherever they are. We've had offers of babysitting on a free night, lots of requests to hold and feed the babies, and spontaneous story-telling sessions. The kids are all bilingual and speak English, American-English, of course because of my influence. I've had a number of non-Americans get on the bus and hear one of our kids speak and say "They have an American accent!" Well, of course, they aren't going to speak Australian!
In the photo on the left Marina, on the Camino Portuguese tour, learns how to cut her thumb off without blood in 2010 and Sam (right) introduces clients to the joys of foot elevation and resting after the picnic in Uterga in 2015.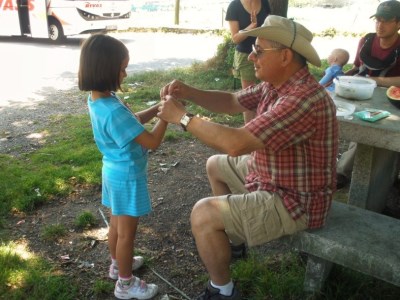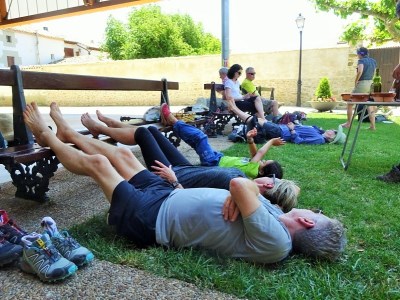 The kids have also been introduced to other local customs by clients who've enjoyed their company post-walk. In this funny photo, six-month old Sam (2007), on one of his debut trips, is on the lap of an Australian man getting ready to initiate Sam into one of his country's customs! He looks a little overwhelmed.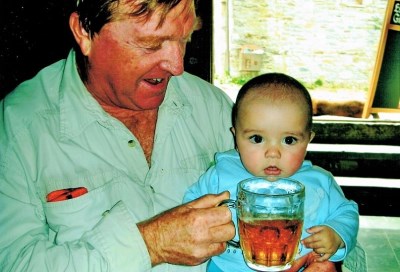 Sometimes these connections have continued post-tour and Sam has become pen pals with several clients over the years. In fact, right now he is writing a story, chapter by chapter, back and forth through the mail with a special woman who has traveled with us five times.
To read the final chapter of the On Foot Family story, go to On Foot Family Part IV.