CAMINO DE SANTIGAO
This was the best tour I have ever been on. The walking was great. I enjoyed every section and it is hard to choose a favorite - maybe Day 10 to Samos or Day 11 to Arzua. Nancy and Jose were experienced and professional with expert knowledge. I wish Nancy had been my history teacher at school. In terms of the picnics, what can I say ? Jose's lunches will become part of the folklore of the Camino. I cannot fault the running of the tour - it ran very well with plenty of free time and no time wasted.
J. Pearson, Royal Exchange, New South Wales, Australia

I enjoyed our journey immensely. It is by far the best group tour I have ever taken. The people, the hotels and the food were delightful. I was very impressed with the care and planning that you put into this and by the concern you showed for our individual comfort. I was delighted to find that I could do so much walking and that it made me feel so good. The journey was very meaningful to me on a spiritual level as well. If you create any new tours that you think I could handle, please let me know.
I. Junod, New York, New York

i had a wonderful time, and I want to thank you and Jose for making it possible. You both do such a great job, I cannot believe there would be anyone who does not enjoy/profit from the experience. You two have created something unique and wonderful !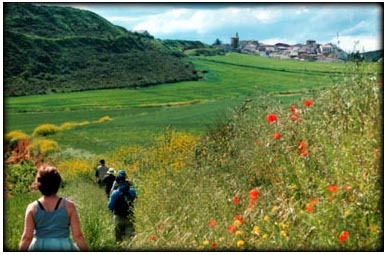 S. Marthens, Portland, Oregon

Nancy and Jose give a wonderful cultural, culinary and outdoor experience with as much historical and art history perspective as one can possibly absorb. Their knowledge and love of the Camino are deep. They provide well for every travel comfort, too. A conscientious, honest and unusually personal job. I got a kick out of how well you two young 'uns parented us older 'uns.
A. Rosenfeld, Brookline, Massachusetts

Nancy, I love your approach to teaching us. Your love of the subject matter is very evident in your enthusiasm, casual, informative style and humorous stories. You make learning fun. Thank you. You and Jose are a good team. The El Camino is an adventure that I'll always treasure and I'll definitely recommend you to friends. Thanks to both of you for your encouragement when we were hot and tired, your sense of humor, your ability to impart your knowledge to us in an interesting, personal way, and the delicious lunches, just to name a few of the highlights. I am still re-living our wonderful Camino adventure...it will stand out as a highlight in our many travels. Would Jose be willing to share his Sangria recipe ? I'd like to serve it this weekend.....
P. Vandeventer, Portland, Oregon

I liked Nancy's 'personal' response to my initial inquiry and all dealings as we signed up. The materials in the form of the diary/booklet and reading lists are excellent. The organization was excellent, very smooth - the smoothness and organization were impressive. They made a difficult operation seem very simple and smooth. The daily timing was excellent. The picnics were truly wonderful. I loved the care taken to detail and to introduce different local specialties. I really enjoyed a wonderful 12 days. Thank you Nancy and Jose.
J. McCowan, Conneware, Victoria, Australia

I congratulate you both on your excellent organization. I had a great time, and so did David. He thanked me for taking him and said it was one of the best experiences ever ! I hope to see you again on a future trip.
R. Reuben, Woodstock, Vermont

Your knowledge was incredible and you communicated very effectively to a variety of intellectual levels. You and Jose make a great, well-rounded team. I loved it, and I'm now talking about the experience with friends to get them (and me) to go with you soon.
C. Meissner, New York, New York

From a second time client:
You've done it again ! Surely this is your true profession (as long as you can continue to put up with the customers !) !. Jose's picnics are the best ! Can you do a cookbook ? ? ? Let me know if you decide to add the Portugal trip. Thanks for everything.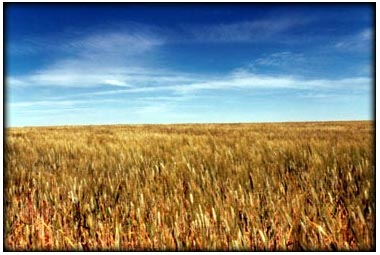 M. Strohl, Sarasota Springs, New York

It was literally the trip of my life. I can't believe how much we enjoyed doing things that we really are not known for being 'into' - not athletic, don't do tours, food fussy, anti-social grumps. And we had a fabulous time. I chalk that up to the quality of your program. Your knowledge could not be better. It was a very nice balance between in-depth and beginner and I loved the library supplement. Of course the picnics were a real highlight. I'm not sure how you communicate it but they were 1000% more than I expected. I'm not sure the tour can be matched anywhere (But come visit us in New Orleans and we'll try !).
L. Buurma, New Orleans, Lousiana

You two did a wonderful job of planning, organizing and leading the trip (a perfect 12 days). The balance of town and country as well as culture and nature was brilliant. It was an amazing experience that will take a long while to process. Nancy has the background and sufficient detail to describe any of the cultural sites we visited. She gave us just the right amount of information. Please tell Jose that I bought salmon-stuffed olives and other assorted goodies that he convinced me were so good. Those lunches were memorable (inventive and delicious ! !) as was the whole trip. Your knowledge and love of the history, culture and Camino provided a framework for the whole trip. I recommend this tour unconditionally.
C. Broadus, New Haven, Connecticut

The tour reflects the interests, experience, knowledge, sensibilities of two unique people - that is what sets it part from the garden variety tour. Nancy's knowledge of all aspects of the Camino enriched the trip and was a real intellectual treat throughout. Jose's support, energy and knowledge of the territory 'greased the wheels' of the tour. He has mastered the art of providing a delicious meal en plein aire. Their attention to meeting personal needs was much appreciated and they are flexible and creative in their conduct of the tour - and all the while organized and conscious of group needs and interests. I was delighted with the accommodations. Nancy's library is a great idea - I noted most of us dipped into it.
L. Milan, Salem, Oregon

I did not expect to enjoy 'walking' as much as I did. I give Nancy and A+ on her knowledge and the organization of the tour. Jose did more than a first class job with the picnics which could not have been better in contents or location.
J. Wleugel, Ontario, Canada

Absorbing history, scenery and the atmosphere of 'El Camino' added up to a great experience. The companship of peregrinos of different cultural backgrounds/experiences lent an extra dimension of enrichment. Both Nancy and Jose broadened our understanding and appreciation of Spanish history (past and present), gastronomy (picnics especially ! !) and life in northern Spain. It was especially nice to have lodgings central and easy distance to local sites and restaurants. I think the variety of lodgings and their locations added to the taste of culture. You did a great job ! ! !
M. Barnes, Atlanta, Georgia

Nancy and Jose, this tour exceeded all of my expectations. Nancy, your knowledge of architecture, church history and even flora & fauna constantly amazed me. You both obviously love this work and we are the beneficiaries of your love of Spain and hiking.
M. Murray, Pompano Beach, Florida

All of the pre-departure info was close to perfect. Nancy, I've already given you my verbal feedback on how very effective you are in presenting so very much interesting material. You are so knowledgable and even-handed in presenting what could be controversial information. In terms of organization I can't think of anything that I would ask you to change. Jose did a great job. Thank you. I had a wonderful time.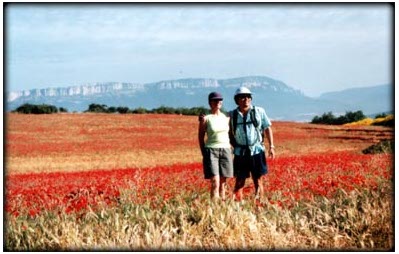 M. Schrodt, MacLean, Virginia

I would think each night, 'how could tomorrow be any better ?' and then the next day there was always a wonderful surprise.

Anonymous (on his/her rating of the tour from 1 to 5 he/she gave it a 10)

Thank you both for a flawless execution of a sound concept. As a result, you may not have seen the last of me ! As soon as I get organized, I will send you pictures I took. They don't seem to do any justice to the grandeur of everything one sees. So, what is one to do?
S. Verma, Ontario, Canada

The level of knowledge was exceptional. I didn't expect to gain so much history. That was a real bonus. The extra excursions were fabulous and the operation very smooth. The picnics were wonderful. Wonderful ! Wonderful ! Clone Jose ! The restaurants were also excellent. This was a wonderful experience and really three tours in one - walking, cultural and gourmet ! This is not the usual tour of fly by the building and then say you've seen it. Thanks you for everything you did for us.
G. Melton, Salem, Oregon

Everything went smoothly. Nancy responded quickly and in complete detail to my questions which were concerns about difficulty of walk. Nancy was extremely well informed, not only about architecture, but all aspects of Spanish life - food, customs, history. I learned a lot about Romanesque and Gothic that I didn't know before and this will greatly enrich my travels in the future. In terms of organization I wouldn't change anything. The Roman villa and Las Medulas (optional excursions) were absolutely marvelous. Picnics were a highlight of the day - delicious variety, relaxing and in a good location. I think about our wonderful trip all the time and I'm so happy when I see people who know what I'm talking about ! The walking was especially wonderful. I was so happy. I had no troubles and it felt so good striding along in such a beautiful country. I was totally satisfied with lodgings, meals, art history, non-ecclesiastic places of great interest.
D. Berkeley, Charlottesville, Virginia

I had expected you to be knowledgable but was very impressed with your presentation of info. Also, even though I was familiar with a lot of the stories/legends, I was mesmerised by your storytelling talents. The wildflower info was a special treat for me. The tour was run in a very flexible manner. The picnics were 'awesome' - very homestyle and extremely well presented. I am at peace with my decisions to travel the Camino and I'm very grateful to you and Jose for being my companions/guides. I look forward to traveling with you again. Thank you ; especially for making my birthday so wonderful. I was very touched.
S. Carney, Mystic, Connecticut


GALICIA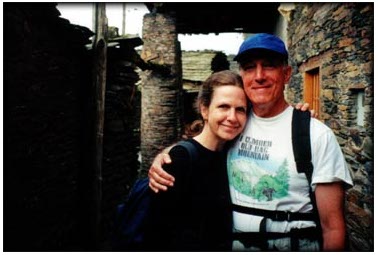 A former client shared with us this quote from Cees Nooteboom's celebrated travel journal Roads to Santiago (p.45) which she read to us at dinner in the tiny hamlet of Vilamor at the end of our Galicia trip. Afterwards she sent it to us with the forward : "I hiked up Bromley mountain, and read the passge I read a year ago before dinner in Vilamor, and thought of us all together, and what a wonderful trip it was "

The traveler in Spain should rid himself of the sense of time as anecdotal, he should be unconcerned by planned itineraries and times of arrival, he should be willing to lodge at modest village inns and to expose himself fearlessly to different concepts of temporality. Climate, obstinancy, the mercy of fate, even sheer lack of interest have caused some parts of Spain to be left well alone, making it possible foryou to believe for a moment in the illusion that the world is not so chaotic after all, not as savage and transitory as the newspapers and television images would have us believe, that there are given constants which, even though they are made up of individual lives, transcend the vicissitudes of cruelty, bitter conflict, most recently in this century.
All those dramatic events brought men to ruin, men who thought everything would be ruined with them, and yet the traveller of today encounters landscapes, monuments, attitudes that are unchanged. Change is always exaggerated by contemporaries, and their exaggerated views are reiterated by the news media which, in order to safeguard their very existence, are obliged to affirm the change because constancy has no appeals. There are other media for that : museums, books, cathedrals."
M. Strohl, Sarasota Springs, New York

You two made a great team in terms of knowledge of history, culture, environment as well as the efficient handling of details, etc. To be served colorful, simply, tasty food by a waterfall by an attractive Spanish man - what's not to like ? The introduction to the cuisine of the area was truly a highlight of this trip ; it's a feature you would not likely get on your own.
Cliches not withstanding, this was truly an unforgettable experience. I had never had much of an interest in visiting Spain before. Now I intend to return to learn more. You have fashioned a well-designed blend of activities that brings the history, culture and real people of Spain alive for us travelers. Thanks.
M. Walton, Bakersfield, California

Jan and I thoroughly enjoyed ourselves. I feel that I have a great understanding of Spain in the northwest. I would be very happy to recommend the experience. Thanks and best wishes...
R. Marich, Northbridge, New South Wales, Australia

Nancy, you know your subject well, you made it interesting yet didn't overload. I loved trying the food and appreciated the variety. The mix of lodgings was also very good. I feel you gave us a special taste of Galicia which we could never have gotten ourselves. Thank you!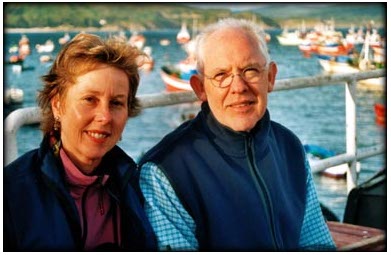 J. Marich, Northbridge, New South Wales, Australia

You were both wonderful, knowledgeable and well organized ! The picnics were great ! I really enjoyed the quality and variety of food (especially the fresh seafood) we had at the restaurants. Now you just need to put together a souvenir cookbook ! By the way, I made your family empanada dough - with a leek, mushroom and bonita filling - it was great.

We have many fond memories of our trip with you. I especially appreciate all the behind the scenes efforts that it took to make everything go smoothly. I have just returned from a trip to Italy with my two teenaged daughters (I did all the legwork) and I must say that I prefer Spain, and Spanish food. This is probably because of the trip we took with you and Jose. I hope that we can return soon.
H. Radin, Palo Alto, California


BASQUE COUNTRY & PYRENEES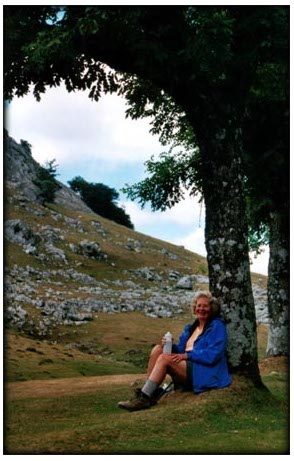 I felt like we were walking through Spain with friends. I really enjoyed hearing about the Camino de Santiago.That was probably most fascinating for me. But there were many highlights - the Guggenheim, the Arantzazu sanctuary, San Sebastian, Pamplona. You seemed to know the answer to every question. You were extremely well informed about the terrain and the cultural aspects of the area. The tour was beautifully organized.
M. & B. Hant, Los Angeles, California

I enjoyed all of the walking. I didn't have a favorite but the ocean walk was very enjoyable as was the walk from Roncesvalles. Thanks for your knowledge. Jose thanks for the fun picnics. Your thoughtfulness at preparing and sharing local specialties means a lot to us. I enjoyed all aspects of the trip. Our group was very congenial and Nancy and Jose thank you for your thoughtfulness.
Jo. McGraw, Alexandria, Virginia

The walking was perfect for me. I especially liked the walk along the cliffs/water coming from San Sebastian but each walk had special elements that made it fun. I have had a wonderful time this week. You have offered me an experience in Spain that I could not have gotten any other way. Your wealth of knowledge about Spain has inspired me to read more. We were able to learn about Spain all through history which is especially exciting to me. The walks were fun and each different. And being in the company of both Nancy & Jose made the experience what it was. I've felt privileged to spend some time getting to know you. Our other travelling companions were also fun ; having a small group we felt was an asset and enhanced the experience.
Ju. McGraw, Alexandria, Virginia

This was one of the most memorable holidays I've ever had. My favorite walk was from San Sebastian to Ainhoa and the picnics were beyond expectations. There was a good sampling of local foods and well prepared. The organization was perfect and all the restaurants were excellent.
P. Arntsen, New Westminister, British Columbia, Canada

This was a wonderful experience and a great way to experience the Basque Country. I would definitely do this type of tour again. The picnics were fantastic, the tour ran very smoothly, you are both very knowledgeable, and all the hikes were great - my favorite was from San Sebastian along the coastal trail. I felt very well prepared. My numerous questions were promptly answered and we were given names of people to contact for feedback. The tour of the caves was very interesting!
J. Arntsen, New Westminister, British Columbia, Canada