On Foot in Spain
On Foot in Spain
-
4.5

out of

5

based on

10

votes
"Aside from marrying my husband and having my son, this was the greatest thing I have ever done. Everything I hoped for, and more, happened. Please know to what a great extent you enhanced my life…"
Cynthia, Portland, Oregon, USA,
Camino de Santiago, 2003
I have done so much raving on to people about how wonderful On Foot in Spain & particularly Nancy & Jose were, that they should never need to advertise. It was all such a special experience as evidenced by our reaction as we walked into the Santiago Square – still gives me goosebumps….Nancy & Jose – you are absolute legends….".
Bron & Michael, Vermont, VIC, Australia
May 2017, Camino de Santiago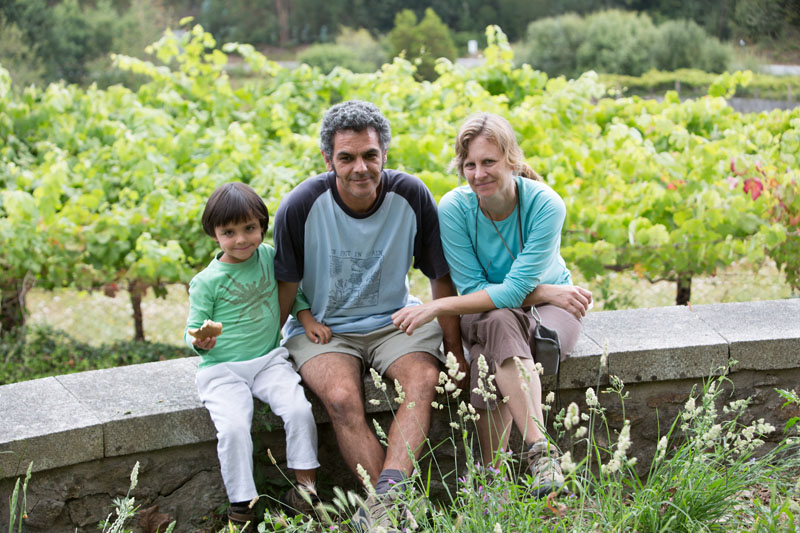 Sam, Jose and Nancy on Portugal tour by client B. Cameron
WHO WE ARE: YOUR OWNER-GUIDES - NANCY & JOSE
Receiving feedback like the above testimonials, written 14 years apart, fills us (Nancy & Jose) with a tremendous sense of fulfillment. Our primary goal on our trips is to help facilitate the engagement of our travelers with something meaningful within themselves or the rich landscapes and experiences within which they are immersed. Being a part of someone's potentially transformative experience is a great honor and privilege. Jose and I both have a great passion for and knowledge of Spain, where we live (Galicia), the Camino de Santiago and it is a pleasure to share this with those who accompany us.
OUR ORIGINS
Both Nancy and Jose have always held both walking and learning close to their hearts. Their paths crossed while Nancy was conducting her doctoral dissertation research on the Camino de Santiago in the hamlet of Roncesvalles (Navarre) and Jose was just beginning a 450-mile/780KM walk across Spain. Their paths rejoined a month later in Santiago de Compostela and since then have not diverged.
Together they co-authored the chapters on Galicia, Cordillera Cantabrica (Picos de Europa) and the Camino de Santiago for Lonely Planet's Walking in Spain (1999 and 2003 and Hiking in Spain, 2010) and co-authored Lonely Planet's 1st edition of Walking in Scotland (2001). Nancy and Jose started On Foot In Spain Walking & Hiking Educational Adventures in 1999. They have three children, Jacob (2 Feb 1999) Marina (05 Dec 2003) and Sam (27 Nov 2006), and live on the Galician coast.
Nancy L. Frey, PhD

Nancy on top of Mt. Dana, Yosemite circa 1978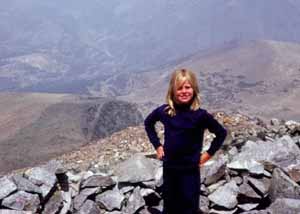 Nancy's love of hiking grew from annual summer trips to Yosemite led by a Dad who always knew the name of every tree and who reveled in leading his children to inspirational points. Thus it wasn't too surprising that when she selected her subject material for her doctoral dissertation in cultural anthropology (UC Berkeley) one very attractive element of it was the prospect of traversing the north of Spain on foot.
Since her first walk in 1993, Nancy has walked the Camino de Santiago numerous times and cycled it as well. In her book on the modern day journey, Pilgrim Stories: On and Off the Road to Santiago (UC Press, 1998), Nancy brings to life the contemporary way by discussing pilgrims' motivations, mishaps and discoveries while walking as well as providing insights into why the route is so popular today.
In the late 1990s Nancy lectured for ElderHostel and the Smithsonian Institution on their educational tours in Spain, Portugal and France. She also taught a course on the Camino de Santiago at the University of Santiago. Nancy is currently researching the impact of the internet and mobile technologies on the pilgrimage experience and on being a pilgrim. Her website Walking to Presence is dedicated to sharing her research and insights on pilgrimage in the Internet Age and to helping travelers to reflectively engage more fully with their travel experiences.
One of Nancy's favorite roles on tour is bringing to life the history and culture of the places we visit through a wide range of stories and consistently receives very positive feedback for how she conveys her knowledge. To learn more about this facet of the On Foot experience, read The Story Teller. In this photo, taken by client F. Fehr, Nancy has just told the group about the history of the special mountain village O Cebreiro and explained how and why the yellow arrows were invented.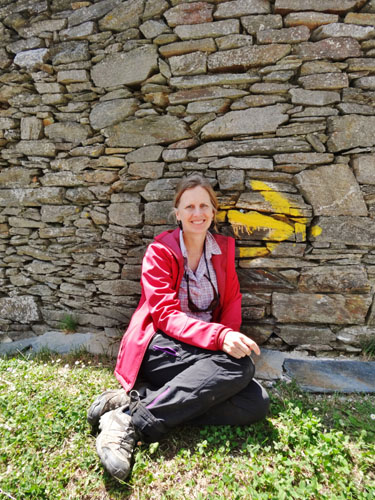 In her free time she enjoys reading, swimming, kayaking, tending her flower garden and her hens as well as cooking savory pies and tarts.
Jose Daniel Placer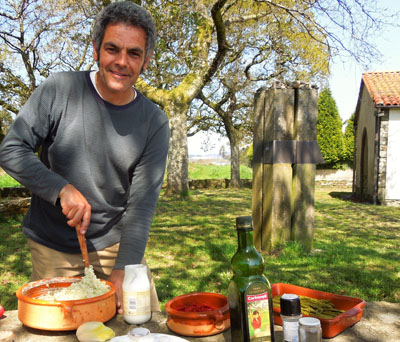 A native of Santiago de Compostela, Jose received his law degree from the University of Santiago and then made a 180 degree turn away from being a lawyer and back to his real passion: children and the outdoors. He has taught outdoor education and coached soccer, basketball and volleyball. He runs the children's theater program for the local school where he writes and directs the plays.
With Europe as his backyard, Jose has hiked extensively both within and beyond Spain since he was a teenager. Despite having enjoyed the Italian Dolomites, and hiking in the Alps while studying law at the University of Passau in Germany, his favorite stomping ground continues to be Spain's Picos de Europa.
Jose's picnics have received tremendous praise over the years. When not on tour Jose lovingly tends his fruit orchard and garden and enjoys experimenting with new recipes from our own harvest.
Jose especially enjoys writing short stories, carpentry, restoring furniture, working his garden, kayaking and mountain biking.


ON FOOT PHILOSOPHY
Each time we set out on a trail we go with the idea that to walk is to learn. Slowing down to the rhythm of your feet inevitably brings more to your immediate attention and consequently allows for greater speculation and wonder. We abide and live by the slow travel, slow experience movement as an enriching way to experience a new culture.
On our journeys into northern Spain's exceptionally beautiful back roads we want to give you the opportunity to challenge yourself physically (without overdoing) and at the same time pique your curiosity by pointing out the not so obvious as well as providing insights into the wonders of the everyday. In this photo, taken by traveler J. Laskall, she captured Jose demonstrating the usage of the Spanish botijo, glass wine holder, traditionally used by field workers.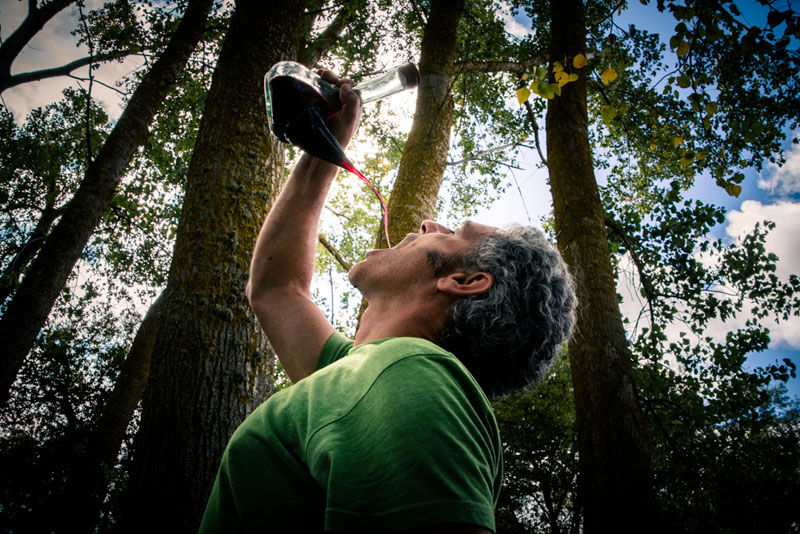 Art, architecture, anthropology, folklore, history, Spanish fiestas, cuisine - we interlace them all into each day of your tour. Our carefully designed walks, combining charming accommodations in rural inns, monasteries, and hotels with the finest in local cuisine, will immerse you in the riches of northern Spain's cultural life and landscapes.
ON FOOT FAMILY
After nearly 20 years of running On Foot in Spain, our family has grown up with the business. Nancy wrote a four-part series highlighting the challenges and joys of having their family grow up with On Foot in Spain as a constant presence. Over the years we have developed very special friendships with travelers from around the world who have joined us on 3, 4, 5 and even 6 trips! We feel very blessed indeed to have created a huge network of the On Foot Family around the world. Thank you to all of you who have made it possible. Please see our group photo gallery to enjoy the experiences of our some our 1500 clients on 160 tours in the last 18 seasons.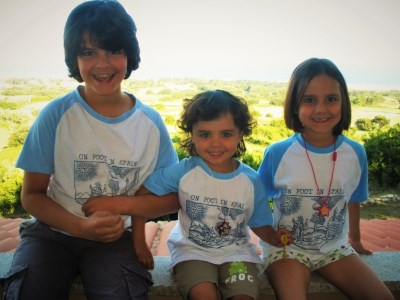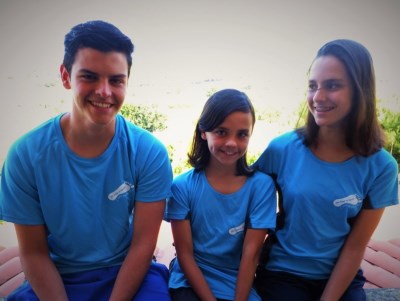 2010 2017

To read about the On Foot Family story, please read here.
Find out more about On Foot in Spain......contact us at