"If Nancy were a college professor, she would be the best professor you ever had…Our Camino was a wonderful experience. We loved Nancy & Jose, and we loved every part of the trip. We have already recommended it to friends."
Julie & David, May 2018, Camino de Santiago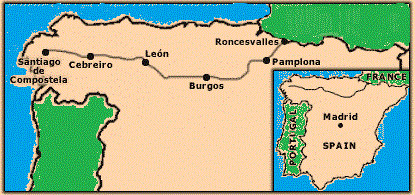 For 20 years Nancy and Jose have been leading groups along Spain's premiere walking trail – the medieval pilgrimage route called the Camino de Santiago. We call this tour "On Glory Roads" as it truly is a remarkable journey that stimulates all of your senses in addition to your curiosity and often times, unexpectedly, your spirit. Many people write to us many years later still saying, for example, "We remember out time with you in 2013 with such fondness … It's still the best Holiday ever!"
Sally, writing May 2018 about her Sept 2013 Camino de Santiago tour.
Following scenic country roads, agricultural fields and forest tracks as well as crossing villages and cities born of the Camino de Santiago, it is difficult to imagine a better way to enjoy Spanish (and European) art, history, culture, and geography than to embark on this magnificent way. According to legend, around the year 812, a religious hermit discovered the long forgotten tomb of the apostle James by following a falling star. His chance finding gave birth to what would become Santiago de Compostela as millions of devout men and women came to venerate the saint's bones throughout the Middle Ages. In the late 20th C the idea of going on pilgrimage to think, have a time-out or reassess one's life, struck a chord with walkers, with diverse backgrounds and motivations, from all over the world
On our 11-day tour we've selected the most beautiful and representative sections of the Camino to walk. Between walking stages we shuttle to our accommodations selected for their character as well as proximity to the historical quarters of the towns and villages where we will spend the night. On our last night we stay in the spectacular, world-famous 5-star Hotel Reyes Católicos located at the foot of the cathedral in Santiago de Compostela.
Starting in Roncesvalles (on the France-Spain border), we cover the section called the Camino Francés as the route passes from the wooded Pyrenees of Navarra to the fertile wine territory of La Rioja, the rolling wheat fields and high tablelands (meseta) of Castile and León and then to verdant, rolling Galicia.
Each region also offers its own gastronomic highlights which we'll take great pleasure in introducing you to in both Jose's world-famous picnics and the evening meals. Expect to enjoy a magnificent array of wildflowers in the spring and early summer as well as the ripening fruits of fall. Come with us and discover and explore why this remarkable tradition has moved millions of people for more than 1000 years and continues to do so.
Tour Information
CAMINO FRANCÉS: FROM RONCESVALLES (NAVARRA) TO SANTIAGO DE COMPOSTELA
11 days & 11 nights
Level: Easy-Medium. We will be walking and hiking from 5.1mi/8.3km to 11.9mi/19.3km on a daily basis. On some days optional walks are scheduled with a total maximum distance of 12.7mi/20.6km. On many days the daily total distance is done in sections and we can offer alternatives to shorten the walks or you can elect to ride in the support vehicle if you do not want to complete the scheduled walk. Terrain varies from hilly, mountainous track, easy country lanes, forest paths and a few asphalt, secondary roads. Walking sticks are recommended for this tour.
Walking Days: 11
Total Distance: 80.8mi/ 131.5km With optionals 99.8mi / 161.6km
(In the itinerary everything is optional. If you don't feel like walking any section, of course, that is up to you. If you did all of the walking - scheduled sections plus sections marked optional - then your total distance would be the 'With Optionals' figure).
Tour Start/End Point: The tour starts in Pamplona and ends in Santiago de Compostela, Spain. The airport codes are – Pamplona (PNA) and Santiago de Compostela (SCQ). Both airports are located conveniently to the city center. Daily direct flights are available from Madrid (MAD) and many European hubs to these cities.
Group size: The tour is limited to a maximum of 15 participants.
Tour Price: 3475E per person in double accommodation
Single Supplement: The single supplement fee is €320 for this tour.
Weather: In May expect some showers, temperatures from 5-20ºC / 40-70ºF and varying conditions. In June expect sunny skies and temperatures from 15-30ºC / 60-80ºF and the possibility of rain during the tour. Late September, early October is normally warm and clear though rain showers and cooler temperatures are always possibility.
Groups: If you have a group of six (6) or more and the dates are not available when you would like to travel, contact us and we can try and schedule a tour adapted to your dates.
Custom Camino Tours: We also organize retreats, youth, church, or private tours of the Camino. Contact us for more information.
Our Camino de Santiago Tour does not qualify for the Compostela Certificate: On our Camino de Santiago tour you will not be eligible to receive the Compostela Certificate. We walk more than 100km but not the LAST 100km which is the key. As an alternative, we can arrange for you to walk with us through Day 10 of the tour and then you can walk the last 100km independently to earn the Compostela. Please contact us if you would like more information on how this would work. On our 7-day Compostela Tour from León to Santiago, you will be eligible to earn the Compostela Certificate.
Note about the Compostela Certificate: Some tours guarantee that you can acquire the Compostela Certificate without offering you the possibility of correctly doing so. The Compostela is a document given by the Pilgrim's Office in Santiago de Compostela to pilgrims who state a religious/spiritual motivation and who have walked the last 100km (62mi) continuously on foot (200km on bicycle). It is not sufficient to do the distance piecemeal from Roncesvalles to Santiago. If you have any questions in this regard, please refer to the Pilgrim`s Office official website: https://oficinadelperegrino.com/en/
Departure Dates 2020:
6-16 May 2020
Price: €3475 *(Click here for Discount Information)*
BOOK NOW FOR 2020
Departure Dates 2021:
29 Sept-9 Oct 2021
Price: €3475 *(Click here for Discount Information)*
BOOK NOW FOR 2021