Basque Country: Culinary mecca, Art center (incl., Guggenheim Museum), French and Spanish coastal and Pyrenees walks!
The Basques have often been described as a mysterious people: Where did they come from? What's the source of their language? How did they survive as a people despite waves of invasion of Celts, Romans and Christian settlers?
Arguments of geographical isolation seem to hold little water leading some to conclude that there must be something special about Basque character which has allowed them to endure and thrive in their enchanting corner of south-west France and mid-northern Spain where the sea meets the great Pyrenees mountain range.

The Basque Country (Euskal Herria in the Basque Language, País Vasco in Spanish and Pays Basque in French) is made up of seven historical provinces (Bizkaia, Alava, Guipuzcoa, Navarra, Labourd, Basse Navarre and Soule) stretching on both sides of the border. In our days, Bizkaia, Alava, Guipuzcoa make up the Spanish autonomous community of Euskadi, while Navarra has its own autonomous region status and the rest are part of the French State.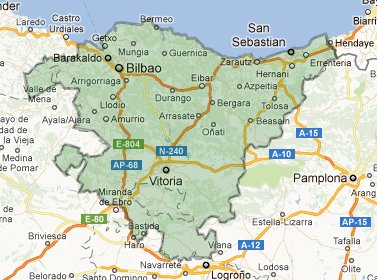 These hilly and coastal lands have been farmed, havens for shepherds and exploited for their mineral wealth for centuries and centuries by the Basque peoples who share a common language - Euskera. Euskera is a pre-Indoeuropean language and believed to have been in use since the pre-Roman era. Basque folklore, games (hand ball, pelota, jai alai), cuisine, dance, and a profound relationship to the land and homestead are deeply cherished in this fertile region and we'll learn more about these ways of life and being as we walk the area's paths and ways.

On our tour we will explore the roots of Basque history and the legacy of 19th C unbridled nationalism, born in the industrial age, on contemporary society (oftentimes in conflict with itself). We'll sample their world famous cuisine, visit their coastal fishing villages from which innumerable voyagers launched off into the unknown in search of discovery and opportunity or to land an enormous whale, walk along their old smuggler's trails as we cross the border connecting France and Spain on two ancient Basque passes all the while being exhilarated by their most beautiful natural resources - the densely forested Urkiola Nature Park, the coastal Flysch Trail (a geologist's paradise) and the rolling txakolí vineyards set between the coast and mountains. We'll not only stay in some of the Basque country's most beautiful coastal and mountain villages, we'll also enjoy the vibrant cities of Bilbao (visiting the Guggenheim Museum) and San Sebastian (a city perfectly interfaced with its coastal and hilly setting and justly famous for its cuisine).
Tour Information
Tour duration: 7 days & 7 nights

Level: Medium-Hard. The Basque Country hikes are medium to medium-hard level due to the continuously hilly countryside with several hard sections on sometimes steep, and potentially very slippery limestone trails over the course of the hikes on some of the days. Expect elevation gains/losses of 500m/1500feet over the course of the day's walk with successive steep ascents and/or descents. Hiking lengths range from 9 to 16km/ 5.5 to 10 miles. While the distances are not long, the walking conditions require care, stamina, concentration and being comfortable on uneven and irregular walking surfaces. The surfaces range from easy forest and farm track to challenging sandstone and limestone (ie, slippery if wet and very irregular rocks) descents on ungroomed mountain hiking trails. Walking sticks are highly recommended.
Most of the hikes are designed to start in one location and end in another (ie, vehicle drops us on one side and picks us up on the other) and once you are on the trail, you are committed to the end. Most of the walks do not lend themselves well to shortening or providing easier alternatives. While the hiking trails have many very, easy straightforward sections they also have difficult sections which could be overly demanding for someone with balance, stamina, stability or vertigo issues. Training by playing tennis, bicycling or walking on asphalt only is not adequate for this trip. Keep in mind that this is a guided trip and the group needs to stay together due to the nature of the trails and the large number of alternative pathways that we will be frequently encountering. Please let us know if you have any questions.
Walking Days: 7 Total
Distance: 38.5 mi/60.5 km With optionals add-ons 48.1 mi/ 77.6 km

On the tour we book standard double rooms. You can also choose to upgrade to view rooms on a couple of nights for an extra fee. Please contact us for more information.

Single Supplement: The single supplement fee is €340 for this tour. This is much higher than most of our other tours as the hotels discount very little for single occupancy or use double rooms for singles.

Groups: If you have a group of four (4) or more and the dates are not available when you would like to travel, contact us and we can try and schedule a tour adapted to your dates.

Weather: The Basque Country's driest months are from July to September but be prepared for the unexpected rain shower at any time of the year. Summer temperatures oscillate between 15-30ºC / 60-85ºF