Enchanting borderlands, coast and rural landscapes en route to Santiago de Compostela!
Using the Caminho Português (in Portuguese)/Camino Portugués (in Spanish) as the backdrop for this culturally rich 7-day tour, we will be following the trails taken by pilgrims heading from Lisbon, Portugal to the tomb of the apostle James in Santiago de Compostela. The riverside, historical town of Vila do Conde (15km from the Porto international airport) will be our launching point for our journey that explores the historical wealth and beauty of these borderlands.
From the city of Porto there are two principal Camino trails heading to Santiago de Compostela: the coastal Camino and the interior Camino. We have selected what we believe to be the best sections of these two trails for this tour. Along the way you will learn many fascinating aspects of Portuguese and Spanish (specifically Galician) history, folk life and culture as well as enjoy the delicious foods and wines of these areas.
Northern Portugal and southern Galicia are both characterized by green rolling hills separated by expansive valleys whose inhabitants have managed to retain their largely rural lifestyles. In both areas we will enjoy the bounty of their gardens, pastures and sea beds as well as their world-famous wines including Port from Porto, Vinho Verde from the river valleys north of Porto and the white Albariño from southern Galicia. The very comfortable accommodations that we have selected will also enhance your enjoyment of the areas as they are conveniently located in the historical quarters where we stay.
Tour Information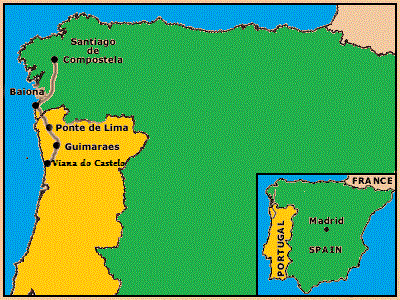 Camino Portuguese: From Vila do Conde to Santiago de Compostela
Tour Length: 7 days & 7 nights (5 nights in Portugal and 2 nights in Spain)
Walking Level: Medium. Walks range from flat to rolling terrain with minor ascents and descents (5-15 min without rest stops); while most trails have even walking surfaces not all sections of each trail are groomed. We will be walking on a variety of surfaces included asphalt, cobblestone paths, dirt track and boardwalk through villages, agricultural areas, forests and coastal trails. On some of the days, we can shorten the distances to accommodate walkers who would like to do a 2-3km less.
Walking Days: 7
Total Walking Distance: 88 km/54.6mi With Optional Walks: 106km/65.7mi
(In the itinerary everything is optional. If you don't feel like walking any section, of course, that is up to you. If you did all of the walking - scheduled sections plus sections marked optional - then your total distance would be the 'With Optionals' figure).
Tour Start/End Point: The tour starts in Vila do Conde, Portugal and ends in Santiago de Compostela, Spain. The town of Vila do Conde is 15Km from the Porto international airport (code: OPO) and easily accessible from Porto city by public transport if you want to visit it before the tour starts. Santiago de Compostela international airport (code: SCQ) would be your closest return airport.
Group size: The tour is limited to a maximum of 16 participants.
Tour Price: 2275E per person in double accommodation
Single Supplement: The single supplement fee is €300 for this tour.
Weather: The region is blessed with mixed Mediterranean (warm and dry) and Atlantic (temperate and humid) climates. In July expect possible temperatures from 16 to 26 C / 61 to 80 F with sunny and partly cloudy skies. Being the Iberian Peninsula`s greenest corner watered by weather off the Atlantic, it is possible to have a rain shower in July or coastal fog in the morning in northern Portugal and Galicia.
Departure Dates 2020:
22-28 Sept 2020
Price: €2275 *(Click here for Discount Information)*
BOOK NOW FOR 2020