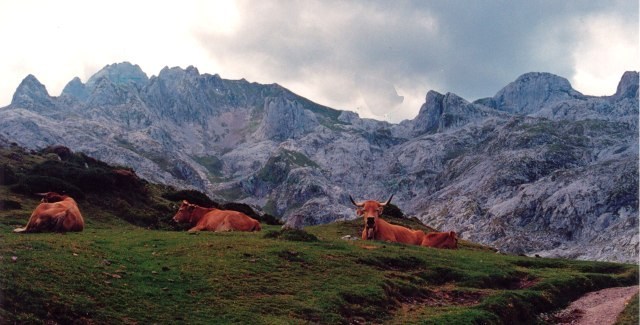 Emerald-green pastures, dense forests, soaring peaks, delicious cheeses and hearty stews!
Spain's oldest National Park (1918), and the second largest in size, the Picos de Europa extends over three provinces: Asturias, Cantabria and León.
This remarkable limestone range is Atlantic Europe's most extensive and is famous for its vertiginous slopes that go from 225' above sea level to the highest peak, Torre Cerredo, 8100'.
These different altitudes and its proximity to the sea give rise to an impressive variety of flora and fauna.

Walking in the Picos won't entail a series of interminable ascents and descents, rather the Picos offers a wide range of walking opportunities (forest, valley, summer pasture and high mountain). We´ll enjoy both the meadow and alpine wildflowers blazing with color. Using as a base three charming towns that ring the park, we've made a special effort to introduce you to the most classic and beautiful routes. Dining in the Picos will also be a highlight: a wide variety of cow, sheep and goat´s milk cheeses handmade by shepherds using ancient practices and aged in humid caves, thick vegetable and bean soups, succulent roasted meats, fresh vegetable platters.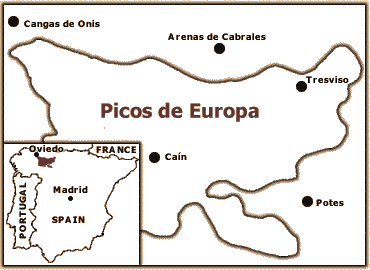 7 days & 7 nights

Level: Hard

Walking Days: 6

Total Distance: 52.5 miles / 85 km

Departure Dates:

TBA - Interested Groups Contact Us

Price: TBA *(Click here for Discount Information)*

Groups: If you have a group of four (4) or more and the dates are not available when you would like to travel, contact us and we can try and schedule a tour adapted to your dates.

Weather: Average daily temperatures in July, August and September range between 18-27ºC / 65-80ºF. Typical of the mountain climate, be prepared for intense sun and the possibility of rain and/or fog.

What is and isn't included:
Trip price includes accommodations (double occupancy), all meals (breakfast, lunch and dinner) each day, all entry fees, pre-departure information, experienced guides, support vehicle, all transportation during the trip. Airfare to Spain is not included nor is insurance or transportation to and from the starting and ending point (Oviedo). The single supplement fee is $220 for this tour.
Daily Itinerary
Day 1 - Oviedo
We'll meet in the center of Oviedo's historical district at our hotel. After an orientation to the exciting days ahead we'll have a walking tour of the lively old quarter paying special attention to the 14th century gothic cathedral at its heart. We´ll dine in a sidrería, a typical Asturian restaurant. Sidreria comes from the word sidra (cider), a low alcohol wine made from crushed, fermented apples. Used as an accompaniment to all Asturian social events and forming part of every day life, sidra is uniquely poured and perhaps you'll even master the special technique over the course of the journey.

Day 2 - Cangas de Onís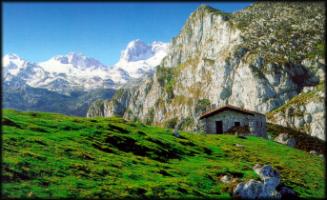 After breakfast we head east to the Picos and begin our first hike from the glacial lake Lago Enol (3486´/1063m) - and make a gentle, though continuous, gently ascend to the Vegarredonda mountain refuge (4624´/1410m) through beech forest, past curious limestone formations and across green fields dotted with shepherd's stone cabins. Once above, it'll be time for a delicious picnic of the best local cheeses, cold cuts, roasted red peppers, green olives, fresh tomatoes and breads. You have the option to continue to the Mirador de Ordiales (5546´/1691m) the place where Pedro Pidal, the Marquise of Villaviciosa, the park's great promoter, wished to eternally rest. In the afternoon you'll have the option of visiting with us the remarkable rose stone Covadonga Sanctuary. The Spanish Reconquest of the Iberian Peninsula from the Moors is said to have begun from within this heavily wooded spot where a miraculous cave, an image of the Virgin and spectacular waterfall form the basis of the remarkable legend that gave birth to Spain. Tonight we stay in the sumptuous 13th C parador monastery nestled between the mountains and the Sella River. Walking Distance: 9.3miles/15km (Optional 4.6miles/7.5km more)

Day 3 - Cangas de Onís
The day begins with a visit to the Neolithic past: the Cueva del Buxu. This spectacular cave possesses a rich variety of paintings and carvings from the Solutrean and Magdalean periods (35,000-9000 BC). Afterwards we ascend to the the Park's interpretative center and museum and then begin our walk from the glacial Lago de la Ercina (3627´/1106m) and climb continuously through high green pastures to the Vega de Ario refuge(5346´/1630m). If you wish to go further and to have remarkable, bird's eye views of the Picos' Central Massif and the valleys below, you can optionally ascend the Jultayu peak (6363´/1940m). We will visit and dine in Cangas de Onís, famous for its medieval bridge and the lovely Sella River that curls around the village. Walking Distance: 9.3miles/15km (Optional 3.7miles/6km more)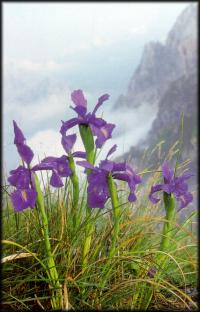 Day 4 - Arenas de Cabrales
We transfer to Arenas, home of the Picos' most famous blue cheese - Queso de Cabrales, to walk the truly unforgettable Garganta del Cares (Cares River Gorge). Along a walkway elevated some 150' from the riverbed and excavated from the steep, solid limestone hillside reaching up 6000', we will walk marveling at the river's power to create this spectacular gorge in the center of the Picos. Like entering a horizontal funnel we reach our lunch spot, the village of Caín (1508´/460m), where the gorge narrows to just a few yards apart. In Caín we´ll dine in an open air restaurant and feast on delicious local specialties surrounded by 6000´peaks. Leaving behind this village of agile pastors we return the same way. In riverside Arenas you can enjoy an afternoon drink from the lovely deck which affords outstanding views of the Central Massif. Walking Distance: 13.6miles/22km of nearly flat walkway.

Day 5 - Arenas de Cabrales
From Arenas we retun to Poncebos to asecend out ot the Cares Gorge and up to the village of Bulnes, the only village in Asturias without a road. The 12 current residents must either walk, horse or mule ride in or out. Once in Bulnes we´ll picnic before looping back via the village of Bulnes Castillo and down again to the Cares. In the afternoon you´ll have the option of visiting a cave where cheeses are aged or taking a walk along the Cares River crossing the hanging bridges used by local salmon fisherman. Walking Distance: 6 miles/10km Optional 3miles/5km more

Day 6 - Potes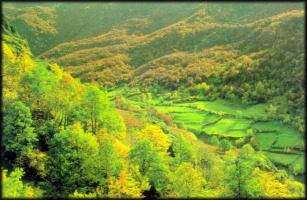 En route to the Cantabrian village of Potes, we'll make a spectacular ascent to Tresviso (3034´/925m) along an aerial path that swiftly rises above the Urdón River and to the nesting ground of vultures. Until only a few years ago Tresviso, a shepherd's hamlet located within the Park, was only accessible by this path. To reach the outside world, the villagers would have to make the up and down trek.
Their economy largely depended on the transport of their cheeses to Potes via donkey. Today, only the exceedingly fit mailman continues the journey; he makes the trip daily except Sundays and holidays. We´ll lunch in Tresviso and enjoy our first taste of Cantabrian cuisine from the privileged lookout offered by the dining hall´s large bay windows which offer unbeatable panoramic views of what you´ve just come up.
In animated and medieval-looking Potes, we'll dine on Cantabrian classics and make an optional visit to the monastery of Santo Toribio where the beautiful illuminated manuscript - the Beato de Liébana - was illustrated in the 8th century. Walking Distance: 7.1 miles/11.5km

Day 7 - Oviedo
In nearby Fuente Dé the day starts with an exhilarating ride 2470´/753m up in the funicular cable car to our trailhead. We will ascend to the base of the Horcados Rojos (7688´/2344m) and get a view of the Jou de los Boches (a large circular depression) and unusual lunar landscapes of the Picos above the tree line. En route we pass the curious mountain refuge Cabaña Verónica (7626´/2325m) made from the cannon tower of an old American aircraft carrier. After the walk we stop en route to Oviedo to visit a local village and then we'll say goodbye to one another in one of the city's best restaurants, Raitán, where we'll enjoy a marvelous sampling of Asturian cuisine. Walking Distance: 7.1miles/11.5km

Day 1
Overnight: Oviedo
Route: Meet at hotel
Highlights:City tour

Day 2
Overnight: Cangas de Onís
Route: Transfer Picos, Walk
Highlights: Alpine lakes, Mirador de Ordiales

Day 3
Overnight: Cangas de Oní
Route: Views from Jultayo
Highlights: Prehistoric cave painting

Day 4
Overnight: Arenas de Cabrales
Route: Cares Gorge walk
Highlights: Stunning vertical drops, cheese making

Day 5
Overnight: Arenas de Cabrales
Route: Bulnes
Highlights: Picos villages
Day 6
Overnight: Potes
Route: Climb to Tresviso
Highlights: Village within National Park

Day 7
Overnight: Oviedo
Route: Cabaña Veronica
Highlights: 3000' Teleferique ascent