Emerald-green pastures, dense forests, soaring peaks, delicious cheeses and hearty stews!
Spain's oldest National Park (1918), and the second largest in size, the Picos de Europa extends over three provinces: Asturias, Cantabria and León.
This remarkable limestone range is Atlantic Europe's most extensive and is famous for its vertiginous slopes that go from 225' above sea level to the highest peak, Torre Cerredo, 8100'.
These different altitudes and its proximity to the sea give rise to an impressive variety of flora and fauna.

Walking in the Picos won't entail a series of interminable ascents and descents, rather the Picos offers a wide range of walking opportunities (forest, valley, summer pasture and high mountain). We´ll enjoy both the meadow and alpine wildflowers blazing with color. Using as a base three charming towns that ring the park, we've made a special effort to introduce you to the most classic and beautiful routes. Dining in the Picos will also be a highlight: a wide variety of cow, sheep and goat´s milk cheeses handmade by shepherds using ancient practices and aged in humid caves, thick vegetable and bean soups, succulent roasted meats, fresh vegetable platters.
Tour Information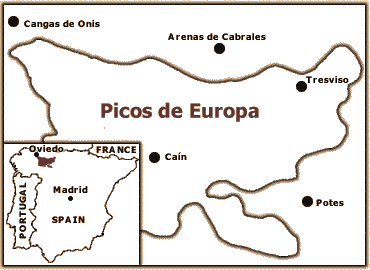 7 days & 7 nights
Level:
Hard
Walking Days:
6
Total Distance:
52.5 miles / 85 km
Departure Dates:
TBA - Interested Groups Contact Us
Price:
TBA *
(Click here for Discount Information)
*
Groups:
If you have a group of four (4) or more and the dates are not available when you would like to travel, contact us and we can try and schedule a tour adapted to your dates.
Weather:
Average daily temperatures in July, August and September range between 18-27ºC / 65-80ºF. Typical of the mountain climate, be prepared for intense sun and the possibility of rain and/or fog.