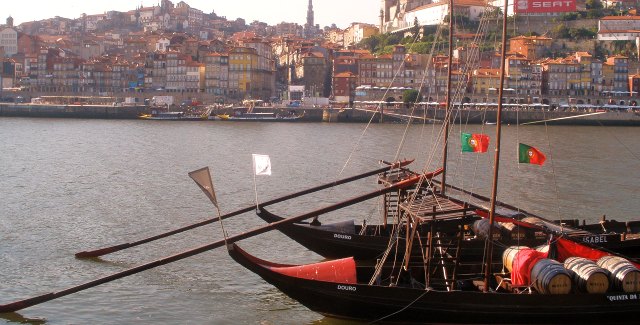 The Camino Portuguese itinerary will be subject to some variations in 2019.
Please contact us if you have any questions.
Enchanting borderlands, coast and mountain landscapes Porto to Santiago de Compostela!
Using the Caminho Portugues (in Portuguese)/Camino Portugués (in Spanish) as the backdrop for this culturally rich 7-day tour, we will be roughly following the same trails taken by pilgrims heading from Porto, Portugal to the tomb of the apostle James in Santiago de Compostela. The riverside, historical city of Porto will be our launching point for our journey that will go beyond the Camino and expose you to many fascinating aspects of Portuguese and Spanish (specifically Galician) pre-Roman history, folk life and culture. Over the course of the seven days we will walk sections of the Camino as well as explore other trails near to the pilgrim's way selected for their cultural interest or natural beauty.

Northern Portugal and southern Galicia are both characterized by green rolling hills separated by expansive valleys whose inhabitants have managed to retain their largely rural lifestyles. In both areas we will enjoy the bounty of their gardens, pastures and sea beds as well as their world-famous wines including Port from Porto, Vinho Verde (young white wines) from the river valleys north of Porto and the white Albariño from southern Galicia. The very comfortable accommodations that we have selected will also enhance your enjoyment of the areas as they are conveniently located in the historical quarters where we stay.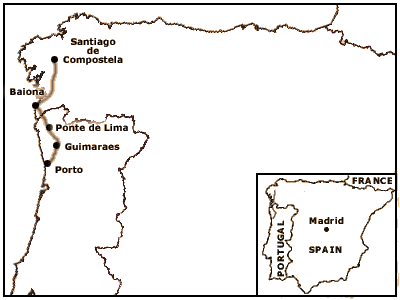 7 days & 7 nights (4 nights in Portugal and 3 nights in Spain)
Departure Dates 2019:
2 July 2019
Price: €2275 *(Click here for Discount Information)*
BOOK NOW FOR 2019

Starting Point: Porto, Portugal

Ending Point: Santiago de Compostela, Spain

Level: Easy (walks range from flat to rolling terrain with minor ascents and descents; while most trails have even walking surfaces not all sections of each trail are groomed and boots with ankle support are required)

Walking Days: 7

Total Distance: 49 km/30mi

Distance including optional walks: 73.1km/45mi

Single supplement fee: €300

Weather: The region is blessed with mixed Mediterranean (warm and dry) and Atlantic (temperate and humid) climates. In May expect possible temperatures from 15 to 25 C / 65 to 80 F with sunny and partly cloudy skies. Being the Iberian Peninsula`s greenest corner watered by weather off the Atlantic, it is possible to have showers in late May.

What is and isn`t included:
The trip price includes accommodations (double occupancy), all meals (breakfast, lunch and dinner) each day (except for one lunch and two dinners), all entry fees, pre-departure information, experienced guides (Nancy & Jose), air-conditioned support vehicle, all transportation during the trip. Airfare to Spain is not included nor is insurance or transportation to the start (Porto, Portugal) and from the end point (Santiago de Compostela, Spain).
Daily Itinerary
Day 1 - Porto, Portugal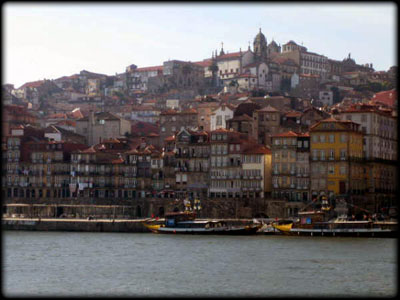 We will gather in historic Porto, an UNESCO World Heritage city, located at mouth of the Douro River and long-famed for the wine that gives the city its name, Port.
Historically, boats would bring the harvest down the Douro from the wine fields upstream to Porto where numerous bodegas transformed the grapes into the well-known spirit.

After walking the city`s twisting, hilly streets of its historical quarter and learning about the city`s past as northern Portugal`s most influential urban center, we will cross the river and visit a wine cellar for a visit and tasting. We will dine this evening in a charming port side restaurant and begin to enjoy the flavors of the Portuguese kitchen.
Our hotel is located conveniently in the historical quarter. Walking Distance 3km/1.8mi w/ optionals 4.5km/2.8mi.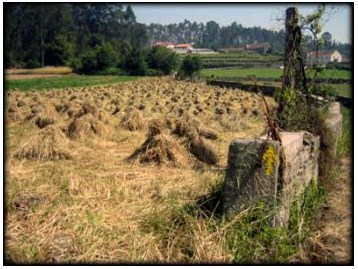 Day 2 - Guimarães, Portugal
After breakfast we will shuttle to our trailhead at a 12th century Romanesque church to walk our first section of the Caminho Portugues starting from the village of San Pedro de Rates. Following rural lanes through small villages, we will wend our way through the countryside and then enjoy a picnic lunch from a lovely lookout adjacent to one of northern Portugal`s numerous centers of pilgrimage, the Santuario da Senhora da Franqueira (the sanctuary of Our Lady of the Franqueira).
After lunch we will shuttle to and cross the historic town of Barcelos on foot. Barcelos, well-known as a center of local handcrafts - especially ceramics, is responsible for the country`s national symbol, the rooster. As it turns out the rooster became important in Barcelos precisely because of the Caminho de Santiago! We`ll find out why. In the afternoon we`ll head to Guimarães considered one of Portugal`s most beautiful cities, also an UNESCO World Heritage city and the probable birth site of Portugal`s first king Afonso Henriques.
Our hotel is located in the heart of the historical quarter. This afternoon you will have the option to walk around the town to learn about its important sites: the intact stately, castle dating from the 12th century, the majestic 15th century Palace of the Dukes of Bragança as well as the charming historical quarter which includes the Santiago Square. Walking Distance 6.4km/3.9mi Optional Walk in Guimarães 9.4km/5.7mi
Day 3 - Guimarães, Portugal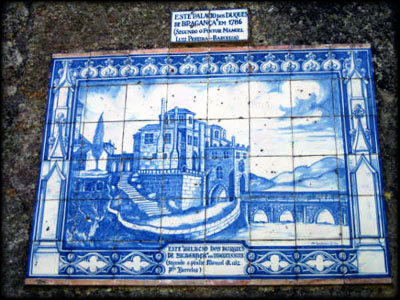 The morning's walk takes us to the nearby 19th century San Torcato sanctuary where the incorrupt body of this 8th century martyr (he was trying to stop the advance of Tarik`s Arabic army which was set on conquering the Iberian Peninsula) is found.
The walk passes underneath the curious, high Portuguese grape arbors as well as the field that was allegedly the site of the decisive battle that gave birth to Portugal in 1128. After the walk, we will shuttle to an outstanding pre-Roman archaeological site and national monument, Citania de Briteiros, where we will see the extensive ruins (defensive walls, moats, streets and more than 150 buildings with circular, elliptical and quadrangular forms) of a large fortified village or castro lived in by Iron Age peoples. From Citania we will shuttle to Bom Jesus, a spectacular example of a large-scale Portuguese sanctuary with a long flight of stairs leading to its main door. Return to the hotel in Guimarães. Walking Distance: 9.5km/5.9mi w/ optionals 12km/7.4mi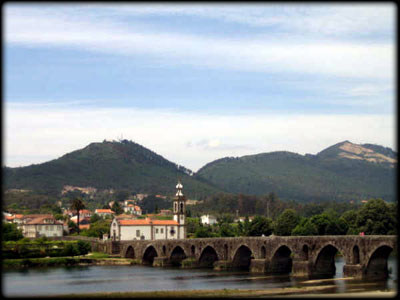 Day 4 - Ponte de Lima, Portugal
We start the day walking a lovely rural section of the Caminho de Santiago that takes us directly to Ponte de Lima and our hotel. Ponte de Lima is famous for its elegant 16-arched medieval bridge of Roman origin (it retains 5 of its Roman arches!) spanning the Lima River. We will continue our walk strolling through the winding streets of the small town that retains its medieval towers.
You will have free time and lunch on your own. Ponte de Lima is set low in a rich valley surrounded by rolling granite hills covered with dense pine trees. This afternoon we will offer an optional visit to the Lagoas (Lagoons) Nature Reserve. This afternoon we will offer an optional walk continuing along the Camino through lush countryside and rural villages and even a stretch of Roman Road (6km/3.6mi). Walking distance: 13.6km/8.4mi w/ optionals 19.6km/12mi

Day 5 - Baiona, Spain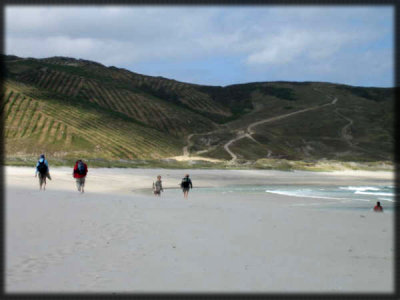 From Ponte de Lima we ascend the last great pass that separates Portugal from Spain. Our walk starts just on the other side of the pass giving us great views north to Spain as well as close-ups of rural Portuguese villages and lanes. After reaching Sao Bento and having our picnic, we will head down to the once great frontier town Valença do Minho whose imperious, heavily fortified castle (which managed to fend off Napoleon in 1809) watches carefully over the Miño River and its Galician counterpart, the town of Tui.
We will stop in Valença to visit the fortress that is a haven for Spanish shoppers who come here to buy linens. We will head to Baiona next along Galicia's scenic southern coastline from A Guarda, Galicia`s southernmost point, past the coastal monastery of Oia giving us breathtaking views of the cliffs, beaches and fishing villages.
Our day`s destination is the coastal town of Baiona and the parador dramatically set in the 16th century Monterreal Castle that once protected the town from sea -bourne danger with its 3km of defensive walls and three towers. Baiona also happened to be the first port that the ship the Pinta reached in 1493 - news of the discovery of America spread like wildfire. Walking Distance: 8km/5mi w/ optionals 9.6km/6mi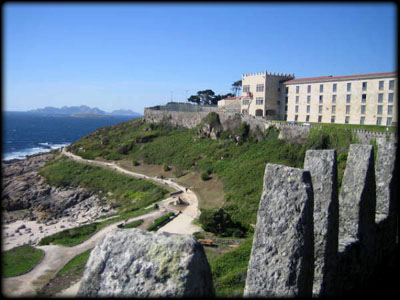 Day 6 - Baiona, Spain
Today you have the option of a free day on our own (lunch would also be on your own in this case) in Baiona enjoying the salt air on the outstanding maritime walkway and small town or joining us on a magnificent coastal walk around Cabo Home (Cape Man). We'll shuttle from Baiona past Vigo, Galicia's premiere fishing port. In the 13th C, medieval minstrel Martin Codax wrote from Vigo the hauntingly beautiful medieval sung, love poetry Cantigas de Amigo - a set of love songs written from the woman's perspective while she waits for her love on shore. Read Nancy's article and hear one of the songs - Waves of Vigo.
North of Baiona, this highly scenic walk takes us around the Costa da Vela. We'll pass three lighthouses en route and get outstanding views of the Cies Islands National Park just off the mainland.
You may want to take a dip in the sea at the end of our walk where'll we enjoy a picnic lunch on a white-sand beach protected by pine trees that reach down to the shore. Walking Distance: 7.5km/4.6mi


Day 7 - Santiago de Compostela, Spain

On our way to our trailhead, we will briefly stop at the Río Barrosa ethnographic center to see how the local people took advantage of the river`s power to set up a series of mills to grind their corn, wheat and rye.
In a very short stretch there are 14 mills descending the hill as in a cascade. Our last walk starts in Caldas de Reis once a thriving medieval town and currently a haven for spa lovers eager to soak in the naturally hot mineral waters that come bubbling out of the ground. After our picnic we will head through lovely forested areas of native oak and chestnut trees and past thick green pastures.
Afterwards we`ll head to Santiago de Compostela and walk the last stretch to the Romanesque and Baroque Cathedral, the long awaited destination for millions of faithful pilgrims over the centuries. We will visit the historical quarter`s highlights and then you will have free time before we reunite to say farewell at our final dinner. Walking Distance: 8.5km/ 5.2mi w/ optionals 10.5km/6.4mi