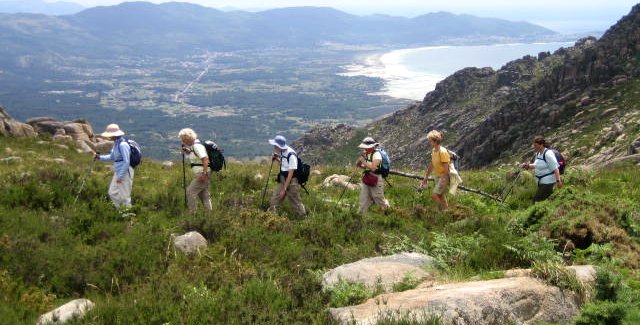 Isolated coastal walks, abundant and varied seafood, ancient mountain villages, Celtic remains!
The region's geography has historically imposed isolation upon Galicia leading to its singular character today: a well-conserved prehistoric past (petroglyphs, dolmens, and castros, Celtic remains), a high dispersion of the population (of the 63,000 communities in Spain more than half are Galician but only account for 6% of Spanish territory), the development of an unique language - Gallego, an economy based primarily on the exploitation of the sea and soil, an original vernacular architecture (country mansions, roadside crosses, granaries, monasteries) and an endless number of legends, fiestas and traditions uniquely Galician.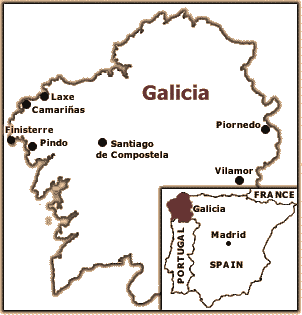 We start on the region's largely desolate Costa da Morte (Death Coast) and spend 3 ½ days exploring its most famous granite mount and an unforgettable section of coast characterized by long stretches of white sand beach, pine forest, small fishing villages and pounding waves. We then move to the region's extreme east along the Sierras Ancares and Courel and pass the other half of the journey walking along densely wooded river paths, visiting and learning about villages (and their traditions) that have one foot in the medieval past and the other in the present, and exploring the area's gentle heights. Also expect to savor the freshest seafood and shellfish prepared with simplicity and extraordinary good taste, thick vegetable soups, a wide assortment of rich crusty breads and smoked, smooth and creamy cow´s milk cheeses as well as spring fed and mountain raised beef and pork stewed and roasted to perfection.

8 days & 8 nights

Level: Medium

Walking Days: 7

Total Distance: 57.9 miles/92.5 km With optionals: 62.1 miles / 99.3 km

Groups: If you have a group of four (4) or more and the dates are not available when you would like to travel, contact us and we can try and schedule a tour adapted to your dates.

Tour size: For logistical reasons, this tour is limited to a maximum of 7 participants.

Weather: In June some rain showers during the week are likely and temperatures range from 15-23C/60-75F. In July and August expect sunny weather from 60-80F/15-30C with a chance of showers some time during the week.

What is and isn't included:
Trip price includes accommodations (double occupancy), all meals (breakfast, lunch and dinner) each day (except one lunch and one dinner), all entry fees, pre-departure information, experienced guides, support vehicle, all transportation during the trip. Airfare to Spain is not included nor is insurance or transportation to and from the starting and ending point (Santiago de Compostela). The single supplement fee is €120 for this tour.
Departure Dates 2018
3-10 July 2018
Price: €1975
BOOK NOW FOR 2018
Daily Itinerary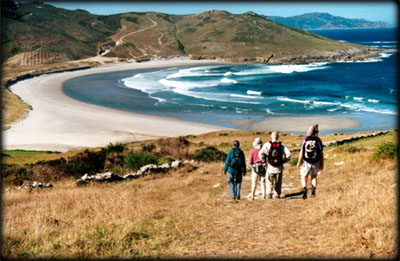 Day 1 - Santiago
After a brief introduction to the tour, we'll take a walking tour through the magnificent Romanesque and Baroque Cathedral, the medieval quarter and then through the Museo do Pobo Galego (the Museum of the Galician People). We'll also offer an optional ascent to nearby Monte Pedroso which affords beautiful views of the city and its surrounding valleys and hills.
At dinner tonight expect to enjoy your first sampling of Galicia´s specialties, such as pulpo (octupus), steamed mussels, clams in fisherman´s sauce, empanada (stuffed bread), razorshells, green peppers from Padron, tortilla español (potato pancake), and more...Walking Distance: 2.8 miles / 4.5 km With optional 5.9 miles / 9.5 km.

Day 2 - Finisterre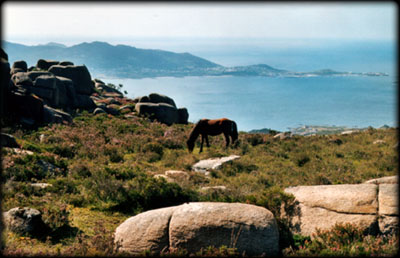 We leave Santiago and head west to the Costa da Morte and the small fishing village of O Pindo. From the village we ascend to A Moa (2056'/627m) the highest spot of the mysterious and magical granite Monte Pindo, called the Celtic Mt. Olympus and famed for the numerous legends associated with it.
Throughout the ascent we'll have spectacular views of the coast and ocean. We'll picnic on top and then continue our loop walk descending above the canyon of the River Xallas, the only river in Europe which ends as a waterfall to the ocean. After the walk we transfer to nearby Cape Finisterre, Spain´s historical land´s end. We spend the night in a renovated historical building with views to the ocean and the castle of San Carlos. Tonight we dine in small local restaurant specializing in the locally caught seafood and then head to the lighthouse for the sunset. Walking Distance: 6.2 miles / 10 km.

Day 3 - Laxe
From Finisterre we´ll shuttle to Laxe stopping en route to visit the 12th century Moraime monastery and the enchanting Our Lady of the Boat Sanctuary located on the edge of the sea in Muxia. In Laxe, a fishing village in the middle of the Costa da Morte, we begin our walk. From the port we ascend out of Laxe and then maintain the ocean on our right side, sometimes within feet of us, the rest of the way. Reaching the long, pristine white-sand Traba Beach, we'll picnic and then continue along narrow fisherman's trails.
Only 30 years ago they were used by milkmaids carrying the daily load on their heads between Laxe and Camelle. Our day's destination is the hidden fishing village of Camelle, home to one of the Death Coast´s most eccentric individuals - Man, the Aleman. Unfortunately, Man died in 2002 but his bizarre open-air museum still stands. We´ll return to Laxe and offer an optional excursion to a nearby megalithic dolmen (burial chamber) and a stroll along Laxe´s pier to watch the arrival of the fishing boats and the unloading of the daily catch. Walking Distance: 6 miles / 9.3 km With optional 7.1 miles / 11.4 km

Day 4 - Laxe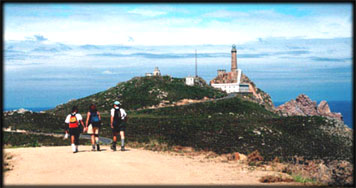 We´ll shuttle back to Camelle and continue our coastal walk observing the abrupt and dangerous rocky outcroppings off-shore that are responsible for the area's most dramatic shipwrecks.
The trail passes the English Cemetery where in 1890 the English vessel the Serpent went down with all 175 hands except three. We'll also pass the Monte Branco (White Mount) so named because its sides are made from the sand blown up the hill during the fierce winter winds. Finally we reach the stately lighthouse of Cape Vilano and picnic at its base. The adjacent islands are home to numerous rare and endangered sea birds.
Continuing to seaside Camariñas, we´ll make a stop to visit the workshops of the lacemakers where they practice this centuries old art. Upon return to Laxe you can enjoy the village on your own or join us for an excursion to the medieval castle of Vimianzo where local artisans have set up a crafts faire to demonstrate the production of the region´s handicrafts: wooden shoes, baskets, ceramics, silver and jet jewelry, linen, stone carving, lace and leather crafts. Dinner on your own. Walking Distance: 8.3 miles / 13.3 km

Day 5 - Piornedo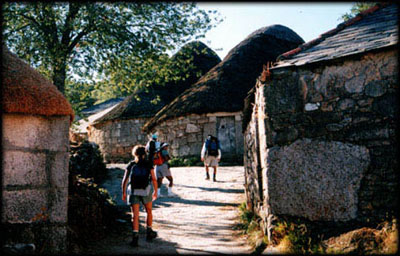 We'll round out our walk along the Death Coast by returning to the Cabo Vilano lighthouse and walking to Camariñas along the coast, passing the 18th century Sovereign Castle (now in ruins). The castle's stones were used to build the village's port. Walking Distance 4.8 miles / 8 km. Saying goodbye to the coast we head inland to the eastern sierras stopping for lunch in Betanzos, a lovely riverside town that maintains its medieval urban plan (1.5 miles / 2.4 km).
A bit later we stop for coffee in Lugo and take the unique opportunity of circumnavigating the city along the top of its still intact 2nd century AD Roman walls, named in 2001 a UNESCO World Heritage Site. Walking Distance: 1.4 miles / 2.2 km Once installed in Os Ancares, in our mountain lodge. Walking Distance: 7.7 miles / 12.6 km.

Day 6 - Piornedo
Today's inspiring loop explores the Ancares Ridge around its most emblematic peaks offering unbeatable views. We'll share the mountain walk with local bovine, roe deer and the path will be dotted with dozens of different wildflowers. We return to Piornedo, called the pre-Roman hamlet, where only a few years ago its inhabitants lived in pallozas, circular stone-based dwellings with thatch roofs divided internally with space for both the human and animal occupants. We will visit a palloza museum, discuss the mountain culture and then dine on interior Galicia's hearty cuisine. Walking Distance: 11.5 miles / 18.5 km

Day 7 - Vilamor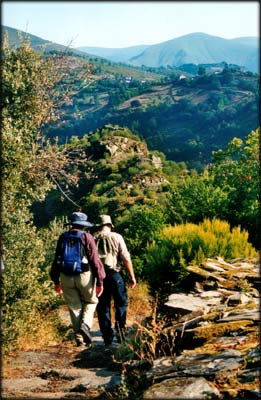 We head south to the next most important range O Courel and enter the steep Devesa da Rogueira forest, the only one of its type in Galicia that is a mix of both Atlantic and Mediterranean ecosystems due to its unusual geographic and climatic conditions.
As a result the forest is home to a vast range of plant and animal species.
We'll picnic at an unique spring, famed for its medicinal properties, with two distinct water outlets from the same rock but with a distinct odor, color and taste. One is iron based and the other limestone. Tonight we lodge in a casa rural, a rustic home converted into charming lodging in the heart of unforgettably rustic Vilamor which sits high above the Lor River. Walking Distance: 9.3 km / 15 miles

Day 8 - Santiago de Compostela
The last day we set out from our lodgings and head down an ancient path used by villagers following the Lor River's serpentine twists. We'll linger in chestnut forests, reach mountain hamlets, cross over home-fashioned wooden bridges, continue through narrow canyons and even head to the ruins of a castro, a pre-Roman village strategically located high on a rocky outcropping surrounded on three sides by the Lor River. Return to Santiago and farewell dinner in the historical quarter. Walking Distance: 5.4 km / 9 miles.



Galicia - Photo credit: Jose Placer