Displaying items by tag: Piornedo
Tuesday, 31 July 2012 19:43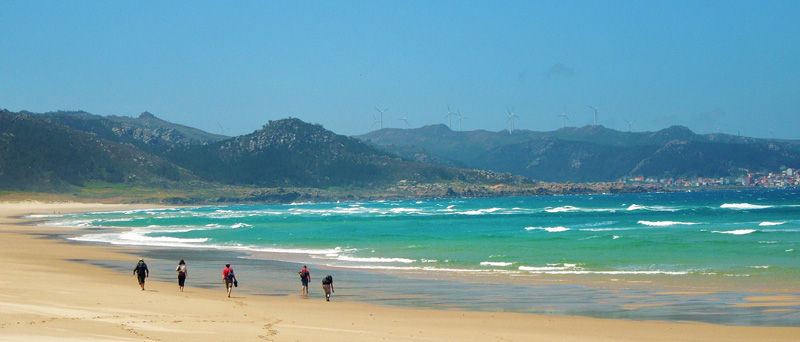 Join Jose and Nancy on this definitive insider's tour of Galicia's breathtaking coastal and mountainous back roads. Enjoy the isolated coastal walks, abundant and varied seafood, remote mountain villages, and pre-Roman remains!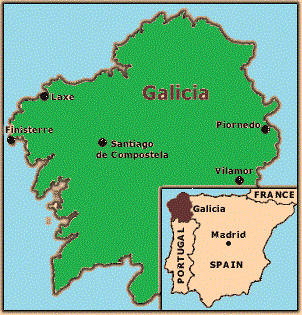 We meet and end in Galicia's capital, Santiago de Compostela, the famed endpoint of the Camino de Santiago pilgrimage route, as an entry point into this extraordinary green, hilly corner of Spain. On Days 2-4 we explore the breathtaking Costa da Morte (Death Coast) and spend 3 days walking the highlights of the spectacular coastal trail O Camiño dos Faros (The Lighthouse Way). This trail connects the villages and lighthouses from Malpica to Finisterre for roughly 200km. The Galician coast is characterized by long stretches of white sand beach, pine forest, small fishing villages, high cliffs, off-shore islands, pounding waves and fascinating legends and history. On Days 5-8, we transition to the region's extreme eastern mountains to the Sierras of Ancares and Courel. En route we stop and walk the Roman's Empire's finest wall still standing in the UNESCO awarded World Heritage city of Lugo. In the mountains we will hike on high open ridges, through densely wooded river paths and visit and learn about villages (and their traditions) that have one foot in the pre-modern past and the other in the present.

On the tour also expect to savor the delicious seafood and shellfish prepared with simplicity and extraordinary good taste, a wide assortment of rich crusty breads and smoked, smooth and creamy cow´s milk cheeses as well as spring fed and mountain raised beef and pork stewed and roasted to perfection. On this tour accommodations are varied, well-situated and unique though not luxurious.

The region's geography has historically imposed isolation upon Galicia leading to its singular character today: a well-conserved prehistoric past (petroglyphs, dolmens, and castros), a high dispersion of the population (of the 63,000 communities in Spain more than half are Galician but only account for 6% of Spanish territory), the development of an unique language - Gallego, an economy based primarily on the exploitation of the sea and soil, an original vernacular architecture (country mansions, roadside crosses, granaries, monasteries) and an endless number of legends, fiestas and traditions uniquely Galician.

Read the article Nancy wrote about Galicia for the travel magazine Roads & Kingdoms here.
Tour Information
Tour Duration: 8 days & 8 nights

Level: Medium to Medium Hard. We will be walking and hiking from 3.3mi/5.5km to 9.6mi/15.5km (with optional walks to a max of 11.8mi/19.2km) on a daily basis. Galicia is a mountainous region and we will be making numerous ascents and descents on a wide variety of terrains including forest track, sandy beach, and irregular mountain trails with rocky terrain. Walking poles are highly recommended for this tour.

Walking Days: 8

Total Distance: 54.4miles/87.8km With optionals: 59.5 miles / 96.1 km

Tour Start/End Point: Santiago de Compostela, Spain. The Santiago de Compostela airport (SCQ) is located conveniently to the city center. Daily direct flights are available from Madrid (MAD) and many European hubs.

Group size: For logistical reasons, this tour is limited to a maximum of 7 participants.

Tour Price: 1975E per person in double accommodation

Single Supplement: The single supplement fee is €165 for this tour.

Weather: In June some rain showers during the week are likely and temperatures range from 15-23C/60-75F. In July and August expect sunny weather from 60-80F/15-30C with a chance of showers some time during the week and fog along the coast.

Groups: If you have a group of four (4) or more and the dates are not available when you would like to travel, contact us and we can try and schedule a tour adapted to your dates.
Departure Dates 2020
2-9 July 2020
Price: €1975/person
BOOK NOW FOR 2020