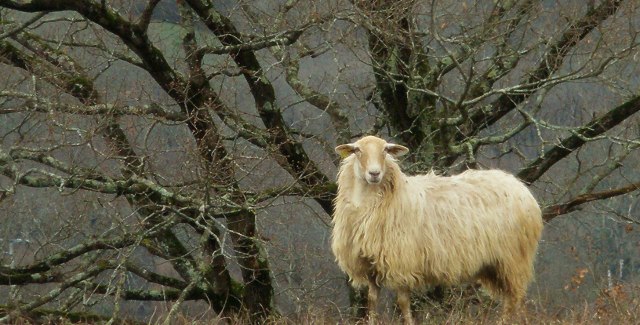 Basque Country: Culinary mecca, Art center (incl., Guggenheim Museum), French and Spanish coastal and Pyrenees walks!
The Basques have often been described as a mysterious people: Where did they come from? What's the source of their language? How did they survive as a people despite waves of invasion of Celts, Romans and Christian settlers?
Arguments of geographical isolation seem to hold little water leading some to conclude that there must be something special about Basque character which has allowed them to endure and thrive in their enchanting corner of south-west France and mid-northern Spain where the sea meets the great Pyrenees mountain range.

The Basque Country (Euskal Herria in the Basque Language, País Vasco in Spanish and Pays Basque in French) is made up of seven historical provinces (Bizkaia, Alava, Guipuzcoa, Navarra, Labourd, Basse Navarre and Soule) stretching on both sides of the border. In our days, Bizkaia, Alava, Guipuzcoa make up the Spanish autonomous community of Euskadi, while Navarra has its own autonomous region status and the rest are part of the French State.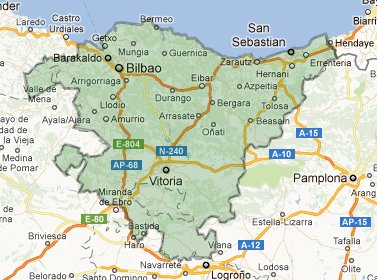 These hilly and coastal lands have been farmed, havens for shepherds and exploited for their mineral wealth for centuries and centuries by the Basque peoples who share a common language - Euskera. Euskera is a pre-Indoeuropean language and believed to have been in use since the pre-Roman era. Basque folklore, games (hand ball, pelota, jai alai), cuisine, dance, and a profound relationship to the land and homestead are deeply cherished in this fertile region and we'll learn more about these ways of life and being as we walk the area's paths and ways.

On our tour we will explore the roots of Basque history and the legacy of 19th C unbridled nationalism, born in the industrial age, on contemporary society (oftentimes in conflict with itself). We'll sample their world famous cuisine, visit their coastal fishing villages from which innumerable voyagers launched off into the unknown in search of discovery and opportunity or to land an enormous whale, walk along their old smuggler's trails as we cross the border connecting France and Spain on two ancient Basque passes all the while being exhilarated by their most beautiful natural resources - the densely forested Urkiola Nature Park, the coastal Flysch Trail (a geologist's paradise) and the rolling txakolí vineyards set between the coast and mountains. We'll not only stay in some of the Basque country's most beautiful coastal and mountain villages, we'll also enjoy the vibrant cities of Bilbao (visiting the Guggenheim Museum) and San Sebastian (a city perfectly interfaced with its coastal and hilly setting and justly famous for its cuisine).

Tour duration: 7 days & 7 nights

Level: Medium-Hard. The Basque Country hikes are medium to medium-hard level due to the continuously hilly countryside with several hard sections on sometimes steep, and potentially very slippery limestone trails over the course of the hikes on some of the days. Expect elevation gains/losses of 500m/1500feet over the course of the day's walk with successive steep ascents and/or descents. Hiking lengths range from 9 to 16km/ 5.5 to 10 miles. While the distances are not long, the walking conditions require care, stamina, concentration and being comfortable on uneven and irregular walking surfaces. The surfaces range from easy forest and farm track to challenging sandstone and limestone (ie, slippery if wet and very irregular rocks) descents on ungroomed mountain hiking trails. Walking sticks are highly recommended.
Most of the hikes are designed to start in one location and end in another (ie, vehicle drops us on one side and picks us up on the other) and once you are on the trail, you are committed to the end. Most of the walks do not lend themselves well to shortening or providing easier alternatives. While the hiking trails have many very, easy straightforward sections they also have difficult sections which could be overly demanding for someone with balance, stamina, stability or vertigo issues. Training by playing tennis, bicycling or walking on asphalt only is not adequate for this trip. Keep in mind that this is a guided trip and the group needs to stay together due to the nature of the trails and the large number of alternative pathways that we will be frequently encountering. Please let us know if you have any questions.
Walking Days: 7 Total
Distance: 38.5 mi/60.5 km With optionals add-ons 48.1 mi/ 77.6 km

On the tour we book standard double rooms. You can also choose to upgrade to view rooms on a couple of nights for an extra fee. Please contact us for more information.

Single Supplement: The single supplement fee is €340 for this tour. This is much higher than most of our other tours as the hotels discount very little for single occupancy or use double rooms for singles.

Groups: If you have a group of four (4) or more and the dates are not available when you would like to travel, contact us and we can try and schedule a tour adapted to your dates.

Weather: The Basque Country's driest months are from July to September but be prepared for the unexpected rain shower at any time of the year. Summer temperatures oscillate between 15-30ºC / 60-85ºF

What is and isn't included:
Trip price includes accommodations (double occupancy), meals (all breakfast, lunch and 5 of 7 dinners), all entry fees except where noted in the itinerary, pre-departure information, experienced guides (Nancy & Jose), support vehicle, all transportation during the trip. Airfare to Spain is not included nor is trip & health insurance or transportation to the starting point (Bilbao) and from the ending point (San Sebastián).
Daily Itinerary
Day 1 - Bilbao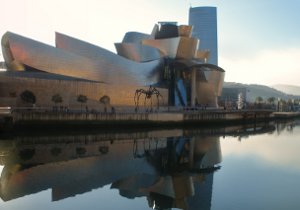 After a brief introduction and presentation of the week's program we'll take a walking tour of Bilbao, a city founded 700 years ago. We'll set off from the hotel and walk back in time through Bilbao's different districts representing its different eras – growth and wealth of the Industrial Revolution, the narrow, twisting streets of the historical quarter nicknamed the Siete Calles district (named for the seven streets that divide the area). We'll walk the winding streets passing the gothic Cathedral of Santiago. We'll then walk along the Nervion River to the Guggenheim Museum. En route we pass the pedestrian Zubi Zuri bridge designed by the world-famous Spanish architect Santiago Calatrava.
At the Guggenheim we give you free time to explore architect Frank Gehry's fascinating building and its collections which have given a completely new face to Bilbao's waterfront. We'll enjoy our first sampling of Basque Cuisine at dinner tonight. Walking distance: 2.8miles /4.5 km

Day 2 - Axpe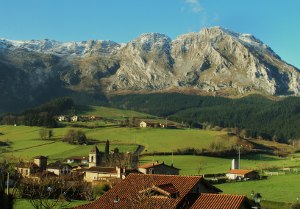 We shuttle to the center of Euskadi to the Urkiola Nature Park located in the mountains around Durango. Nicknamed the little Switzerland, the park boasts a stunning limestone range of green pastures and majestic, craggy peaks whose crowning glory is Anboto (1330m/4362ft), the mythic dwelling place of the Basque country's most important pre-Christian deity, Mari, aka the Dama de Anboto.
Today we'll cross this enchanting range inspired by the legends and its magnetic beauty and walk to our lodging, a beautifully restored caserío (traditional Basque farmhouse) in the small village of Axpe.
There is one steep, hard descent in this section. This picturesque village is set within a deep and narrow, wooded valley at the foot of the Urkiola mountain range.
Tonight's fare will emphasize the inland farmers' hearty meals. 7 mi/ 11.5km With optional add-on 9.3mi/15km

Day 3 - Axpe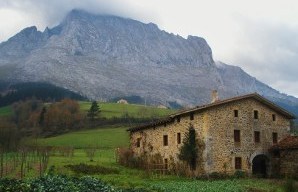 From our lodge we'll set off to explore the wooded countryside around the village.
We walk to another caserío to learn about the life of a local shepherd and spend the morning with him and his sheepdog 'Hari'.
We'll learn about production of local cheese and cuajada (junket).
After our morning's visit, you can choose to return to the hotel and enjoy a quiet afternoon in this valley famed to be Donde el silencio se oye (Where silence is heard) or continue hiking a very scenic, aerial walk through the park and along the base of two peaks visible from our hotel.
Dinner on your own tonight.
You might want to try the Michelin rated Casa Exteberri famous for its grilled foods down in Axpe. 1.9mi/3km With optional add-on 5.6mi/9km


Day 4 – Deba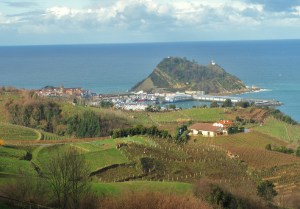 We head north from Axpe to the impressive coast with its memorable seaside roads hugging the abrupt coast interspersed with small towns and beautiful sandy beaches.
We start from the seaside town of Zarauz and we'll walk east up into the coastal hills through the highly scenic txakolí district. Txakolí is the wine par excellence of the Basque Country – a fruity, young white wine. We'll walk through the high hills enjoying fantastic views of the coast and inland mountains as the trails wind through the vineyards. En route we stop in a family-run winery where we'll visit the winery, learning about the history of wine production in this area and have a tasting. We continue walking to our picnic. Afterwards you'll have the option of continuing the coastal route to Zumaia (and then shuttle to the hotel) or returning directly to the hotel. Dinner tonight at the hotel. 5.9mi/8km With optional add-on 7.1mi/11.5km

Day 5 – Deba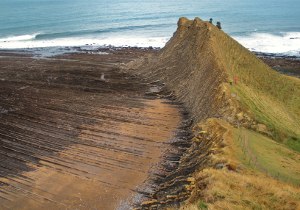 Today we will take a fascinating coastal hike along one of the geological wonders of the world called the Flysch Trail. To orient us to the route we'll start our visit in the Flysch Museum and then set off on the hilly route (with several steep ascents) that takes us back into millions of years of geological time opened up to us on the exposed cliffs like the pages of a book. During part of the route we coincide with the thousand year old Camino de Santiago pilgrim's trail which led European pilgrims along the coast on their long journey west towards Santiago de Compostela. After the picnic you have the option of walking back to the hotel in Deba or to return by van. You have the rest of the afternoon and evening to relax on your. 6.5mi/10.5km With optional add-on 9mi/14.5km

Day 6 – Along the Bidasoa River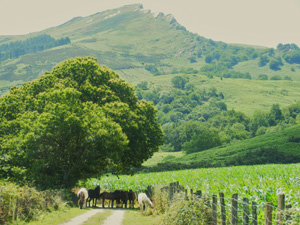 En route to our trailhead in Sare, France, we'll drive through lovely French Basque villages and get a taste of the Basque Country on the other side of the border. Today we make an exciting journey into the past passing three sets of caves as we walk from France over the border to Spain.
Over the course of thousands of years, the caves have been whittled out of the limestone massif that forms this stretch of the Western Pyrenees.
We'll walk through rolling farmland along ancient smuggler's paths that were used most recently to help Jews flee from Nazi occupied France. We pass the Sare caves which were occupied some 45,000 years ago by human ancestors.
Sheep and semi-wild horses, pottoks, graze in these hills as the wooded trail heads over the border to the Spanish caves at Zugarramurdi (Navarra) where a witch hunt in the 1620s left the local populations of Urdazubi and Zugarramurdi with only one-fifth of its residents.
The supposed witches were said to meet in the caves for their covens (akelarres). The last caves in Urdazubi overflow with natural sculpture - stalactites and stalagmites formed by the process of karstification - water acting upon limestone. We enter the earth's innards and witness the work of water on stone over the course of hundreds of thousands of years.
After our walk we'll shuttle back along the Bidasoa River and spend the night in our charming restored historical building and enjoy more delicious regional cuisine. 6.2 mi/10km

Day 7 –San Sebastian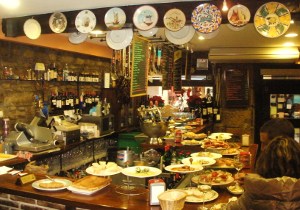 We'll drive to one of the Basque Country's most beautiful natural ports, Pasai Donibane. Oozing historical charm, with its galleried waterfront homes, this attractive village is where Victor Hugo lived and wrote 'Alps and the Pyrenees' in 1843. From here we'll take a magnificent coastal trail which leaves the village along a steep, ascending trail past a picturesque lighthouse which protects the entrance to the harbor.
The undulating trail enters forests, soars along the cliffs and transports you back in time to the days when the hillside, Uliamendi, was used by local whalers to spot the great sea beasts approaching the coast.
Our destination is the beautiful city of San Sebastian arguably Spain's most attractive and romantic urban setting. Among its charms are: three spectacular beaches, its expansive bay leading out to the ocean, the hilly contours framing the city, the wooded Monte Urgull crowned with the ruins of a castle and its very appealing early 20th century architecture funded by turn-of-the-century nobles who came here in droves to enjoy the temperate climate.
On our way into town we'll wander the streets of the old quarter, enjoy its maritime walkway, look for the more than 100 types of lamp posts decorating the city and then wind up at our hotel. Here we'll find the Basque cuisine at its best ! We'll enjoy our farewell dinner in this culinary mecca ! 6.2mi/10km