Displaying items by tag: Maggie Beer
Monday, 05 November 2018 18:52
Maggie Beer On Foot in Spain
By Nancy L Frey, 6 November 2018
"One of the great trips of our lives was 7 days on the Camino with guides Nancy Frey and Jose Placer of 'On Foot in Spain' from Porto to Santiago de Compostela."---Maggie Beer**
It's not every day that we have the pleasure of traveling with a "living national treasure of Australia" as one friend of Maggie Beer's described her to me. For those of you who are not Australian and are unfamiliar with Maggie, she is a beloved food author, producer, cook and television personality with a career spanning five decades. I have to admit feeling some trepidation before the tour began about whether we'd be able to meet the expectations of someone of such renown! I didn't need to worry though because one of the many things that I came to love about Maggie is her down-to-earth vibrancy and joie de vivre – an approach to life that imbues everything that she does. Maggie is truly a life force with an energy that fills a room and that stimulates joy and pleasure with those who are in her company.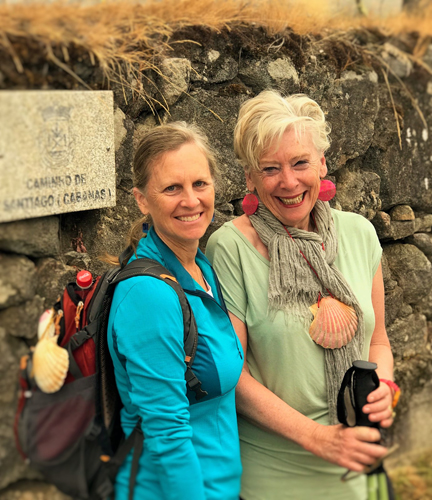 (Photo Credit: Laurence Clemens)
Jose and I planned this trip for the Australian journalist and food producer Dee Nolan (and friends) with whom we had collaborated previously when she wrote her magnificent 'green book' – The Food Lover's Pilgrimage to Santiago de Compostela – describing her journey to Compostela with beautiful prose and stunning photography (by Earl Carter). Dee wanted to return to the Camino, this time on the Camino Portuguese, with friends including Maggie. We customized our Camino Portuguese tour and added a few of special food and wine experiences due to the group's special interests. We met in Porto, Portugal and had a fabulous week sharing our love and knowledge of these regions and the Camino with the group.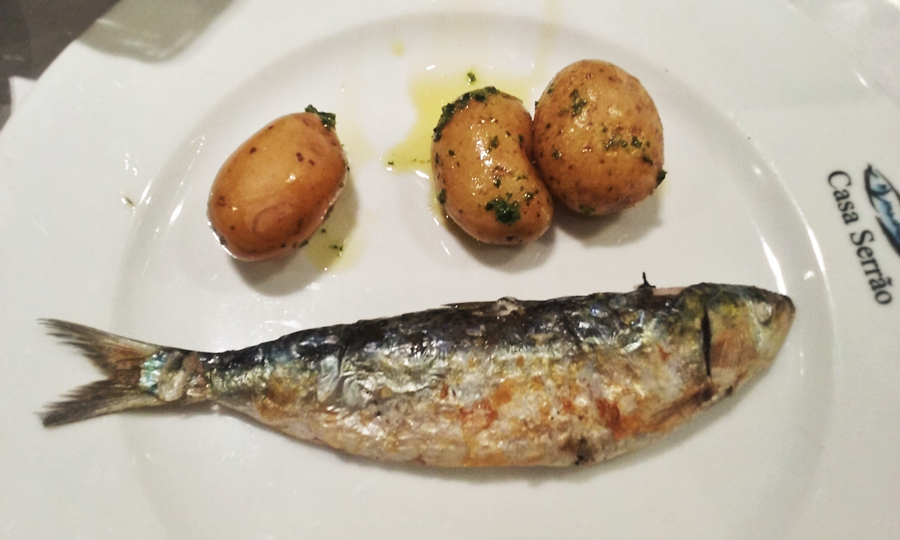 One of the comments I appreciate in Maggie's newsletter is…"it was a never ending journey of discovery for me in so many ways." I wrote in the opening paragraph of our 2018 Year in Review article that guiding people to discovery is one of the gifts of what we do. And Maggie's (and the group in general) enthusiasm for every experience presented to her made it a delight to introduce her to this beautiful corner of the world. Whether it was relishing mouth-watering clams and grilled sea bass at a seafood restaurant in Matosinhos, walking along the Galician shore, or accompanying her into the kitchen of another restaurant in Guimaraes to meet the staff and look in the pots, or watching three generations of locals participating in the wine harvest, or enjoying the olive brine to the last drop at the Michelin- restaurant, or swooning over goose barnacles, razor clams and steamed mussels in Baiona washed down with the local Albariño wine, or sharing with her Jose's grandmother's empanada recipe at lunch – being with Maggie was just plain fun.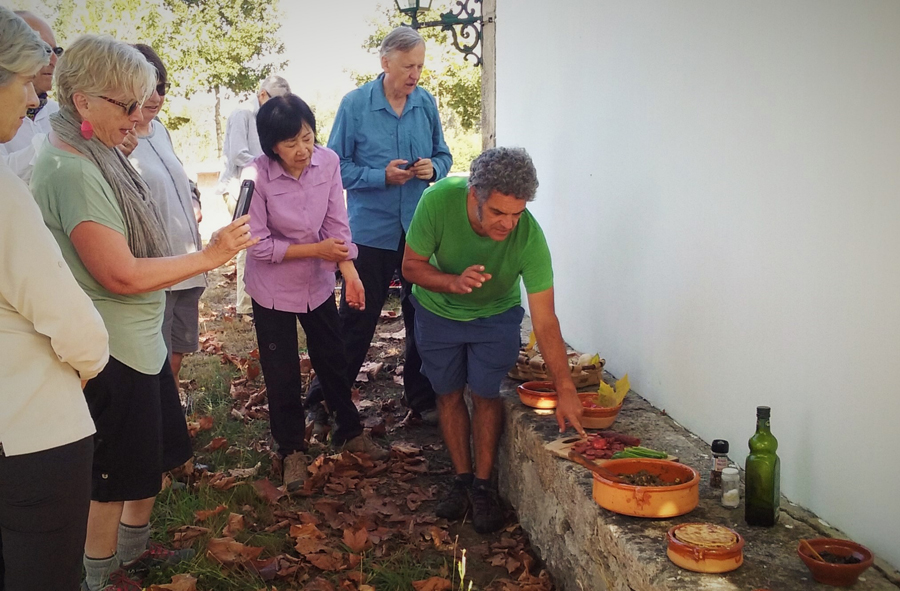 As on all our journeys along the Camino, one of the elements most appreciated by the group was also the joy of walking on beautiful trails and having the opportunity to share and reflect on life – where we've been and where we are going. In the end it comes down to the beauty and fulfillment that one finds in the most elemental parts of good living – sharing friendship, food, exercise, wine and laughter.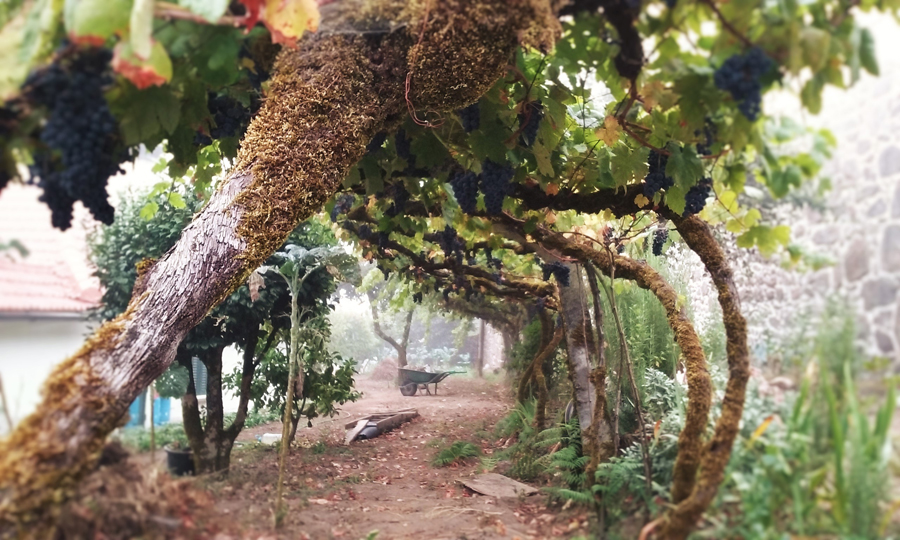 **Maggie gave me permission to share parts of the text of her newsletter relevant to the tour and here is part of her narrative from her October 2018 article entitled "Maggie's Food Reflections from Europe". She explains the trip in great detail and with enthusiasm! To receive her full newsletter text, please sign up through Maggie's Food Club:
Maggie's Food Reflections in Europe
(selections relevant to her experience with On Foot in Spain)
One of the great trips of our lives that was 7 days on the Camino with guides Nancy Frey and Jose Placer of 'On Foot in Spain' from Porto to Santiago de Compostela. Some background is needed here in that my great friend Dee Nolan who has written two wonderful books on the Camino had researched her books with the help of Nancy and Jose on many walks of the Camino. I had long wanted to be part of the trips undertaken with Dee and friends to walk but wasn't sure I could manage it physically and if you saw the photograph of Colin and I the evening at the end of the walk you can see it all in our faces….the thrill of the achievement of finishing the walk is palpable.
It happened that it was very unseasonable weather conditions between 28 and 31C on all but the last day at the end of September but I not only managed, I revelled in it. There was so much that contributed to this being so special; the organisation of 'On Foot' with Nancy and Jose pulling together so many aspects to give us such an unforgettable experience; and that was by taking into account our love of food and making that a huge highlight every day from the wonderful picnics Jose prepared for us each lunchtime sharing with us the specialty of the area we had just been walking through; the stories of the history of the Camino, Nancy having done her Phd on the very subject but always with the most fascinating knowledge delivered in such a way that brought the journey so alive to us.
…. so there were nine of us along with Nancy and Jose all bound by friendships of one very special couple so firm new friends made and lots of great shared experience of our lives as we walked and much hilarity at the table each night. Nancy and Jose's knowledge of the foods of the region added so much to our adventure always organising whatever was most special and significant each night and other than one spectacular lunch at a One star restaurant Culler de Pau with chef Javier Olleros, a treat for us almost at the end of the walk – such great psychology that; an exceptional meal all of it recorded in my food diary and all with the marriage of history; tradition with an edge that made it so exciting and relevant to today in a sophisticated way yet still so of the region.
The meals at night were often so simple; so seafood dominated yet with the specialties of northern Portugal I suspect unseen anywhere else and the same in Gallicia….. it was a never ending journey of discovery for me in so many ways. And then there were the random acts of kindness that blew us away. Such as an elderly lady in a village we walked through; so small there was no bar or shop to be seen yet having so obviously heard three of us coming she picked three bunches of grapes from her garden washed them and simply handed them to us with a smile; such giving that gave us such joy and such camaraderie with everyone we encountered.
So many food experiences from our first day in Porto waiting for the rest of the group with a dish of clams simply served with the cooking juices, garlic and parsley; or sea bass in a salt casing cooked in a hot pan and flamed with great theatre. A seafood porridge; full of mussels, scamp and razor clams in a tomato broth with the juices again from cooking with fresh coriander, EVOO and stale bread and 'making' the porridge by the waiter stirring at the table. The first night of the trip we were bussed to Matosinhos, a town by the sea, and ate at Restaurant Casa Serrao where the grilling of the fish was done on an outside charcoal barbecue; lines of these outside kitchens taking over the street; the smoke bellowing over the street long which was where the most perfect sardines caught that morning as whole fish with just EVOO were cooked; then the largest sea bream I had encountered; gutted and opened up to cook on the grill; the amazing caramelisation of the skin and the sides and cooked again to perfection. Such plenty on the table as we dissected the fish off the bone to begin with but then a few of us attacked the bones and the cheek and every bit of it so succulent I definitely ate more than I needed and the meal was nothing short of unbelievable yet so incredibly simple.
Jose's picnic lunches every day were so different; so moorish and sustaining…. I devoured every taste and learnt so much of the traditions that resonate with my climate back home. Each picnic could have been a food diary all in itself but so much else to share.
Then just to choose one more example of why the food was such a stand out I need to tell you of the dinner in the town of Guimaraes in northern Portugal. Restaurante Florencio. Firstly a caldo verde soup served for all that I was smart enough to only have a few mouthfuls as I could see how the table was set. So much more food to come; The biggest plates of baccala a'broa; baked cod with beans and potatoes; cod being such an important fish through Portugal this one fresh; a huge serve that would really have been enough for the whole meal that we tackled with gusto; and then the next platters appeared; this time of roasted veal; beautifully cooked and falling off the bone; again with potatoes and beans as they were what is in season. I was in my element and so excited with every taste that I was asked whether I would like to go into the kitchen; an opportunity I jumped at. There was a huge kitchen and as they proudly showed me around I saw a pot on the stove that looked interesting; they explained it was a pigs stomach stuffed with pork and would I like a piece; (in fact it looked a little like haggis); of course I said yes and then returned to the table expecting a small piece to taste. With the generosity we found everywhere we went through Portugal and Gallicia they had taken the boiled meat and deep fried it so it was beautifully burnished and presented it sliced on a platter to the whole table. To the slight distress of my travel companions as we'd already eaten so much and after which I was banned from visiting kitchens! And that wasn't the end of the meal small pastries; a crema Portuguese and a deep golden pudding from the region made in a mould a little like a large crème caramel just with egg yolks and incredibly rich. The whole spirit of generosity and pride was wonderful to absorb; the building had originally been his grandparents and had been a wine cellar and he was very proud of the family heritage and the family still involved. Such a special night and indicative of one experience after another during our seven magical days.
I'll share just one more with you as I am limited by time and space. The town of Baiona having crossed the border into Spain we walked along the rugged Gallician coastline so beautiful even through a heavy mist. I have to admit we were not sleeping rough; that night we stayed at a Parador in the 16th century Monterreal Castle. …..So to dinner at Restaurante O Mosquito in this small town Nancy had chosen 7 simple dishes for us to share; 10 of us at the table; platters both ends and as ever such generosity. Racones are larger tapas to share with friends and of course all Gallician specialties served with incredibly good Albarino wines. A platter of goose barnacles; a platter of padrone peppers simply fried in EVOO with sea salt biggest fat mussels ever so full of flavour; totally unadorned and perfect. Razor clams Navajas; barbecued till goldon; delicate; thin and sooooooooo sweet; soooooo fresh. Clams again in a sauce of pimento evoo garlic and parsley and then a tortilla Espagnola; the traditional potato and egg cooked in the pan. I almost forgot the Octopus Gallega; boiled, sliced with just EVOO, sea salt and some paprika. A feast yet again.
So many unexpected and wonderful experiences of food; wine music and tranquility walking through the beautiful countryside and finishing at the Cathedral and experiencing the Pilgrams Mass; all of it totally unforgettable. A special mention must be made of Pedro Araujo the main wine advisor at Quinta Do Ameal a fantastic winery and wonderful place to stay, great wines such a beautiful property.