Coastal Corner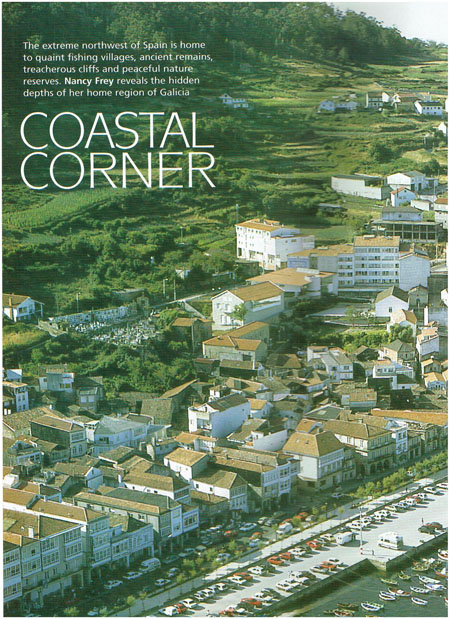 Author: Nancy L. Frey, PhD Date: June 2004
Publication: Spanish Magazine, No. 5, pp. 16-26
Article Title in Publication: Coastal Corner  
Galicia: A view from my room
By Nancy L. Frey, PhD
I live in a little Galician fishing village on the northern shore of the Ría de Arousa, one of the Galicia's highly scenic tidal estuaries (called rías). From my window Galicia spreads out before me. In the harbour, the small red wooden dornas are haphazardly moored, moved only by the tides. Retired fishermen stroll up and down the boat ramps and head off to the local bar for an afternoon of intense card playing.  On the port's new side blue and white iron hulled fishing boats prepare to head off for another night in the open Atlantic. Making their way through a maze of rocky shallows and islands, small fishing boats, with a flock of seagulls in hot pursuit, return to port further inland passing a natural breakwater that separates the powerful ocean from the tranquil estuary where hundreds of mussel platforms serve as incubator for one of Galicia's many seafood delicacies. Endlessly rolling green mountains gently rise out of the water and continue in folds as far as the eye can see. Dense forests hide the Megalithic burial chambers and Iron Age settlements found littering the mountaintops and hillsides. A few scattered villages, white amidst a sea of green, sprinkle the upper reaches while lower down a patchwork quilt of worked fields separated by stone fences and stands of trees surround the numerous towns clinging closely to the shoreline.
Galicia forms the northwest end of Green Spain – the name typically given to the wet, verdant, temperate and highly scenic band of hilly countryside that faces the Atlantic along Spain's northern shore and includes Asturias, Cantabria and the Basque Country. Three of Galicia's four provinces (Lugo, A Coruña and Pontevedra) face the sea with vast inland extensions while landlocked Ourense shares an undulating border along the great Río Miño with Portugal to the south. Galego, one of Spain´s four official languages, is spoken throughout the region especially the rural areas. Despite the economic boom which swept across Spain since the 1970s, Galicia still retains a strong hold on its traditional roots  - an economy tied to the sea, its rich grazing lands, and small scale agriculture in a rocky, unforgiving countryside. Unlike the Basque Country further east, which industrialized quickly and rapidly in the 19th century, Galicia continues to surprise for its lack of visible industry outside of the few urban centres.  Widows dressed in black still usher cows along the busy secondary roads. Only 30 years ago Galicians in the eastern sierras stopped living in pallozas, round thatch-roofed dwellings, as they had since pre-Roman times. And, since at least the 13th century, the ubiquitous rectangular hórreos (granaries), topped with cross and phallic pyramid for fertility, have kept the winter's store safe from rain and rodents.  It is precisely this anachronistic rural quality that contributes to the allure of Galicia.
In Iberia Michener calls Galicia the 'granite land' and comments on the large of percentage of arable land occupied by stone walls. While exaggerated, due to the vagaries of geography, history, agricultural practices, and inheritance norms the dispersion of Galician villages is striking. When crossing Spain's centre you typically drive through extensive fields of cultivated cereals and then reach a compact village wrapped around a prominent church. Not in Galicia. Galicia has some 32, 400 settlements – cities, towns, villages (pueblos), hamlets (aldeas) and even places (lugares) of two or three houses – each surrounded by small family plots, pasturelands, rough gorse and broom ridden hills and woods. While its total extension (some 29,000 sq km) accounts for only 6% of Spain's whole territory, the number of settlements accounts for 48% of Spain's villages, towns, etc! Land reform changed this pattern to some extent (that´s why you´ll see strange rectangular plots here and there).
I see this curious dispersion clearly from my window where many small ports hug the Arousa estuary's long shore. Most Galicians live along the coast. Of Galicia's seven major urban centres, four are coastal: A Coruña, Ferrol, Pontevedra, and Vigo. Only A Coruña and Vigo manage to reach 250,000 souls. A Coruña thrives as a major shipping port, province capitol, and cultural centre with excellent museums, the oldest Roman lighthouse in Europe and the expansive Riazor beach integrated into the urban landscape. A walk down A Coruña´s picturesque waterfront Avenida da Marina reveals Galicia´s best example of multi-paned, enclosed galerías or sunrooms – it's a virtual wall of glass. Vigo maintains Galicia´s largest fishing fleet as well as the Citroen car plant giving it a busy, industrial feel. Head down to its historical quarter, though, and you´ll find outstanding seafood in the small bars on its Rúa Pescadería (Fish Market Street).   The rest of the population concentrates in inland Ourense and Lugo.  Finally, Santiago de Compostela, Galicia's capital and important university town since the 15th century, has historically been the region's religious and cultural heart.  It's the one town not to miss if you visit Galicia. 
Compostela has attracted pilgrims and travellers since the 9th century when a local religious hermit discovered the remains of Santiago (known in English as the Apostle James, the Greater). News of the discovery quickly spread and soon faithful came in masses from all points of the Christian world creating the network of medieval pilgrimage roads known as the Caminos de Santiago.  The pilgrimage's popularity put Galicia irrevocably on the European map and was in large part the source of the region's medieval splendour leaving the countryside filled with innumerable churches, monasteries and masterpieces of art and architecture in the villages and towns through which the pilgrimage ways pass.  The pilgrimage reaches its apex of splendour in the Apostle's city and on the sublime Praza do Obradoiro where the great powers that have influenced the city over the centuries all find a place: the Romanesque cathedral with its soaring Baroque façade; the magnificent 15th century Reís Católicos hotel founded by the monarchs Isabel and Ferdindand as a pilgrims' hospice; the imposing neo-Classical Raxoi palace cum modern-day city hall; and the university's Colegio San Xerome with its well-carved neo-Romanesque portal. Listen on the plaza (and down the historical quarter's beautiful arcaded streets alive with outdoor cafés) and you´ll hear local street musicians playing the gaita (the Galician bagpipe) and benefiting from the acoustics provided by the arch of the Archbishop´s Palace. Music fans will enjoy the Galician folk groups Milladoiro and Luar na Lubre as well as bagpipers, Carlos Núñez and Susana Seivane. Many of the instruments played by these groups can be found in the Cathedral´s masterpiece of Romanesque sculpture, the Pórtico da Gloria, in which the 24 Wise Men strum, blow and animatedly usher souls to heaven.
Looking south from my window, part of Galicia´s 1200km of rugged, indented coastline fringed by 50 islands, greets my eye. From the sky the Galician coast appears to be a piano keyboard with the rías separating the high mountains. The coast is typically divided into three parts: the densely populated and highly touristic Rías Baixas (Lower Estuaries); the most rural and undeveloped Costa da Morte (meaning Death Coast); and the Rías Altas (Upper Estuaries) which have the best surfing waves, Spain's highest cliffs and share the border with Asturias.  The crown jewel of the Rías Baixas recently became Galicia's first national park (Spain's fourteenth) - the Atlantic Islands National Park - founded in 2002 and composed of the Cíes, Sálvora and Ons islands. Most prized is the Cíes archipelago easily accessed by ferry in summer from Vigo or the summer resort town of Baiona. Known for their blinding white sand beaches, crystalline waters, great walking trails, and abundance of rare flora and fauna, two of its islands are connected by a sandy isthmus and stone walkway.
The Death Coast, named for its treacherous waters and shipwrecks, is home to Fisterra (or Finisterre in Spanish), the medieval end of the earth.  In the untidy fishing port, sardines, brought fresh off the boat on ice, are grilled to perfection at one of the small bars. In the port's roundabout, there's a granite monument depicting a man holding a windowpane and a suitcase.  He gives testimony to the long and sad history of Galician emigration in which 1.5 million Galegos have packed their bags and sought their fortune elsewhere since the 1880s. Galician handicrafts are kept alive in the nearby 14th century Vimianzo castle.  All summer long basket weavers, potters (from the nearby pottery town of Buño), linen weavers, wooden shoe cobblers, lace makers and jet artisans are busy at work.
Along the Rías Altas a must stop is the Praia das Catedrais (Cathedrals Beach) during low tide when the ocean reveals a series of natural arches and caves.  At San Andrés de Teixido, located on a steep cliff and one of Galicia's most curious shrines, pilgrims leave wax body parts in hopes of a miraculous cure. As true of all the Galician mountains, semi-wild horses range here. 
Annual round-ups (known locally as the Rapa das Bestas) are held all over Galicia and form part of the hugely popular cycle of fiestas or celebrations. Galicians have a knack of turning anything into a motive for a fiesta whether it be food (everything from pigs' ears and barnacles to octopus and the delicious local green pepper Pimientos de Padrón), saints' days (the most famous is the vibrant 25 July celebration of James in Santiago), historical incidents (a Viking attack in Catoira has been recreated since 1961), political protest, music (the International Celtic Music Festival in Ortigueira) or a traditional holiday such as Carnival (those of southern Ourense province take the cake especially Laza village). If you hear canon fire at any time, especially the summer, don´t be alarmed as that´s the Galician way of letting you know the fiesta has begun.  My favourite fiesta comes up in July when seaports shut down to celebrate their patroness, the Virxe do Carme (Our Lady of Carmen). In Muros, her statue is processed out of the church to the port where fishing boats, decked out with flowers and brightly coloured streamers, await to accompany her in a circuit around the harbour as she blesses the sea. Fishermen on the boats throw floral wreaths to the ocean in her honour.
Life in the little port below my window is always a feast for the eyes. Gone are the days when the village beach reached the front doors of the fishermen's houses and the dornas were sailed and achingly rowed in the rías.  But, what hasn't changed since time immemorial is Galicia´s fame as a seafood mecca.  Each day I watch the white fibre-glass boats, painted bright red on the inside and powered by out-board motors, zip out to the nearby islands working Spain´s richest and oldest sea beds in search of tasty crustaceans, molluscs and cephalopods: almejas or clams (razor shell, wedge, carpet shell), berberechos or cockles, mejillón or mussels, ostras or oysters, vieira or scallops, zamburiñas - a delicious, petite scallop,  erizos or sea urchins, crabs (diminuitive nécoras, robust buey or ox crab and the highly prized centollo or spider crab) as well as bogavante and langosta European and spiny lobster, chopo or cuttlefish, calamar or squid, and pulpo or octopus.  Right now it's percebe (goose barnacle) season. These succulent, finger-sized (and rather grotesque looking) crustaceans grab a huge price at the fish market and are usually ordered by the gram in restaurants.  The clam and cockles season preceded the barnacle. To get clams men stand in their small boats for hours on end combing the seafloor while women work the estuaries at low tide bringing in cockles by the bucketful (sometimes carried on their heads!).  In Santiago de Compostela the restaurants (there are at least 25 in about 50 metres of street) along the Rúa do Franco, such as O 42, display their tasty offerings in refrigerated window cases and let you hand pick your lobster or crab from the bubbling aquariums.
Archaeological evidence indicates that hunters and gatherers worked the rich tidal estuaries since at least 15,000BC digging up and scraping off the rocks delicious morsels-of-the-sea long before people were being buried in the fascinating megalithic (4000 to 3000BC) burial tombs (called dolmens) found preserved and scattered around the western half of Galicia or living in the nearly 5000 fortified villages (castros) inhabited by warrior Iron Age peoples (1800BC to 200AD), including the Celts, which completely cover the Galician territory.  The mountain-top Castro de Santa Tegra looking down on A Guarda and Portugal as well as the impressive seaside Castro de Baroña are both worth a visit.
Galician seafood's great fame is partly due to the simplicity of preparation. Forget about specialty stores or adapting recipes. Mussels and barnacles are steamed with water, salt and laurel leaf.  Cuttlefish are floured, fried and served with a squeeze of lemon.  Octopus (pulpo a la gallega) is boiled in huge copper pots, cut with scissors onto round wooden plates, drizzled with olive oil, and seasoned with marine salt and sweet and spicy red pepper (pimentón). Outstanding fresh fish (hake, monkfish, sea bream, sole and bass just to name a few) are typically grilled, served a la gallega (with olive oil seasoned with garlic and paprika), a la romana (egg battered and fried), or, the fisherman's classic, caldeirada (a mixture of fishes and potatoes slowly stewed). If you want to take a taste of the sea home, the canned seafood produced here is also outstanding. Look for Luís Escurís Batalla's excellent hand-packed products.
With this seafood cornucopia it's easy to forget about Galicia's inland offerings. Hearty pork dishes to kill any hunger reign: lacón con grelos (pork shoulder with greens), cocido (every pig part imaginable and chorizo sausage slowly boiled and served on heaping platters with cabbage), caldo gallego (broth soup with greens and potatoes).  Empanadas (using both wheat and corn flour) are delicious meat pies filled with just about anything - outstanding local veal, tuna, cod with raisins, clams, or octupus.  Galicia's four cow's milk cheeses, especially the creamy breast-shaped tetilla and smoked San Simón varieties, are not to be missed. Galicia also produces excellent white Ribeiro wines in the warmer, southern climes along the Río Miño and notable white Albariño wines in the Rías Baixas.
If I look out the back window, it could be anywhere in Galicia´s interior. Small garden plots divided by granite stone walls and planted with corn, potatoes and long leafy greens make a chaotic yet beautiful quilt of tilled fields. I see fig, lemon and laurel trees as well as two kinds of willow (one used to fashion baskets) along the brook. There are also stands of oak and fragrant pine and eucalyptus trees - the latter planted extensively (and to the detriment of the environment) for paper and pressboard.  Ornamental gardens have excellent examples of magnolias, camellias, hydrangeas and rhododendrons – species all brought at the end of the 19th century and planted in the gardens of rich return emigrants and wealthy local families in their huge manor homes called pazos. Missing from the scene are chestnuts. The best examples are in my favourite lost corner of Galicia:  the Serra de Courel mountain range which lies just south of the Cebreiro mountain pass in Lugo province. Great groves still thrive producing outstanding sweet chestnuts. Some of these nuts wind up roasting on Madrid´s streets in winter. Until the 18th century chestnuts were the major carbohydrate – and thrown into stews, boiled, eaten raw, roasted - before the easily cultivated potato became a dietary mainstay. In some regions of Galicia, potatoes are called castañas de terra (earth chestnuts).
Heading up Lugo province is an old Roman city founded in a sacred forest once dedicated to Lug, a pagan god.  Lugo's claim to fame is its intact 3rd century Roman wall ringing its historical quarter. Named an UNESCO World Heritage Site in 2002, walking along the top of its 1.2mile perimeter gives a voyeur's view into the chaotic city and its magnificent cathedral, dilapidated historical quarter, elegant 18th century avenues, private school yards, open fields, huge magnolias and the quirky evolution of slate (the province's dime a dozen building material) tiles used to roof houses! Romans came to conquer these prized Galician lands once rich in gold, tin and silver. They ended up exploiting not only the gold and molluscs but also its thermal waters. Down by the Río Miño remnants of Roman thermal baths exist alongside the modern spa, Balneario de Lugo, where the water emerges at 43.8 degrees Celsius
If I listen, rather than look out my window, I hear another element of Galician reality: the cement mixer's whir, the clanking of chains on huge mobile cranes and the sound of hammers busy at work. Next door an elegant 40-apartment, granite-faced complex quickly went up taking the place of rundown port buildings. Construction and real estate speculation are two very popular activities especially on the coast and the outskirts and bedroom communities of the major cities. Unfortunately, uncontrolled building has resulted in cases of unappealing urban sprawl and rural development with little aesthetic uniformity. Nonetheless, a wide array of properties from new and used coastal apartments and chalets (modern, usually, second homes) to 18th century pazos to chunks of undeveloped property (finca in the country and solar in the city) to run-down rural stone cottages and stunning multi-story houses in the centre of the region's numerous historical quarters are waiting for either massive restoration or gentle fixing up.  If you are looking for an affordable, run-down property in the boonies then head to the hills of Lugo or Ourense province where entire abandoned hamlets are for sale. The restoration of farmhouses, pazos and other buildings of historical import into rustic lodgings and elegant hotels, called turismo rural, has been a major thrust of the tourism industry. The Galician government provides grants to restore historical properties intended for this type of tourism. The website www.turgalicia.es lists all of these lodgings. Thirty minutes east of Santiago, find the elegant Pazo de Andeade and enjoy its peaceful ample gardens and outstanding kitchen.
Spain´s expanding economy of the 1990s provoked a building craze and explosion in the real estate market all over the country.  In comparison to the rest of Spain, Galicia continues to be a good place to buy: the average price of used property in Spain in 2003 as a whole was 1330 Euros per sq m whereas in Galicia it was 852 Euros per sq m.  In 2003 the price of second-hand property rose 17% on the national level while in Galicia it only rose 5%, the lowest in Spain. 
To help facilitate the sale of property inmobiliarias (real estate offices) abound.  Many of these companies have websites and display properties with photographs to facilitate your research.  For example, the website www.tusinmobiliarias.com has listings all over the region and branch offices in Santiago, A Coruña, Pontevedra, and Vigo and publishes a free monthly newspaper with property listings.  The more ample bi-weekly publication, Galicia Inmobiliaria, is available in kiosks for 1 Euro.
When buying an old house or undeveloped property be sure to check very carefully that what you are being sold corresponds with the paperwork documenting the property and that construction is permitted.  Many properties, especially country fincas, have never been registered in the local registry and may only be documented through a will. A Galician law enacted in January 2003 regulates uncontrolled building to maintain an aesthetic norm outside city limits and in rural areas.  In some instances, real estate agents have kept properties on the market that at one time were legal but are no longer according to the new regulations. The town hall in which the property is located can assist you.
One thing I haven't mentioned is that I can't enjoy the view from my window every day. Galicia is green for a reason and when the waves turn white and the winds and clouds threaten from the southwest, I know it's time to batten down the hatches and enjoy a steaming bowl of caldo gallego inside while the winter storm roars on.