On Foot in Spain Family Part IV
On Foot in Spain Family Part IV
-
5.0

out of

5

based on

2

votes
On Foot in Spain Family (1999-2018), Part IV
By: Nancy L. Frey
Part I of our story covers the early years of On Foot in Spain's family story.
Part II gets into the logistics of how we made it happen and what the kids do on trips.
Part III explores some of the special experiences, stories and even Camino miracles we've had over the years.
Part IV gives thanks to all of those different people who have made On Foot in Spain possible.
Support Team: The Family Behind the Family
Bringing one of the kids has been fabulous but it almost meant that two were left behind. Thankfully we are blessed with a great support system in Jose's parents and his sister and her husband. The kids are the only grandchildren and nieces and nephews for our Spanish family giving our kids remarkable and close relationships with their extended family. Having their support over the years has made it possible to leave the kids and run On Foot in Spain knowing they couldn't be in better hands. Needless to say it is always hard leaving the others but this has been our curious family experience. We could never have done it without the extended family support and we are very grateful! The photo below is of the On Foot Family and the Support Team in 2016!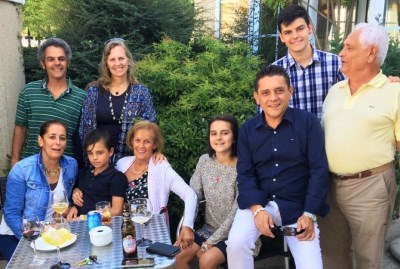 I also cannot forget to mention the bus drivers who have shared all of these journeys with us over the years. Some of the drivers took a very special interest in the kids and enjoyed their free time with them. We were grateful on numerous occasions for their care, understanding and assistance helping us in a busy moment when our four hands were occupied and a little one needed a hold. Thank you especially Luís, Jose Manuel, and José who all took numerous trips with the kids from when they were babies. In the photo below Jose Manuel talks to Sam who is sitting in the cargo bay of the bus.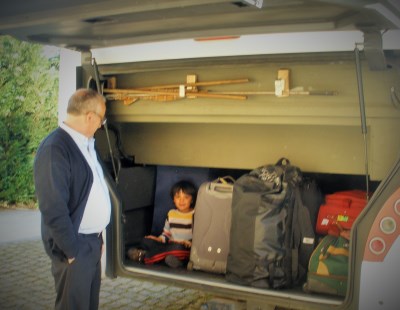 The Family Across the Seas
I grew up in California. When I chose to make my life in Spain it meant that I would be very far from my family. That has been the biggest challenge of living abroad for me. Fortunately I have intrepid parents who have joined On Foot in Spain – my Dad and Mom once in the Picos de Europa and my Mom on a total of five trips. My Dad instilled a love of hiking and the outdoors in me at an early age taking us on annual summer trips to Yosemite and always encouraged fitness, a love of history and the power of engaging deeply with nature. My Mom has always been my unconditional rock and support and sharing with her this country and people I love has been a very special experience. I am very proud of her trips and strength as she strode along in her 70s along the Camino with great verve and energy. What an inspiration! She joined us in 2004 in Portugal with Marina on board. Here are the three generations.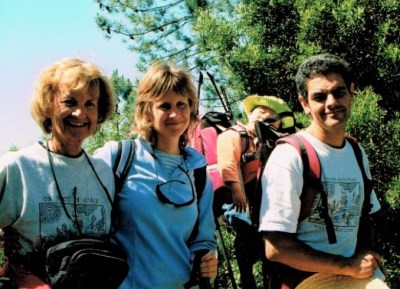 Our Extended On Foot Family
Something that makes our company unique is that Jose and I decided from the beginning that we would lead all of our tours. Consequently, we personally know all of clients from the first email to the final goodbye. There were many points along the way when we thought about expanding in various directions, hiring guides, increasing tours, and turning On Foot in Spain into a larger enterprise. We would hem and haw (mostly me) and finally come back to the same decision that coincided with our own philosophy – we wanted to keep On Foot in Spain very personal, ensure high quality and guarantee that an experience with us would be more like traveling with friends and family than with an impersonal company.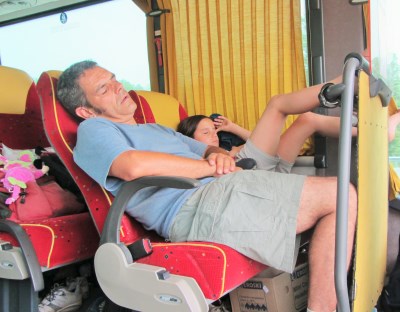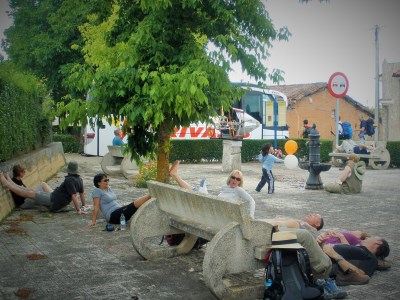 (Photos: Left – I have man photos of Jose sleeping with the kids on the bus. This is my view from the front seat looking back. Here, Jose and Marina are snoozing as we drive along. Right – A picnic at Cirueña on the Camino de Santiago tour where the clients are stretching, elevating and Sam is doing his own thing with balloons around a fountain he spent many joyful moments playing around).
This decision meant that we kept things small because to provide a very personalized service, maintain an enriching and fulfilling home life as well as getting the necessary rest in between trips, it was necessary to limit the amount of travel time during the year. It seems to have worked. Over the last 18 seasons Jose and I have led 1501 people on 159 tours. Now in 2018, as I write this, 90% of our clients are either return walkers or friends of friends. Every year we have walkers repeat with us and who we now count as our friends. Our On Foot Family is truly our international extended family!
Nancy and Jose possess this wonderful talent of bringing people together in their trademark and subtle and gentle way. Meeting and getting to know this fantastic group of people was one of the many highlights of the walk. I am convinced that the group's collective experience was enriched by the expert facilitation of Nancy, Jose and Sam. Thank you for making this such a fantastic experience …and for your skill and thoughtfulness.
Lisa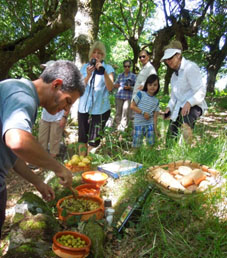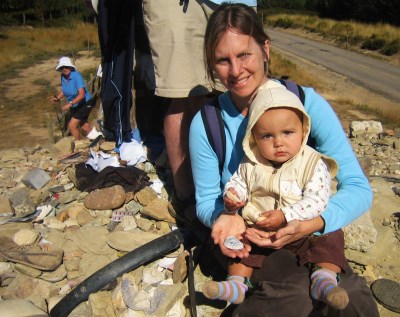 (Photo: Left – Jose prepares the picnic while Sam explains what he's doing to his friend Anne. Right – Nancy and Sam with our stones at the Iron Cross in September 2007)
We would like to thank all of you for accepting and embracing our family in our business and sharing with us experiences that have become a lifetime of memories. You have become part of our family and our shared memories are now part of our family and the On Foot in Spain story. On Foot in Spain has always been more than just a "business" for us, it is a life project and a philosophy. Thank you.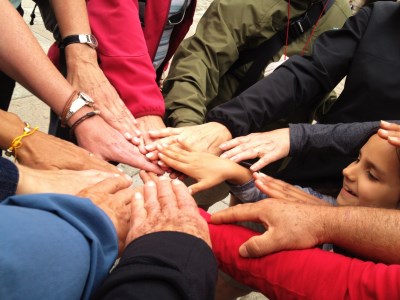 Marina and the Group joining hands in 2012.