Happy New Year 2010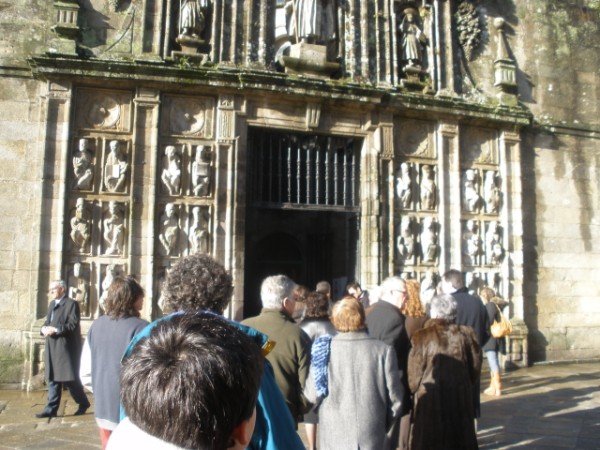 First blog. First day of the new year 2010. A good day for firsts. Today the Holy Door of the Cathedral in Santiago de Compostela, Spain was reopened ritually  marking the beginning of the 2010 Holy Year (An/~o Santo). Holy Years occur in a cyclical pattern of every 11, 6, 5, 6 years when the feast day of Santiago/St James the Greater, July 25th, falls on a Sunday. The last Holy Year was in 2004 and the next one will not occur until 2021. Pilgrims from all over the world will walk the Camino de Santiago pilgrimage this year and end their journey by passing through the Holy Door.

The first time I walked through the Holy Door was in 1993 after I finished my first pilgrimage along the Camino de Santiago/Road of St James. Little did I know how much would transpire between walking through that door the first time and this latest passage 17 years later. In 1993 I entered with my pilgrim companions on a very hot July afternoon after waiting in line to enter for nearly an hour. The cathedral was packed and I felt overwhelmed with the emotion of the arrival. Today, I also, unexpectedly, found myself overwhelmed with emotion by the journey through that doorway. This time I was accompanied by my partner of 16 years and our three children. Gratitude was the prominent feeling. As we walked through the door and got on line to 'dar un abrazo al santo', ie, give a hug to the saint, all those years, and how much I have to be thankful for, came rushing through me. It was an ideal way to start this new year.

On this blog I hope to tell part of this story – what led to that first initial crossing and what transpired in between. Little by little.