Food Notes: Pear & Plum Jam with Port and Mint
Food Notes: Pear & Plum Jam with Port and Mint
By Nancy L. Frey, 15 Sept 2015


In August Jose and I picked crates of fruit at his mother's ancestral home in Melón, Ourense, Galicia. We decided to make jam. I looked on-line for a pectin-free recipe and came across a great site called Northwest Edible Life (www.nwedible.com) where we found exactly what we were looking for. We made a delicious jam following her basic jam recipe that we'd like to share with you.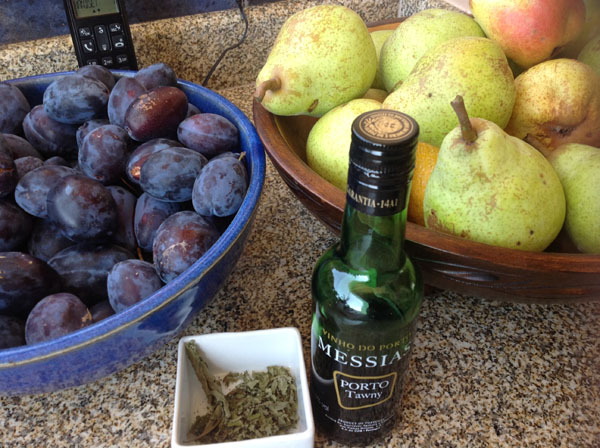 We've included before, during and after shots of the jam. We used 1kg each of Stanley prune plums and Dr Jules Guyot or Limonera pears. The Stanley plums are an European variety with a much funnier and descriptive name in Spanish -  cojones de obispo (bishop's balls) due to their shape and color (Roman Catholic bishops wear purple robes). Who Stanley was or what his nether parts looked like, I don't know! The sweet and juicy Limonera is ideal when ripe.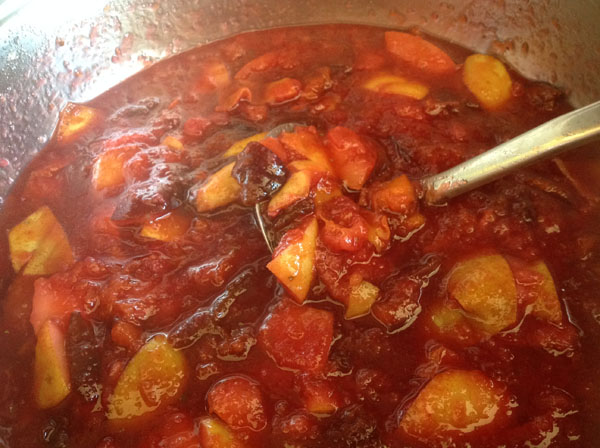 We macerated the fruit with sugar for 18 hours and then slowly simmered until soft. For extra flavor and a bit of "zing," as the recipe author suggests, we added Tawny Port wine we picked up in Porto, Portugal on our Camino in Portugal tour last July. For our dry zing we used peppermint from my herb garden where I grow both medicinal and culinary herbs. The zings are subtle yet add noticeable and delicious undertones that allow the plum and pear to shine and resonate. Enjoy this idea!