Displaying items by tag: Historical
Tuesday, 31 July 2012 19:39
OUR WALKS
All of our small-group (between 7 and 15 people) walks are personally led by the two of us. Traveling with us will be like traveling with a group of friends rather than with strangers. We have designed the walks (some are unique - created by us - and you won't find them on any other tour) taking into account several factors: beauty, variety of scenery, quality of trails, avoidance of main roads, and proximity to points of historical and cultural interest. We use a support vehicle to carry the heavy luggage, a library, extra water and fruit, and the gourmet lunch, so all you carry is a small day-pack. Detailed maps of the day's journey are provided before setting off. Walks of different lengths are offered most days depending on what you desire. The support vehicle is avaliable to ride with if you're feeling too tired to continue.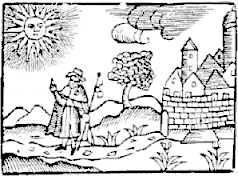 WALK LEVELS
We rate our walks according to altitude gain and loss, walking surface and total mileage. There are three levels - Easy, Medium and Difficult. Easy: walks from 4-8 miles on mostly level terrain and gentle hills along a well-maintained trails. Medium: 6-12 miles on rolling hills and mixed trails with an occasional steep ascent or descent. Difficult: 8-15 milers with long ascents or descents on steep, rocky surfaces.
At the beginning of each itinerary you'll find our ranking. It's crucial that you select a walk that is within your physical limits for your own and for your fellow travelers' benefit. Please contact us with any questions you might have about a walk's suitability for you.
GETTING TO THE START
All On Foot in Spain tours cover ground transportation from the starting point to the finishing point. To reach the designated starting point we will provide more detailed information to facilitate your journey in the pre-departure packet we will send once your reservation is made and deposit received.
EQUIPMENT
An equipment list is included in the pre-departure information sent 3 months before departure. Your most important equipment will be what you wear on your feet.
ENTRY FEES
All your entry fees for museums, monuments, guided tours are paid for by On Foot in Spain.
CUSTOM WALKING TOURS
If you'd like to do one of our existing tours on a date not offered or would like to arrange a private, customized walking tour we are happy to try and accommodate your plans. Email us with the dates of desired travel, a budget of what you'd like to spend, how much you would like to walk each day (distance) and where you would like to go. We will then design your tour and give you a price.
CONTACT US
On Foot in Spain
Nancy Frey
Apdo 22
15960 Ribeira,
A Coruña
Spain