Displaying items by tag: Scallop shells
Tuesday, 27 February 2018 14:11
Beachcombing for Scallop Shells with On Foot in Spain
A version of this article was posted on On Foot in Spain's Facebook page 21 Dec 2014
By Nancy L Frey, February 2018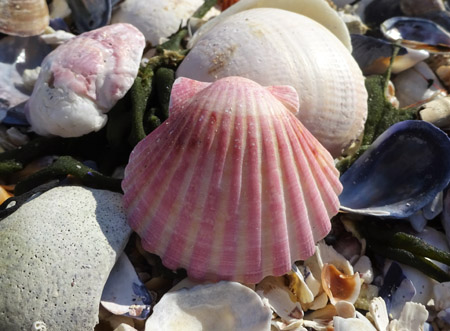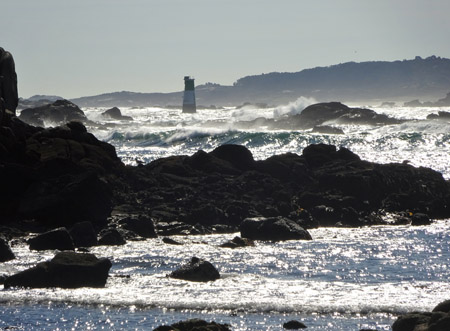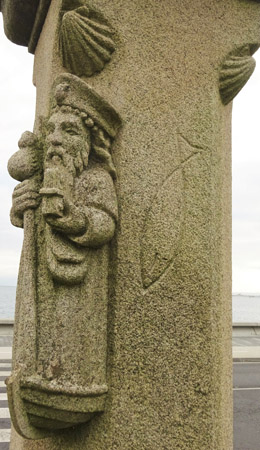 On our Camino de Santiago tours we gift our walkers scallop shells, the primary symbol of the Santiago pilgrim. We gather these shells ourselves from the Ría de Arousa in Galicia, the very same estuary in which the Apostle James's stone boat sailed looking for safe harbor before eventually being buried in what came to be known as Santiago de Compostela. This image of St James/Santiago (note he's standing in a boat dressed as a pilgrim) comes from the town of Ribeira on the Ría de Arousa.
In winter we like to go with our kids to a favorite set of beaches to find shells, beachcomb and enjoy this magical, remote spit of land in the sea. Beachcombing is a marvelous, relaxing activity that we enjoy together as a family and individually as we discover the wonders to be found on these magnificent beaches. Here Sam sits in the distance floating atop a sea of shells.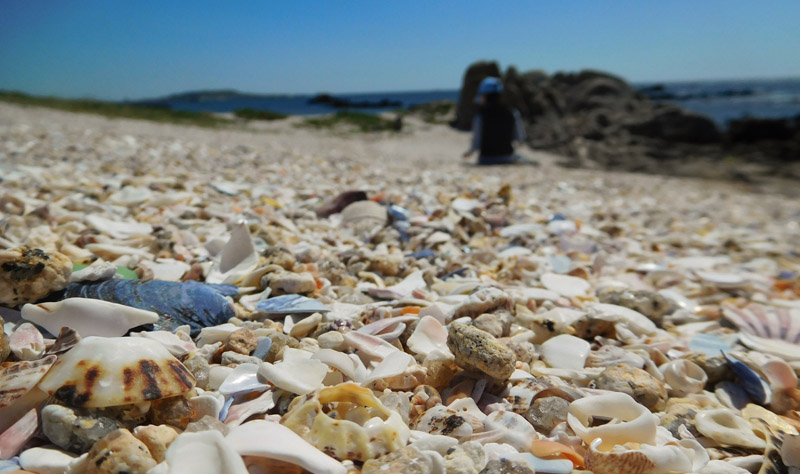 You have to go at low tide to cross over to the string of shell beaches where we find the scallops (and lots of other shells!)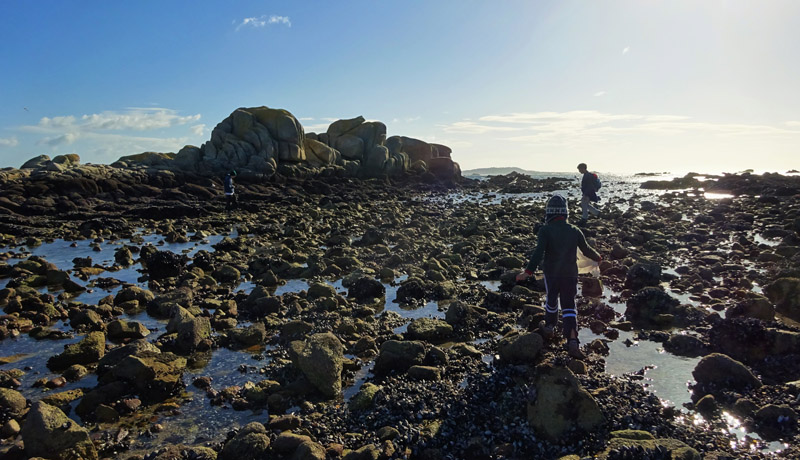 We've reached the first set of beaches. The beaches lie at the mouth of the estuary where the open ocean batters the coast. Striking deep mustard-yellow lichen adorn the granite boulders.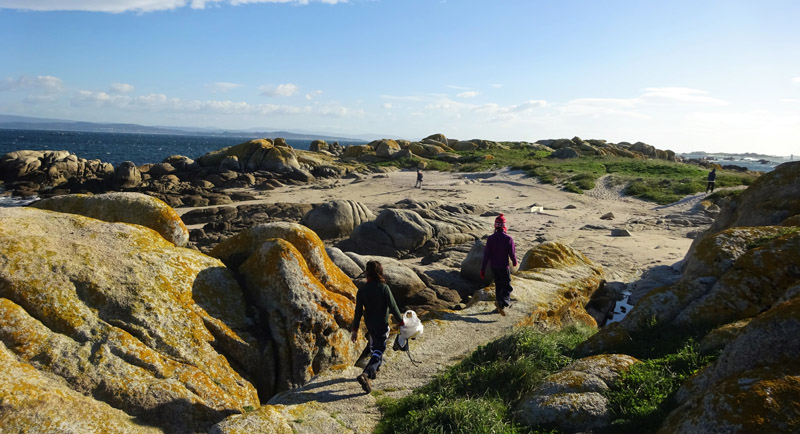 Scallop shells start to appear - buried beneath other shells, wedged between rocks, in the water. Some shells are whole, others are broken, weathered or worn.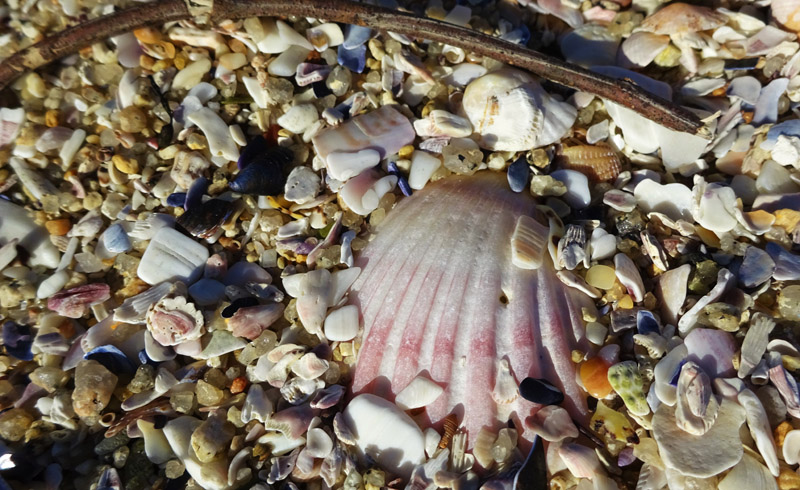 Scallops come in many color variations and sizes. They are all unique like each pilgrim and his or her journey.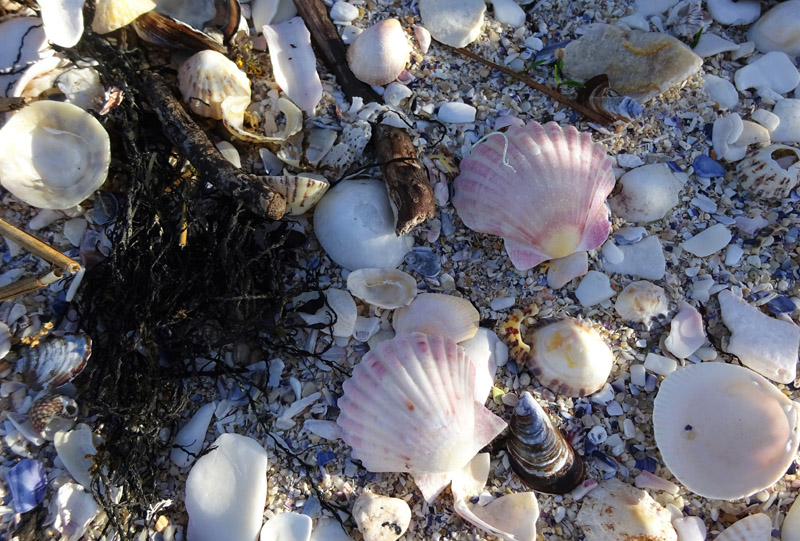 Reaching the next set of beaches, we continue our trek out along this rocky spit that reaches out into the open ocean. It looks like we might be able to walk all the way to Sálvora Island but no chance. The urge to see how far you can go is strong.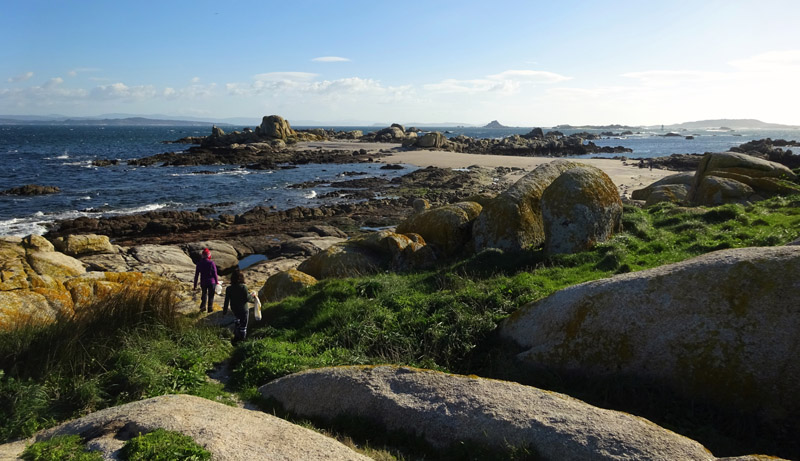 Scallop within a scallop - one of the many gifts from the sea.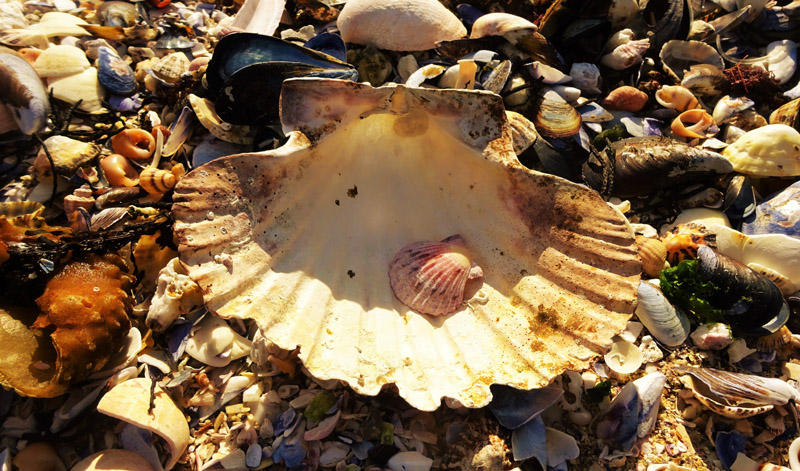 We each search for shells and anything that captures our fancy - sometimes together, sometimes alone.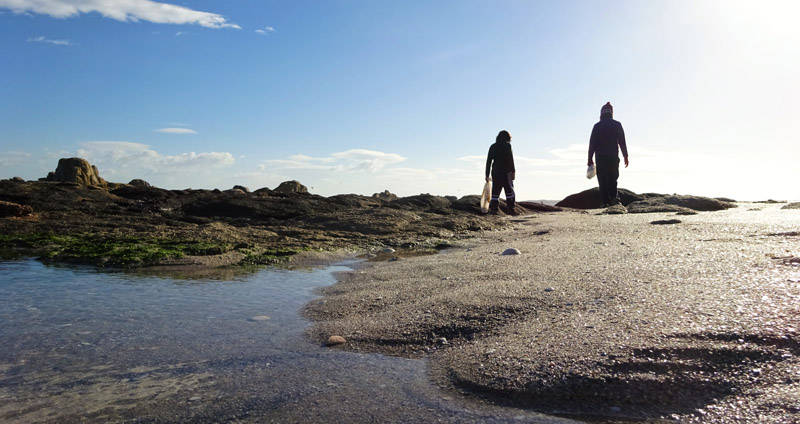 Along with the scallops, we find razor clams, limpets, many types of snails, mussels, oysters, cockles, clams...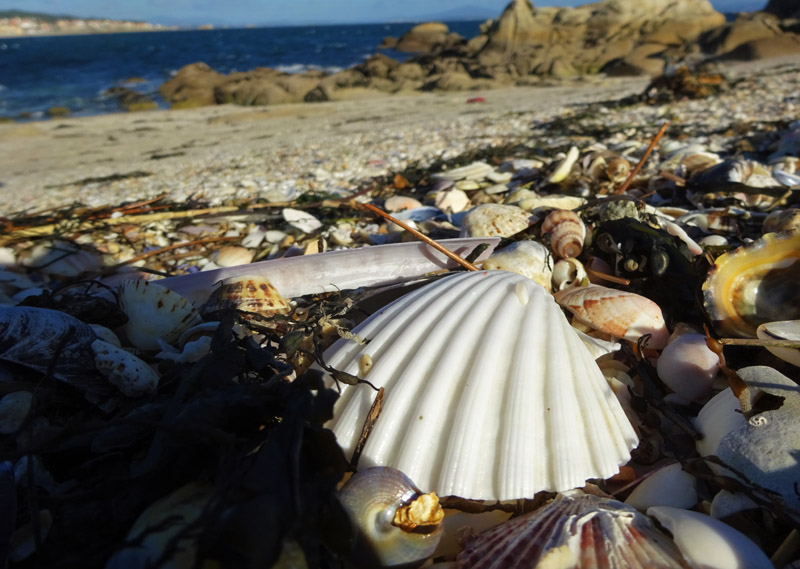 At high tide the water will cover this beach completely. We always keep one eye on the water to make sure we don't get caught. Being out here is mesmerizing.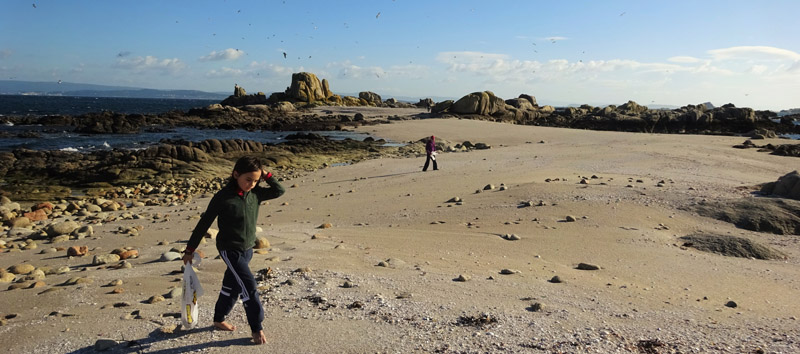 When you get down on your hands and knees you realize that what looks like sand from the distance is actually an infinite mass of shells in various crushed states. As far down as you dig, all you can find are shells.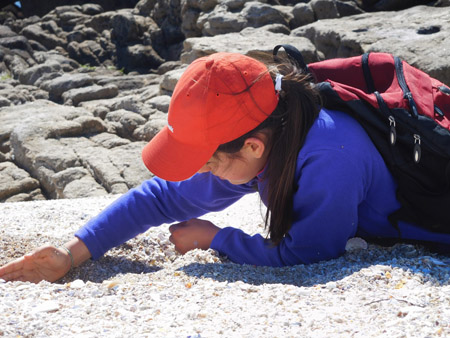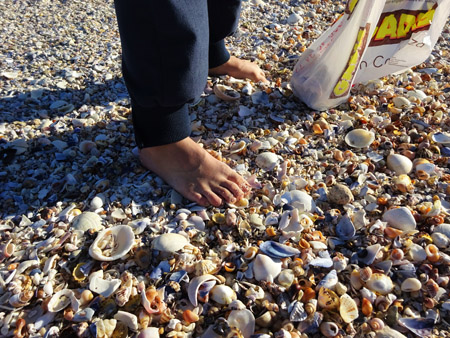 The sea birds like to hang out here including many yellow-footed gulls, sandpipers and cormorants. The cormorants like to warm and dry their sleek black wings in the sunshine perched on the rocks.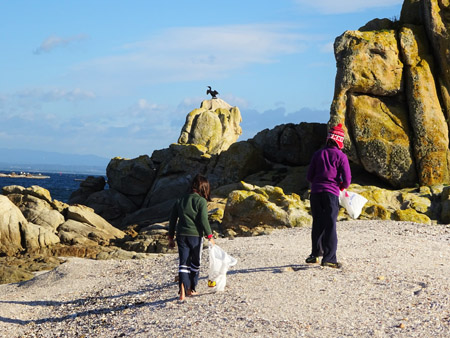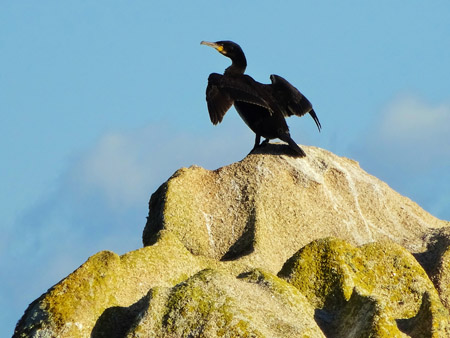 You can spend hours slowly combing the beach finding special treasures.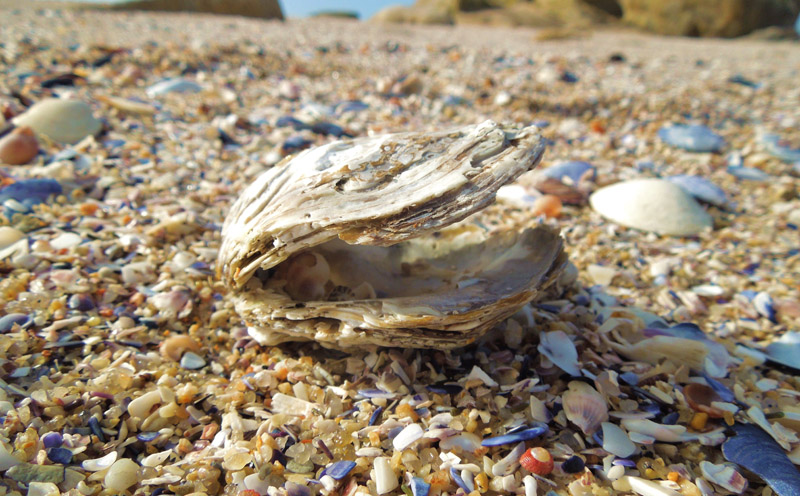 Marina holds up a very large yellow-toned scallop.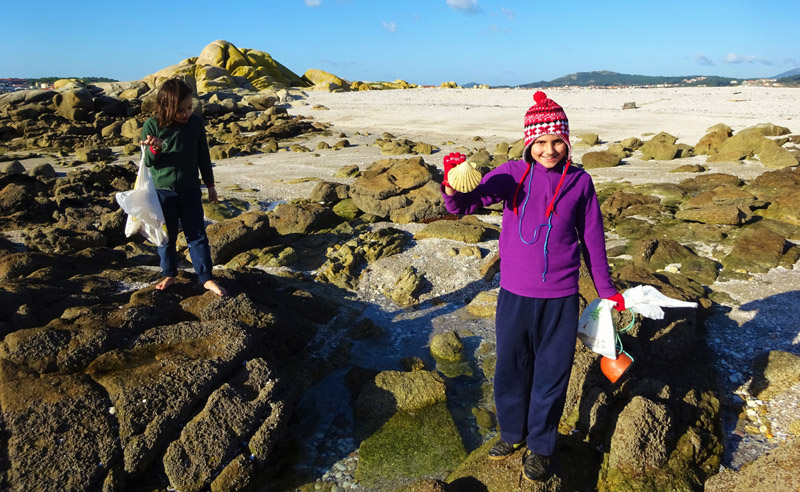 Jose and Jacob showing some of their finds and Jose holds a stunning pink-tinged scallop.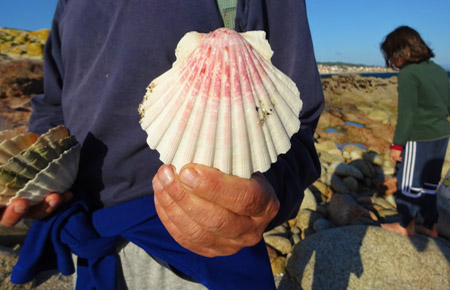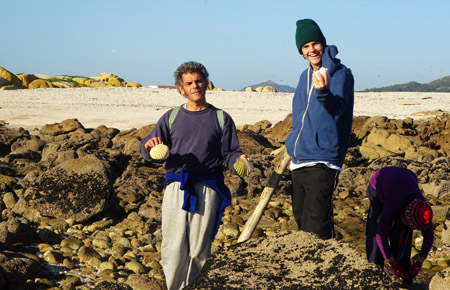 With an eye on the rising tide, we reluctantly make our way back across the rocks to the mainland sorry that they treasure hunt is over. At the end we pull out our collection of shells and select the ones we can use to gift to our walkers. Inevitably our pockets are filled with sand, polished beach glass and other eye-catching bits and pieces of beach.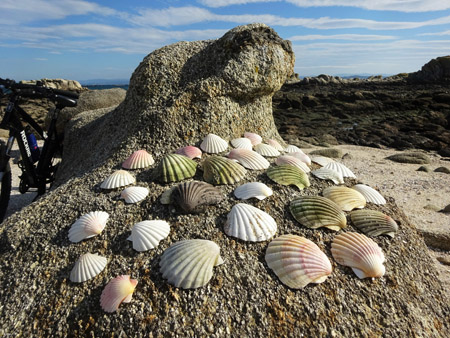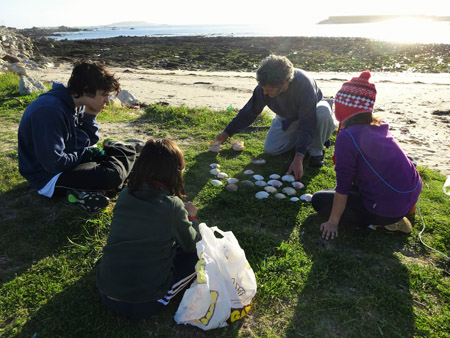 Now back home for cleaning, drilling and red cords to be attached for our walkers (to be continued…).