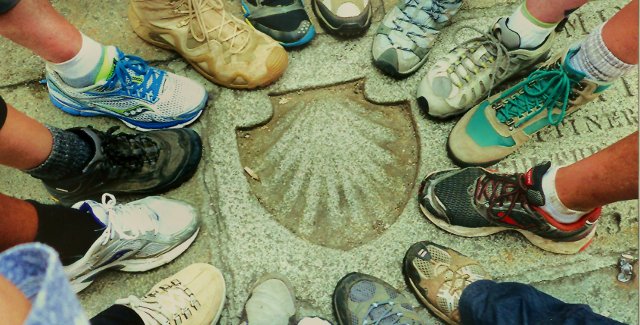 Walk last section from León through green Galicia, earn the Cathedral's Compostela certificate!
Compostela - León to Santiago de Compostela
Due to the popularity of the Compostela tour in 2004, Nancy and Jose have decided to continue offering the special 7-day tour from León.
Walking the last 100km will allow you to earn the Cathedral`s certificate of completion, the Compostela.
Come join us and we`ll show you the highlights of the Camino and many of its special secrets in this delightful rural corner of Spain, Galicia.
We will start in León, visit the highlights of this historic pilgrimage town and then head off the next day towards Galicia. Our Day 2 morning walk heads through the Leonese meseta, or high tableland.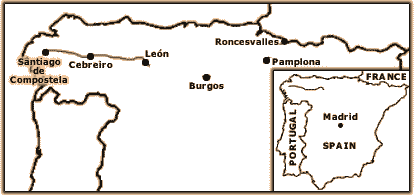 In contrast to the days to come, here the scant villages are adobe, the land flat and dry and the red earth dominates - it`s fascinating to observe the abrupt change in the landscape, cuisine, villages between León and Galicia.
We will end the day in Cebreiro, a small hamlet located on a mountain pass and linked to the pilgrimage since the 10th century.

From Days 3 through 7 we will be walking the last 105 km of the pilgrimage route, a beautiful, hilly section through rural, bucolic Galicia. Each day (Days 3 to 7) we`ll give you a map and description of the easy-to-follow trail so you can either walk on your own, meeting up with the group for lunch, or with Nancy. The shuttle will be available at lunch time and in case of need.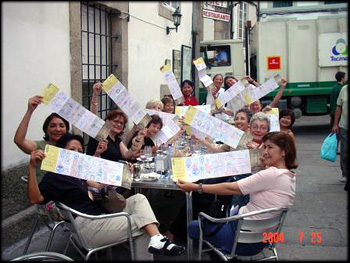 We offer various cultural activities to enhance the overall experience such as visiting Leon's magnificent cathedral with the best collection of stained-glass windows in Europe after Chartres, Lugo`s 1800-yr-old, intact Roman wall, as well as a still active 10th century Cisterician monastery.

In Galicia we will pass through countless hamlets connected to one another by ancient dry-stone walls separating the trail from an endless patchwork quilt of worked fields and cow pastures. We`ll enjoy the hearty Galician fare - including leafy green soup, called caldo gallego, creamy cow`s milk cheeses, thick, round loaves of wheat, rye and corn meal bread, outstanding Galician veal and pork, seafood and greens – cabbage, broad beans, swiss chard and leeks. We`ll stay in small, simple hotels and lodgings located on the pilgrim`s trail (except one day) so that you can have the comfort of walking directly to your bed at the end of the day and starting out on foot in the morning.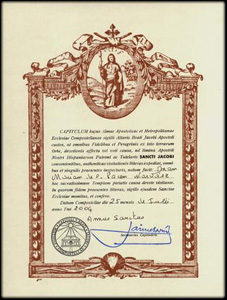 A little bit more about the Compostela:
To receive the Compostela Certificate pilgrims must complete the last 100km (62mi) of the pilgrimage, carry with them a Pilgrim's Passport which you will get stamped on a daily basis, and then, once you reach Santiago, you'll go to the Pilgrims' Office to register yourself, fill out information regarding your journey and motivation. After this process the Pilgrims' Office staff will give you the Compostela if you've met all of their requirements. To find out more information about the Compostela, the Pilgrims' Office, the Cathederal, services for pilgrims, etc, please go to their website: http://peregrinossantiago.es/eng/pilgrims-office/welcome/

7 days & 7 nights

Level: Medium (Due to the length of the walks and the hilly countryside. In general the trails are groomed but some sections will be uneven earth and stone).

Walking Days: 7 Total

Distance: 78.3 miles / 126.9 km With optionals 83.2 miles / 135.1 km

Departure Dates 2013
12-18 April 2013
25-31 October 2013
Price: €1750 *(Click here for Discount Information)*
BOOK NOW FOR 2013

Departure Dates 2014
6-12 April 2013
Price: €1775 *(Click here for Discount Information)*
BOOK NOW FOR 2014

Reyes Católicos Parador Supplement: The last night of the tour we will be staying in a simple monastery- hotel in the historical quarter with a great location and easy access on foot to all monuments and points of interest. If you would like to stay instead in the 5-star Parador Reyes Católicos hotel, we can try to arrange lodging there. The supplement to stay at the Parador can vary between 150-200 Euros/double room or 130 -150 Euros/single room depending on the season and availability. Please contact us early if you are interested.

Custom Camino Tours: Please contact us if you have a group of six or more to discuss options to run a custom trip for your friends and/or family.

Weather: In April and October expect temperatures in the 40-60F/ 5-15C with high chance of rain showers though it could also be simply partly cloudy and more temperate. Temperatures in May and September tend to be about 10F/5C warmer than April and October. Expect a combination of sun, showers and clouds. July is typically sunny and warm (60-80F/15-25C).

What is and isn`t included:
Expert guides (Nancy & Jose), support vehicle, all ground transport from the start in León to the finish in Santiago de Compostela, lodging in double occupany accommodation, all meals (except two dinners), the Pilgrim`s Passport, daily maps and descriptions of the sections to be walked, optional visits and entry fees to museums visited. Airfare to Spain is not included nor is insurance or transportation to and from the start (León) and end (Santiago de Compostela) points. The single supplement fee is €130
for this tour.

Daily Itinerary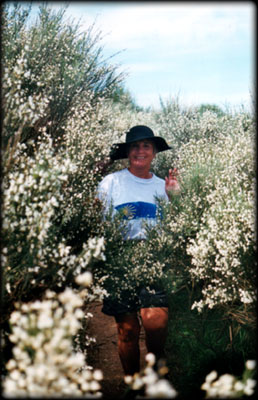 Day 1 - León
We`ll meet at our hotel in León`s historic quarter and, after our introduction, take a walking tour of the Romanesque San Isidoro church, famed for its Romanesque paintings, and then the French-influenced Gothic Cathedral where the 2000 sq meters of 13th-17th C stained glass windows inevitably impress. After walking to the San Marcos pilgrim`s hospital, located on the banks of the Río Bernesga and noted for its Renaissance facade bedecked with shells, we`ll return to the historic quarter for dinner enjoying delicious regional specialties. Walking distance: 3.2 miles / 5.4 km

Day 2 - O Cebreiro
From León we`ll shuttle to Puente Orbigo, famed for its many-arched medieval bridge and 15th century knight`s tournament which put the small town on the European map. We set out from the bridge and picnic en route. Afterwards we briefly visit the once great Roman way-station, Astorga - more recently famous for its chocolate and sweet treats. From Astorga, we`ll shuttle to the base of the Cebreiro mountain pass. Those who would like to hike the 5.3mi/8.5km uphill to our lodging in Cebreiro may do so - this section is one of the Camino`s most celebrated. Enjoy either free time in this rustic village known for its pre-Roman style thatch dwellings (called pallozas) or the uphill walk before we meet for dinner to enjoy a hearty Galician meal. Walking distance: 7.7 miles / 12.5 km With Optionals 12.7 miles / 20.7 km

Day 3 - Portomarín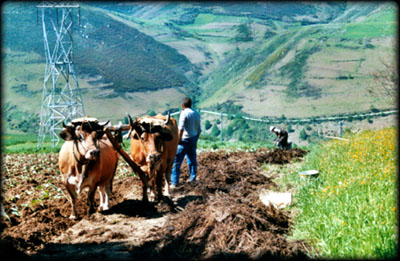 Today we start the last 100km to Santiago from Sarria enjoying a beautiful section of rural lanes, small country churches, thick oak and chestnut groves and numerous hamlets active with farm-life. We`ll picnic en route and continue to Portomarín located on the banks of the Río Miño. In the 1950s the town was moved uphill to make way for a hydro-electric plant created further downstream. Walking distance: 9 miles / 15 km.

Day 4 - Palas de Rei
From Portomarín we`ll set off into the woods on our journey towards Palas de Rei. On the hilly walk we`ll continue through field and forest passing countless granaries, hórreos, and way-side crosses or cruceiros (usually depicting on once side Christ and the other the Virgin), both very characteristic of the Galician landscape.
Free time. Optional visit to the Roman city of Lugo to see its intact, 1800-yr-old Roman fortification, named in 2002 an UNESCO World Heritage Site, and visit the Cathedral. Walking distance: 15.2 miles / 24.5 km With optionals 16.7 miles / 27 km

Day 5 - Arzúa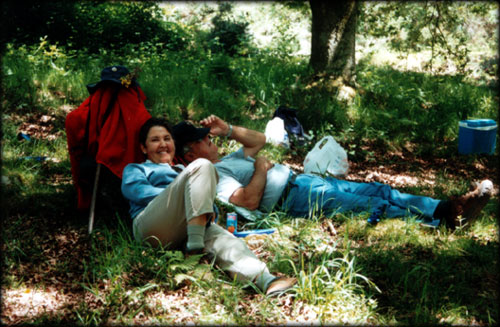 The walk sets off from Palas and ends up at a small medieval (and recently restored) pilgrim`s hospital and bridge spanning the Río Iso from where we`ll shuttle to Arzúa. En route we`ll pass through the bustling small town of Melide and visit its small ethnographic museum.
Today we also pass from Galicia`s Lugo province to Galicia`s A Coruña provice. The chestnuts and oaks give way to eucalyptus. Free time and dinner on your own tonight. Walking distance: 16.2 miles / 26 km.

Day 6 - Arca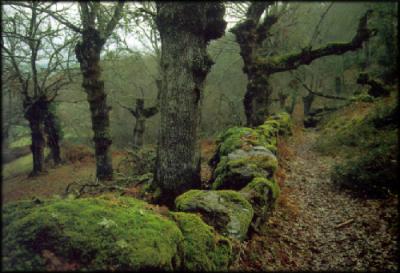 After returning to where we left off yesterday (3km from Arzúa), we`ll continue our trek to Arca, the largest community before Santiago, immersing ourselves in the fragrant eucalyptus groves. We`ll picnic en route.
After arrival in Arca you`ll have free time. Optional visit to the grandiose Monastery of Sobrado, Galicia's first Cistercian monastery and dedicated to the Virgin Mary.
Renovations in the 17th and 18th centuries amply embellished the façade, church and side chapel. Walking distance: 13.6 miles / 22 km

Day 7 - Santiago de Compostela
We`ll set out in the cool morning air to make the last and final stage of our journey to reach the famed city of Santiago.
En route we`ll stop for our picnic on the Monte del Gozo (Mount Joy) from which the spires of the Cathedral are first visible. After arrival in the Cathedral square we`ll check into our hotel.
Afterwards we`ll offer a guided visit of the Cathedral and city. Free time. Tonight we`ll say farewell to one another at one of Santiago`s famed restaurants. Walking distance: 13.3 miles / 21.5 km